If you are in a hurry and just want to find out what the best reed diffuser for large room is, then we recommend NEST Fragrances Reed Diffuser as the best one.
It quite often happens that reed diffusers – or any other essential
diffuser types
for that matter – lack the oomph for bigger rooms. Needless to say, a more potent diffuser is required for large spaces. If that happens to be what you are looking for, then our roundup of the 5 best reed diffusers for large room may be of interest to you!
In this article, we're going to review the following reed diffusers:
6 Best Reed Diffusers Reviewed
The scent of the reed diffuser we based our review on will most likely delight tea lovers. The included essential oil boasts an English apricot tea fragrance complemented with black tea, deep golden amber, and bergamot. As a result, you are getting a fairly potent fragrance which should be excellent for larger rooms. With that being said, the price of this reed diffuser is a bit higher than for other diffusers on our list, mainly because of the higher amount of the essential oil included. Read our full article on
Nest reed diffuser review
. Pros:
8 reeds included.
Apricot tea fragrance.
Elegant glass bottle.
Lasts up to 90 days.
Also working very well in the office
Cons:
Secondly, we have this relatively light-scented reed diffuser by binca vidou. While thicker essential oils sure will deliver a stronger scent, not everybody likes when they get overwhelmed by the fragrance. This reed diffuser comes with a fairly light essential oil with accents of bergamot, lavender, jasmine, and vanilla scents. If you are a fan of fruity and flowery scents, you may like what binca vidou has got for you. In terms of large room performance, this reed diffuser may be relatively weak compared to other options on the list. The scent seems to be lighter than in other diffusers, and this thing also comes with 8 reeds, which is on the lower end of what we've seen today.
8 reeds included.
Light fruity and flowery smell.
Delivers around 50 days of fragrance.
Cons:
Only 3.4 ounces of essential oils.
Maybe a bit weak for some people.
Then on our list is the Bay Candle reed diffuser by Chesapeake, which offers solid diffusing performance for larger spaces. It may not be the very best on the list in this regard, but it's pretty up there. Chesapeake includes 10 10-inch reeds with this reed diffuser, which should be excellent for larger bedrooms and living rooms. You may also go ahead and take out a few reeds to use this reed diffuser in a smaller room. The cylindrical container also comes with 4.05 fluid ounces of fragrance oil which, as claimed by Chesapeake, can last up to 3 months. The particular scent option we based our review on is a lighter fragrance called Reflection + Clarity. With ingredients like eucalyptus, rosemary, cedarwood, and thyme, the Bay Candle reed diffuser shouldn't be overpowering even in smaller rooms.
Lasts up to 3 months.
10 reeds included.
Minimalistic design.
A bright and light scent.
Cons:
The primary fragrance notes in this reed diffuser are rose and charcoal, which is a pretty interesting blend of a flowery and smoky scent. There also are woody tobacco and mandarin peel notes in the essential oil. All this should make for a nice outdoor vibe. One thing we dislike about this diffuser is the bottle. It has a pretty plain design which is somewhat diluted by the pink petal-shaped ribbon on the bottleneck. This may be perfectly alright though if you are after simplicity. Pros:
8 reeds included.
Blend of roses and smoky charcoal.
Beautiful packaging.
Cons:
Some many dislike the simple bottle design.
In our opinion, this is the best-looking reed diffuser on our list. The bottle it comes in isn't too flashy – rather, it is the included reeds that form the vibe of the Manu Home reed diffuser. Just have a look at them – most reed diffusers come with straight and sleek reeds. Manu Home's approach is different – they've decided to go for a bit crooked reeds, which imparts a more rustic and perhaps more natural look to the diffuser. Not only that, but Manu Home includes 10 reeds with this product for better performance in larger rooms, as well as 4 fluid ounces of citrus-fragranced essential oil. All this is packaged in a simplistic yet quite good-looking box which makes for a great gift option.
10 reeds included.
Beautiful rustic design.
Nice packaging.
Citrusy fragrance.
Cons:
The citrus scent may seem overpowering for some.
Sugar Lycee is a wonderful, refreshingly sweet fragrance. Juicy lycee fruit smells similar to pears to me and this fragrance diffuser reminds me of the same. When I close my eyes and inhale, fresh fruit mingles with the earthiness of fresh cut roses. It's a gentle fragrance combination that can help bring peace to any room.
This version of SHOLAYERED'S Sugar Lycee diffuser is a large 500 mL (16.9 oz) glass bottle with a wooden accent piece that helps the reeds to turn outward at a wider angle for better fragrance distribution. Aesthetically, the glass bottle is encased in white giving it a minimal look and feel that's as clean as the fragrance itself. It's a statement piece that would make a lovely gift.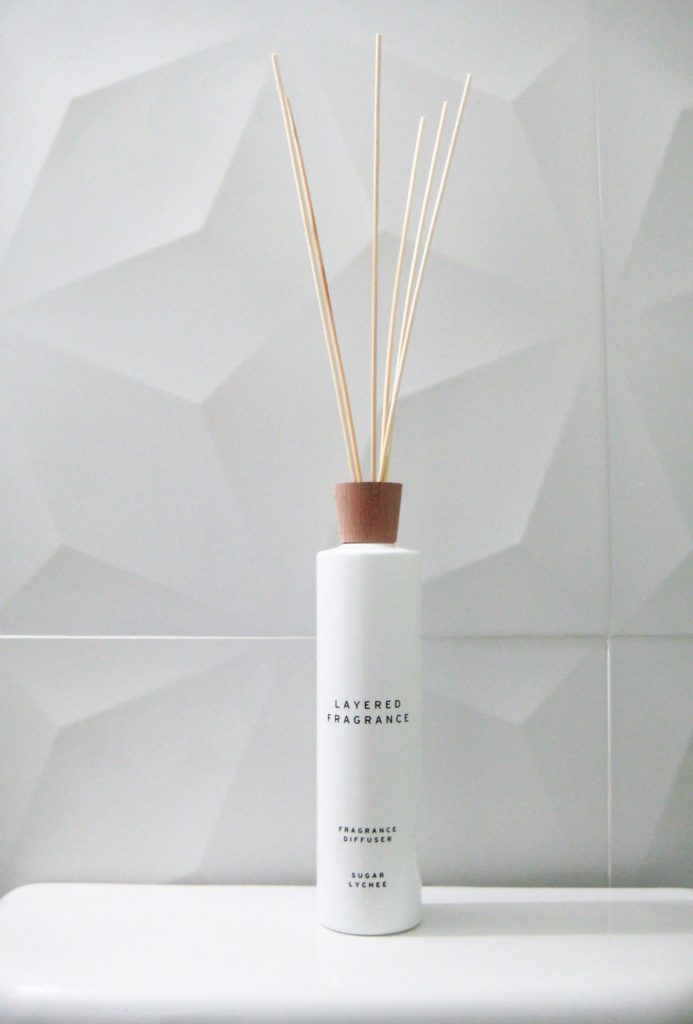 I like everything about this diffuser, and if you know someone who likes minimal, yet sophisticated decor, then I think this might be the perfect gift for them. Pros:
6 included reeds
Syrupy sweet fruity fragrance
Modern, minimal container
Con:
Some may feel the scent is too sweet
What is a Reed Diffuser?
A reed diffuser is a type of an essential oil diffuser. These diffusers rely on sticks called reeds to spread fragrance around the room they are put in. A reed diffuser consists of an essential oil container, reeds, and essential oil. With one of their ends placed in the oil inside the container, the reeds soak in the essential oil and then disperse its scent into the air. Reeds soak in oils rather slowly, which allows for a quite long scent delivery – a few months with some reed diffusers. The fragrance released by a reed diffuser will likely be weaker than in other types of oil diffusers, but diffusers that emit more scent don't last as long.
Why Buy a Reed Diffuser?
The first reason to buy a reed diffuser is aromatherapy.
Research
has shown that pleasant scents positively impact mood and psychophysiological activity, and while people have varying scent preferences, the benefits of fragrances are undeniable. Many people also like reed diffusers due to their advantages over other essential oil diffuser types. Perhaps the biggest advantage of reed diffusers is that they are nearly maintenance-free. The only thing you need to do to enjoy the fragrance is to fill the bottle with your favorite essential oil and put the reeds in. For a few weeks, you won't have to
refill the bottle
or do any maintenance. Reed diffusers also do not employ heat – either from candle fire or heating elements – to help with the dispersion of the scent. Among the benefits of such an approach are:
No temperature damage to the essential oils.
No fire hazards.
No electricity requirements.
And lastly, as mentioned above, reed diffusers are able to disperse the fragrance for several weeks on one refill. The reeds get clogged after use and need replacement though, but they could be purchased separately without any problems.
What to Look For in a Reed Diffuser for a Large Room?
Now that we know what reed diffusers are, let's focus on the things that you would want to consider when researching the best reed diffusers for a large room. There are a few things that you will need to pay attention to – the number of reeds included, the size of the bottle opening, and the thickness of the oil. Of course, you will also need to consider the fragrance and maybe the appearance of the reed diffuser set, but those aren't relevant to the suitability of a diffuser for a large room.
The Number of Reeds
The number of reeds is the biggest factor impacting the scent output of a reed diffuser.
The more reeds in the bottle, the more scent will be diffused.
Bedrooms usually need 6-8 reeds, while larger living rooms may require 10 or more sticks. With that being said, keep in mind that increasing the number of sticks may result in the essential oils being used up faster. What may also matter is the thickness of the reeds. One thicker reed will likely emit more scent than two thinner ones. Thus, pay attention to the thickness of the reeds when buying a reed diffuser and also when buying reed refills in the future.
The Size of the Bottle Opening
Bottles with bigger openings will spread the fragrance quicker. Plus, a small bottle opening simply may not be able to fit those 8-10 reeds. However, since the mechanism of action of reed diffusers relies on reeds, the size of the bottle opening will probably play a smaller role than the number of sticks.
The Thickness of the Essential Oil
Finally, consider the thickness of the essential oil included. Thicker and more potent essential oils will do a better job of filling larger spaces. A lighter oil may be unable to deliver a noticeable effect in a larger space. With that being said, don't forget about your preferences – some people may prefer a lighter scent rather than a heavy one. You may need to do some trial and error to determine what is right for you.
Conclusion
Which reed diffuser caught your eye? We particularly liked
NEST Fragrances Reed Diffuser
– it's very charming, and it also is a great option for large rooms, mainly thanks to the 8 reeds included. This, as we mentioned in our buying guide, is the key feature to look for in a reed diffuser for large spaces.
Manu Home REVITALIZE Citrus Reed Diffuser Set
finishes very close thanks to the amount of essential oil included, it is the best budget choice. With that being said, all of the other reed diffusers reviewed are excellent options to go for. Will your choice coincides with ours, or will you go for something else? This will be up to you! You can
check more reviews here
if you prefer lavender scent.
---
All You Need To Know About Reed Diffuser?
Reed diffuser items spread fragrance all over the home minus the utilization of flame or heat. Reed diffusers are bottles filled with fragrance liquid having reeds embedded into the liquid. The fragrance moves upwards the reeds and later disperses into the atmosphere.
A Reed Diffuser Consists of:
A vessel that holds the diffuser fragrance oil and reed diffuser sticks inside.
The diffuser fragrance oil.
Fragrance sticks or reeds.
Read more at Wikipedia.
Who Utilizes Reed Diffusers?
If you got a house, then you may utilize the reed diffuser. Most people utilize reed diffusers within the home in areas like:
Bathroom
Living room
Bedrooms
The kitchen
Outside the home
Other Places of Use
Retailers are utilizing them to form a relaxing and pleasant shopping encounter. Reed diffusers may be discovered in doctors' and lawyers' office waiting for places to assist calm clients. Those within nursing houses and retirement rooms welcome them because they not only cover smells but they too are lovely to cherish. Real estate agencies suggest them to enhance sellers homes. Additionally, diffusers are widespread in SPAs and beauty stores pointing to the aromatherapy perspective they bring. Because these items are a well-known way to give any room a nice smell they present great rewards for even the difficult to buy for an individual on your award giving lists.
How To Use Reed Diffusers
Reeds are pretty simple to utilize because they're safe, don't need a flame as candles do and are almost maintenance free. In order to have it functioning simply discard its packaging & set all the components on a flat surface. Then, uncap your oil and spill the fragrance oil inside the empty bottle or uncap the container that the oil is now housed. (Note: few reed diffusers arrives having the oil set to be utilized in the ornamental vessel.) Ultimately, inject the reeds inside the loaded vessel & fancy.
How Reed Diffusers Work
The reeds possess tiny straw-like holes which run the entire reed's length. These diffusers, when moistened, absorbs up the oil carrying it all the way to the entire reed. While few sticks can take some time to soak the oil, it's advised to turn over the diffusers after one hour of first implanting them into that oil, to get them functioning faster. There are different kinds of bottles which can be utilized. Keep many bottles with you and change them out any time you want to swap the appearance of your room. Glass bottles may be colored, ornate, patterned & of all sizes. You may coordinate the bottle to suit the style of any place. It's additionally possible to swap the fragrance utilized inside the diffuser. Pick a soothing fragrance for your bedroom or a calming, fresh scent to utilize in the bathroom. These fragrance products are referred to as refills. Products can be specially designed for your requirements or you can buy standard fragrances from online or stores. The fragrances which last the longest are the ones that are entirely made of oil & don't contain any alcohol or water.
The Fragrances of Reed Diffuser
Several kinds of fragrances which work properly incorporate spices like:
Cinnamon
Vanilla
Cloves
Allspice
There're also flavors which are implicative of baked products such as:
Cheesecake
Sugar cookies
Chocolate
Apple pie
Lemon chiffon pie
Fascinating fragrances include:
Frangipani
Hibiscus
Jasmine
Other tropical flowers
Soothing resonances include:
Beach
Ocean breeze
Laundry
Evergreen forest
Buy large refills which hold 100 milliliters or even more or pick smaller refills till you discover a fragrance that you fancy. The diffusers are created by wood and it's best in case you replace the reeds every time that fragrance is also changed. The fragrance moves up via the reed into a small tunnel in the middle of the wood. In case you utilize an antique one at that time, you'll be combining fragrances. These merchandises are readily found in bundles because you need to utilize more than one reed for every diffuser.
How to Use a Reed Diffuser
Benefits of Reed Diffusers
They're Safe
Fragrant candles, really, need flames that may be a security issue in the home. These devices are a reliable alternative for people who have small children or pets.
Don't Require Electricity
Another benefit of diffusers, as opposed to other kinds of household fragrance machines, is that they don't need electricity. So, you don't have to mind about a rise in your electricity bill because you don't have to plug in a fragrance machine in each of your rooms. The fragrance provided by the Reed diffusers is normally based on every natural capillary activity and diffusion. Reed diffuser merchandises are just one kind of household fragrance machine. Other products that can offer a variety of aromas to your rooms include:
Salts
Oil burners
Potpourri
The kind of room fragrance you utilize depends on the concentration of that fragrance and the amount of time you need it to go. Fragrance oils seem to have more concentrated scents and go for longer periods compared to other kinds of fragrance items. If you're still thinking about essential oil diffuser type,
Nebulizer Essential Oil Diffusers
is also a good choice
What To Look For In Reed Diffusers
Vessel Size
The bigger the vessel, the more fragrance oil it can hold and the more sticks it can use. Because reed diffuser works like this, more sticks will help spread the scent quickly, making it better in the big room. Do not seal the vessel, which is also conducive to the diffusion of the fragrance.
Number of sticks
I have
a post
on how many sticks are appropriate to use in different rooms. Usually, about 10 sticks are enough in the living room, but if you still don't feel good, try using more sticks. You can also try a slightly longer stick for better results. You can buy more reed diffuser sticks at Amazon if there aren't enough in the package.
Fragrance oil
In general, thicker fragrance oil will make diffusion better. The number of sticks also directly affects the rate at which fragrance oil is consumed.
The better the diffusion, the shorter the duration.
You also need more refill packs.
Plan B
Because reed diffuser works a little differently in a large room. Sometimes you may do everything you can and still feel that the results are not very satisfactory. That's when you need plan b. You can use more reed diffusers in different locations in the same room. Or you can switch to an
essential oil diffuser
.