If you are in a hurry and just want to find out what the best essential oil diffuser for Large Rooms is, then we recommend the URPOWER 1000ml Essential Oil Diffuser as the best one.
Using an essential oil diffuser is a great way to take advantage of adding fragrance to your home while having a session of aromatherapy. There are countless diffusers on the market today but not every diffuser fits into every room. There are certain diffusers that are better for larger rooms than others.
While some diffusers are great for your décor because of how they're constructed and decorated, you want to be careful with purchasing a diffuser because you want to make sure it's going to be effective in the room you place it. If you're looking to place a diffuser in a large room, like a living room or basement, your options are more limited than if you were to put a diffuser in a smaller room, like your bedroom or bathroom.
In this post, I'll discuss why using a diffuser is a great way to add fragrance to your home and what you should look for in a diffuser. Then I'll review the best diffusers for large spaces before choosing one that is the best out of the list I've compiled.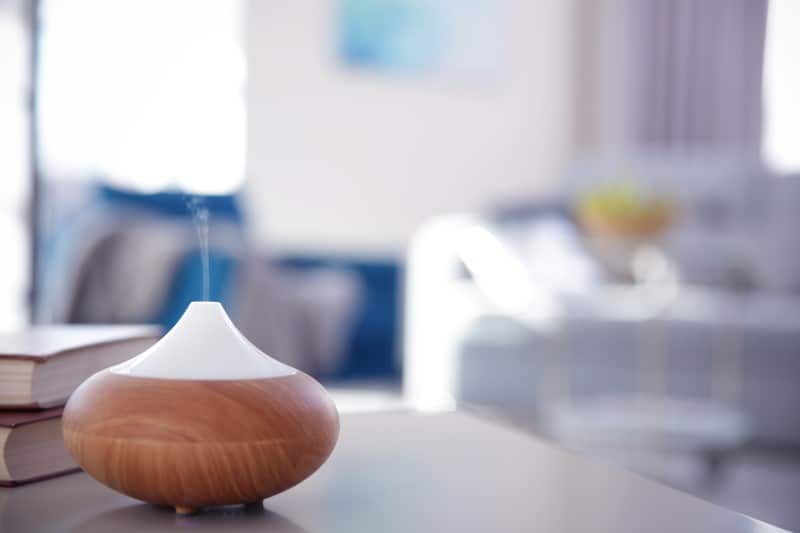 Best Essential Oil Diffusers for Large Rooms
A Review of 7 Essential Oil Diffusers for Large Rooms
URPOWER is a great brand for essential oil diffusers. This model offers a lot more than just diffusing oils. With the 1,000 milliliter vessel, you'll have a long diffusing time before you have to refill the tank.
You're also given a remote to control the settings on this diffuser, too. By using the remote, you can change the time setting and the color on the diffuser as well as turn it on and off.
This model features time and color settings. The time settings allow you to choose from three hours, six hours, and nine hours. There are also seven different colored lights to choose from with this model.
The best part is that you don't have to have the diffuser on to use the light feature, which means it can be used at night for families with children that get up for various reasons throughout the night.
Pros:
This product is quiet while it diffuses.
The set up for this product is easy.
The fragrance from this product fills a large space easily.
From the amount of oil needed in this product, it's easy to create a blend of fragrances.
The automatic color change feature is calming.
The remote makes it easy to control the diffuser without having to walk over to the product.
Up to 430 square feet
Cons:
This product requires quite a bit of essential oil for because of the large amount of water.
You have to use bottled or filtered water to prevent the diffuser from getting clogged with minerals.
This essential oil diffuser is small and discreet but is still able to fill a whole room with fragrance. The small size allows you to place it mostly anywhere you'd like.
Whether you want to hide it or put it on display, you can fit this just about anywhere. The fan in this product is also incredibly quiet, which adds to the discreetness of the product. This product has a 160 milliliter tank, which gives you a decent time of diffusing.
This product can fill a room up to 250 square feet. There's also a built in timer that will automatically turn the device off after the timer is finished. There's also an intensity setting that allows you to control the amount of fragrance you're getting from your diffuser.
Pros:
Even with a small tank, you get about 3 hours of diffusing from it.
The fragrance spreads easily from this diffuser.
These diffusers really stand the test of time, lasting a long time.
This diffuser has an intermittent cycle, which turns it on and off throughout time, making the diffusing time longer.
The diffuser is easy to set up and use.
Cons:
This diffuser takes quite a bit of essential oil despite its small size.
There isn't a strong fan so the diffuser doesn't spread the fragrance as well as other diffusers.
Up to 250 square feet
Not only is this a diffuser, it's also a humidifier. This is great for homes that tend to be dryer than you'd like. Along with the aroma that comes from this diffuser, you'll also get the humidifying qualities, which will make your home feel less dry and will prevent your skin from drying out. This diffuser has a 200 milliliter tank and can diffuse for up to seven hours.
On top of this being a humidifier and diffuser, it's also a Bluetooth speaker. This provides the great opportunity for playing calming music during your aromatherapy session. Or, if you're having a gathering, you can play more upbeat music or any music appropriate for the setting while you diffuse. Not only will you have a great smelling home, but you'll also be able to enjoy some music, too.
Pros:
The Bluetooth feature makes this a great product for a well-rounded relaxing aromatherapy session.
Syncing the Bluetooth is incredibly easy.
The diffuser is incredibly quiet when in use.
You get different colored LED lights with this product.
The diffuser fits in great with décor because of the wood finish.
Cons:
This device doesn't last as long as other devices.
This product isn't as durable as other diffusers.
This diffuser is great for people who are on a budget. This is a lower cost diffuser but still offers features that are on the higher priced diffusers, too.
Not only do you get a product that diffuses effortlessly, but you also get a product that has a humidifying feature and a nightlight feature. This product is incredibly quiet, so you don't have to worry about the diffusing being distracting or overly loud.
While this isn't a very large product, with the tank only being 500 milliliters, you'll get enough fragrance spread to fill a large space. The best places to put this diffuser is in your living room or basement as it can easily fill that space with fragrance.
Pros:
You get time settings with this diffuser.
The device automatically turns off when the water runs out.
The light on this product doesn't have to be on if you don't want it to.
This product doesn't require a large amount of oil to spread the fragrance.
This product is very quiet when in use.
Cons:
The fragrance may be too subtle for some people.
This device isn't as durable as others.
This diffuser is specifically created to fill large spaces with fragrance. It features a large tank of 1,500 milliliters, which means that it gives you a longer diffusing time than other products with smaller tanks. In fact, you get up to 20 hours of diffusing time.
On top of the diffusing, you also get a humidifying feature from this product, which is great if you have a house that tends to have a dryer air than you'd like.
This product features a wide range of intensity settings instead of just offering a high and low setting. This makes the diffuser completely customizable to your fragrance preferences. There is also an automatic shut off feature that turns your device off when the water has run out.
Pros:
This functions as both a diffuser and a humidifier.
This is a great product to use during cold and flu season.
When you're finished using this product, it is easy to clean.
It's easy to tell when the product needs to be cleaned because the motor tends to hum.
When the product is clean, the product diffuses quietly.
Up to 450 square feet
Cons:
This product doesn't last as long as other diffusers.
You need to be careful when cleaning this product so that it doesn't break.
A nebulizing essential oil diffuser, SpaRoom Theralizer employs the Bernoulli principle to diffuse oils into the air. Basically, pressurized air is forced into the reservoir with oil, which causes the essential oil to atomize into microparticles.
Those particles are then emitted out of the reservoir into the environment. This process requires no water. SpaRoom Theralizer isn't merely an oil diffuser. With its beautiful wooden design, it may be able to greatly complement your interior.
As far as oil diffusion goes, this device is designed to create a potent stream of oil particles directed into the room. This diffuser runs for only 2 hours per full cycle (with 2-minute on and 1-minute off cycles), but it delivers a strong aromatizing effect in this short time frame.
Pros:
Beautiful design.
Up to 1000 square feet coverage.
Potent nebulizing effect.
Cons:
Slight tendency to clogging.
Fragile: the internal reservoir is made of glass.
Always unavailable
While Raindrop 3.0 nebulizing oil diffuser may not be as visually appealing as SpaRoom Theralizer, it might be a more interesting model to you.
Raindrop 3.0 is the latest nebulizing oil diffuser from Organic Aromas. It does not need water and runs very quietly. Perfect for use at work.
In terms of oil diffusing, Raindrop 3.0 diffuser operates in a similar fashion to SpaRoom Theralizer. However, its aromatizing effect is slightly less potent, which is why it is suitable for up to 800 square feet areas.
It's a bit expensive, so if you're on a budget, try the cheaper Raindrop 2.0 instead.
Up to 800 square feet coverage.
ONE YEAR free parts & service warranty.
Easy to Clean.
Cons:
What to Look for in an Essential Oil Diffuser
When deciding what essential oil diffuser is best for you and your home, you'll want to make sure that it has features that are going to fit your life and preferences. There are countless different diffusers on the market, but not every single one is going to have the same features as the rest. Before purchasing a diffuser, you're going to want to look around and see what diffuser is going to fit your lifestyle.
How Large an Area Is Covered?
One of the first things that you'll want to consider when buying a great diffuser is the coverage area it offers. Some diffusers are meant for large spaces while others are not. This is easy to determine, however, because it is always listed on the package by the manufacturer. Generally, the larger the diffuser, the longer it will last because it can hold more water in the first place, meaning that you won't have to refill it quite as often.
If you're planning to use a diffuser in a large room such as your living room or den, it's best to do two things: buy a larger diffuser that is made for bigger rooms and make sure that you put enough essential oil in it to cover the entire room and last for a while.
Ease of Operation
Another consideration when buying the right essential oil diffuser is the ease of using it. With most diffusers, you simply plug it in and press the "on" button but others can be a bit more complicated. Again, if you read the directions on the packaging and pay attention to the photograph that's on there, you can easily determine the difficulty level of operating the unit.
In addition, some of the more sophisticated diffusers have various settings that allow you to choose how many hours you want it to run. Most diffusers will list their maximum operating time on the package and this can range from as little as 18 hours to as long as 40 hours. Many diffusers also simply run until they run out of water and then the unit is shut off automatically.
The Noise Level Is a Consideration
Each diffuser has a different noise level even though most of them are extremely quiet. Let's face it; they are likely going to be used to help you relax. Most of the noise comes from the steam or mist that is spewed out once you turn the unit on but if you look for a unit that specifically mentions on the package that it is quiet, you'll be in good shape because this is what you want.
The noise level is especially important when you're planning to put the diffuser in a bedroom because no one can sleep with too much noise in the room. However, even putting it in the living room or bathroom means that you should look for one that is quiet because it is more convenient and nicer to have around.
Timer
One feature that's incredibly handy for someone with a busy schedule is a built in timer. By having a built in timer, you don't have to worry about forgetting to turn off your diffuser. Many products with timers come with different time increments, such as one hour, three hours, and six hours. There are also many that have a steady setting that allows you to decide when you want to turn it off, if it's longer than six hours.
Auto Shut Off
Another feature that you should keep an eye out for is an automatic shut off feature. This feature will turn your device off when it runs out of water. This will prevent your diffuser from being a fire risk or from becoming ruined due to being run without water.
Build-In Lights
There are also diffusers that come with built in lights that are great to use as a nightlight or just to provide some ambiance to whatever room you place it in. This is great for people who like to use candles partly for the light they give off. While you don't get the same effect as you would with a candle flame, you are given a nice ambiance from the light. Some lights also give off different colors, too.
Work as a humidifier
Some essential oils also double as a humidifier too. If your home gets dry during the winter months, you're going to definitely benefit from having a humidifying diffuser in your home. Not only will your home smell amazing, but you'll be adding moisture into the air too. This can help prevent your skin from drying and prevent bloody noses that come from dry air.
Which Diffuser is Really Worth Your Time?
While all of these products are great and will fit perfectly in any home, there is one that stands out from the rest. The URPOWER 1,000 milliliter aromatherapy essential oil diffuser is without a doubt the best of the best. From the strength of the fragrance throw to the different features that this product is equipped with, you're going to have the best experience with this product.
One of the best features this product offers is the remote control that it comes with. You can control the timer, light, and power of this device. The remote is an incredibly handy tool that is a real game changer with the diffuser.
Final Thoughts
Using an essential oil diffuser is a great way to safely add fragrance to your home. Each of the five diffusers I reviewed are great to use in your home but the URPOWER diffuser definitely takes the cake and is really worth your time. No matter which diffuser you choose, your home will smell amazing and feel great.