If you are in a hurry and just want to find out what the best scented candle is, then we recommend the Chesapeake Bay Balance + Harmony Scented Candle as the best one.
Shopping for scented candles to revitalize your home?
After hours of research, we've identified what we think are the best scented candles out there, and we'd like to showcase them today to our readers. We'll give you an in-depth insight into each of the candles to help you choose the right one. But first, let's go through our buyer's guide to get an idea of what to look for in a scented candle.
In this article, we'll be reviewing the following scented candles: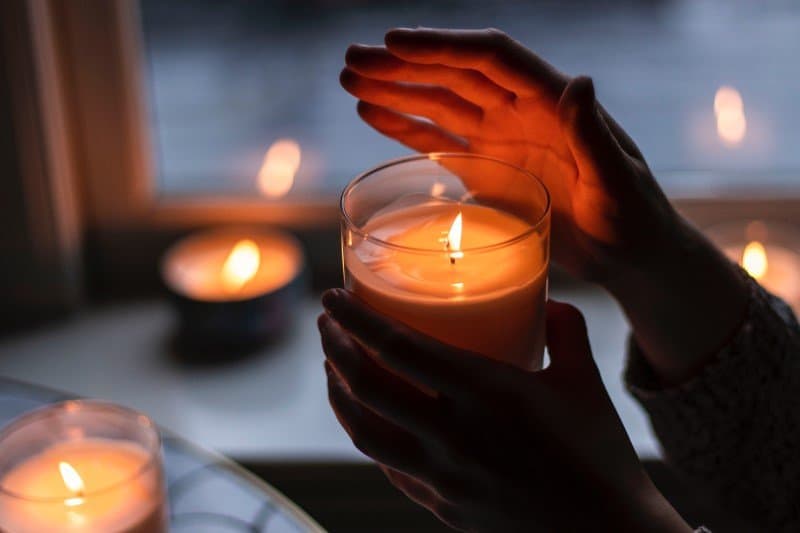 Check full candle brand list here.
Best Scented Candle Reviews
Now that you know the basics of candles, you can join me in choosing a satisfactory candle for yourself.
With a little over 6k buyer reviews, Chesapeake Bay's Balance + Harmony is one of the most popular scented candles on our list. And this is for a reason.
The scent is, of course, the first thing that interests us today. Well, the Balance + Harmony scented candle delivers a clean scent that's not overwhelming. In terms of scent notes, this candle is pretty rich – Chesapeake Bay lists a whole bunch of scents as top notes (e.g. apple, pear, or orange zest), middle notes (jasmine and rose), and base notes (clean musk, rosewood, anise, etc.).
The intricate floral scent is further enhanced with essential oils made from orange oil. This makes for a remarkable scent that, in our book, earns it the title of the absolute best scented candle. It's truly unique in this regard.

The wax here is made from soy, and with 8.8 ounces of it, the Balance + Harmony scented candle is claimed to deliver a burn time of about 50 hours. The self-trimming wick, in the meantime, should ensure consistent burning.
Pros:
Up to around 50 hours of burn time.
Intricate floral fragrance enhanced with essential oils.
Self-trimming & lead-free wick.
Natural soy wax blend.
The Yankee Midsummer's Night jar candle is marketed specifically for men, so its audience is somewhat limited. However, if you like its features, have a look at other scents – maybe you find something that's more to your taste.
Anyway, at the heart of the Midsummer's Night is a strong (as Yankee puts it, "intoxicating") masculine scent composed of musk, patchouli, sage, and mahogany cologne scents. This mix will probably do a good job of enhancing the vibe of your man cave.
The particular jar size we based our review on comes with 22 ounces of the stuff, which is claimed to allow for 110-150 hours of burning time. You're also getting natural fiber candle wicks for the "best burn".
One thing to keep in mind here is that the wax in this candle is made from paraffin. However, larger jar options seem to have soy wax, so you may choose them instead.
Pros:
Lasts for about 110-150 hours.
Strong masculine scent.
Natural fiber wick.
Cons:
Aimed at men.
Pretty pricey.
The Fresh Linen scented candle from Lulu Candles is small but mighty. Although sized at just 6 ounces, this jar candle promises to deliver one of the longest burn times on the market. Based on people's feedback, we'd say that you could expect this candle to deliver around 30 hours of burn time, which is decent for its 6-ounce size.
The scent here is a pretty interesting one and perhaps even weird – this scented candle delivers a fresh linen scent. This scent is refreshing and, in contrast with typical floral scents, maybe more neutral. The Fresh Linen jar candle is also infused with essential oil fragrances, allowing for a more pronounced but not overpowering scent.
Lulu Candles also boasts that the Fresh Linen jar candle is handcrafted in the US and that the soy is all-natural and cruelty-free. However, it's quite expensive, especially given that you are only getting 6 ounces of wax.
Pros:
Made from cruelty-free soy wax.
Refreshing fresh linen scent.
Long burn time for the size.
Infused with essential oil fragrances.
Cons:
The Aromascape PT40507 scented candle promises to deliver increased scent release rate thanks to the 3 included wicks. Light them all up and expect to get an inflow of scent quicker than with other scented candles.
In terms of scent, the PT40507 is pretty neutral – it has soft vanilla and almond fragrance that will probably be to the liking of most people.
The wax here is made from soy, and you are getting 14 ounces of it. As claimed by Aromascape, this jar candle delivers around 34 hours of burning time, probably when all 3 wicks are lighted. If Aromascape is indeed implying all 3 wicks, then the burn time in this candle is pretty long.
Pros:
Inexpensive.
Increased scent release rate.
Burns for about 34 hours.
Vanilla- & almond-scented soy wax blend.
If you are looking to buy scented candles as a gift, then consider this gift set by Yinuo Candle.
The main feature of this candle set is the packaging – it's a cute packaging specifically made with gift-giving in mind. We've had a few other gift-worthy options on our list, but we like the Yinuo set the most so far.
Aside from the packaging, the tin jars look great as well thanks to their vivid coloring.
This scented gift set comes with 4 4.4-ounce candles, each claimed to burn for 20-25 hours, which is very solid for their size. All the candles are scented differently – you are getting gardenia, lavender, jasmine, and vanilla scents. These candles may be used separately, as well as combined for a better and stronger scent.
Speaking or scent strength, Yinuo candles are on the weaker side. The fragrance is very soft and mild, which may be a good thing in some people's books.
Pros:
Excellent gift choice.
4 fragrances.
Each 4.4-oz candle burns for about 20-25 hours.
Made from soy.
Cons:
This scented jar is pretty darn unique and interesting – it's marketed as a smoke odor exterminator candle.
The manufacturer of this candle, Smoke Odor Exterminator (that's literally their name), claims that this scented candle has a "special enzyme formulation" that is capable of removing smoke, pet, and other household odors. Not only that, but this candle also leaves a refreshing fragrance behind, essentially working like a regular scented candle.
The fragrance of the reviewed scented candle was pineapple & coconut, but there are many other scents available as well.
The burning time in this candle is also remarkable – the 13 ounces of candle wax are advertised to burn for about 70 hours, so there's a lot of odor elimination potential in one jar.
Now, the most important question – do the claims of Smoke Odor Exterminator hold up?
It seems that they do. Just shy of 4 thousand reviews and 4.2 stars on average are a testimony to this. Of course, this candle hasn't worked for everybody, but it appears to have worked for most buyers. So Smoke Odor Exterminator is probably at least worth a good try.
Pros:
Eliminates smoke & other household odors.
Leaves a pineapple & coconut scent behind.
Burns for about 70 hours.
Yet another gift set on our roundup! Yinuo Mirror's gift set comes with a good number of candles and scents – 8 each.
The packaging here is gift-worthy as well, and so are the candle jars. However, they have a little more restrained appearance than in the other Yinuo set, which may make this set a good choice for any interior.
We've mentioned that you are getting 8 scents – these are strawberry, lavender, mint, lemon, spring, vanilla, rose, and green zen. Each jar comes with 2.2 ounces of wax that is claimed to last for 20-25 hours and 160-200 hours in total.
Like in the previous candle gift set, the scent here is on the milder end. It's certainly not overpowering, but it may also seem too weak for some people.
Pros:
8 candles with 8 fragrances.
Each 2.2-oz candle burns for 20-25 hours.
Made with soy wax.
A great choice for a gift.
Cons:
The scent is on the milder end.
The Balsam & Cedar jar candle from Yankee is a good alternative to the masculine Yankee scented candle reviewed earlier. In fact, this particular scented candle listing is insanely popular – as of this review's writing, it had over 15,000 reviews and 4.6 stars on Amazon! If this doesn't tell you how good this scented candle is, then we don't know what will.
Other than the scent, we'd say that this jar candle is identical to the Midsummer's Night candle – both include 22 ounces of paraffin-grade wax, a natural candle wick, and 110-150 hours of burn time. Likewise, both scented candles are pretty pricey.
The scent in this particular candle is a forest-y fragrance with hints of balsam, juniper berry, and cedarwood. This blend is pretty strong, but it doesn't seem to be overpowering. And what's more important is that it can be used by women as well, unlike the Midsummer's Night jar candle!
Pros:
Lasts for 110-150 hours.
Strong forest-y scent.
Natural fiber wick.
Cons:
Finally, we have Nature's Wick Coconut Saffron jar candle. We've seen a lot of good stuff in previous scented candles, but this jar candle still has a few new things to offer.
Perhaps the most noteworthy thing in this jar candle is the wooden wick that makes a crackling noise while burning. This crackling noise might be annoying depending on what you're doing, but if your goal is to relax, expect the crackling to have a soothing effect on you.
The scent in this candle is interesting as well – it's a mix of saffron and coconut with a hint of aged rum and tropical fruits, which overall makes for a pleasant tropical smell. You're also getting 10 ounces of wax for up to about 65 hours of burning time.
We also like the curved stylish glass container that the wax comes in. All of the jars on the list looked great, but this one was especially eye-catching for us.
Pros:
Burns for up to 65 hours.
Pleasant scent with tropical hints.
Stylish glass jar.
Wooden wicks with crackling noise while burning.
Things To Consider In The Best Scented Candle For Your Space
So let's first try to understand what you should be looking for when shopping for a scented candle. With this guide in mind, it will hopefully be easier for you to choose from our 10 picks.
Paraffin vs soy wax
The primary ingredient in a scented candle is wax, and when shopping for a candle, you'll see two types of wax – paraffin and soy wax. There is a lot of debate on which wax type is better, so to make things simpler for you, let's briefly talk about their differences.
Soy wax is considered to be environmentally friendly because it is made from the oil of soybeans, which is renewable. On the other hand, paraffin wax is made from non-renewable crude oil.
Paraffin wax also tends to produce more soot. Paraffin wax is also thought to emit harmful pollutant particles that may contribute to the development of cancer. Although you will have to use paraffin candles every day for years to have health issues, the problem is still there.
With that said, paraffin candles generally have a stronger scent, and they are also often colored.
However, the possible health effects of paraffin wax alone may be enough for you to avoid it altogether and just go for soy candles. But if you won't be using scented candles every day, you shouldn't have to worry about the effects of paraffin wax.
Read my full article on What Is the Healthiest Candle to Burn.
Scent
The scent is the reason why people are buying scented candles, so you should pay careful attention to the fragrance of the desired candle.
There is a bunch of things to consider when choosing a candle scent. The 3 most important factors are:
Your preferences.
The location where you will be placing the candle.
Why you are buying a scented candle.
Your preferences
With preferences, things are pretty simple – you should just go for a scent and scent intensity that you love. You may also try to experiment with new scents, but to be safe, just stick to scents that you are familiar with.
Location
When it comes to the area where the scented candle will be placed, things can be a little more difficult.
For use in bathrooms or kitchens, it's generally recommended to go for subtler scents that make sense. For example, sweet and food scents may not make sense in the bathroom, but they will probably work in a kitchen. In contrast, floral scents might not be a good pick for kitchen use.
In other areas of your home like the living room or bedroom, you have more freedom in choosing scents. Go for whichever scent you like.
As a rule of thumb, here is where and when you should use scented candles based on their scent:
Relaxing scents (chamomile, lavender, eucalyptus oil, sandalwood). Bathrooms or bedrooms.
Invigorating scents (cinnamon, citrus, ginger, peppermint, rosemary). Living rooms, hallways, home offices.
Romantic scents (champagne, lilac, jasmine, peony, rose, violet). If you are looking to spend time with someone special to you.
Fresh scents (cassis, cotton, fig, juniper berry, white geranium). Bedrooms, dressing rooms, walk-in wardrobes.
Festive scents (cardamom, cinnamon, clove, ginger, woody scents). Fireplaces, festive settings.
Sensual scents (patchouli, rose, vanilla, ylang-ylang). Bedside tables, special occasions.
Purpose
Why do you want a scented candle? These are the two primary reasons why someone would want a scented candle:
To make their home atmosphere cozier and more pleasant.
To mask other odors.
With the former, you just may go for any scented candle. But to mask or eliminate odors – like smoke or pet odors – you should go for candles that are designed to eliminate odors. Such candles are usually marketed as odor-eliminating.
Know that some odor-eliminating candles may also release scent into your home just like a regular scented candle would. If the desired candle does this, pick a scent that you will like.
If you want to create your own unique candle fragrance, you may need to make your own candles at home. Here is our homemade candle guide.
Looks
How the candle itself looks can also be pretty important for some people. You are using a scented candle to make your living space cozier anyway, so why not go a step further and pick a scented candle that will blend in with your interior?
Scented candles come in different container types like jars or tumblers. If the candle design matters to you, then pay attention to the shape and color of the container, as well as perhaps the color of the wax itself.
Burning time
The burning time of a scented candle will directly depend on the amount of wax in the jar. Aside from that, the burning time may depend on the quality of the wax and whether or not you take care of your candles correctly.
Manufacturers indicate the burning time of their scented candles in hours. These should be pretty realistic if you take proper care of the candles.
Generally, the longer the burning time, the better, but this depends on the size of the space you'll be placing the scented candle in. For large spaces, you'll indeed want to get a bigger candle that will emit scents for maybe over a hundred hours.
Packaging
Finally, if the scented candle will be gifted to someone, then consider its packaging as well. Scented candles usually come in quite good gift boxes, but if you want something special, then pay attention to the packaging of the desired scented candle.
Final Words
There go our reviews of the best scented candles!
Have you been able to find the scented candle that you've been looking for?
If it was up to us, we'd probably go for the Chesapeake Bay Balance + Harmony Scented Candle. This scented candle has a very interesting scent profile that many people will probably like. Aside from that, it's made from soy wax, which, as mentioned in our buyer's guide, is sustainable and safe.
If you are thinking about buying a scented candle as a gift, then our personal vote goes to the Nature's Wick Coconut Saffron Jar Candle due to its attractive jar that's truly gift-worthy.
However, the 2 gift sets that we've reviewed – Yinuo Candle Scented Candle Gift Set ,and Yinuo Mirror Scented Candle Gift Set should work as well. They have great packaging – a must for a gift – and their candle jars are very cute.
However, there still are 3 great options left, each with its own unique features. If you think that any of them will work better for your needs, then feel free to go for whichever scented candle you like!