Yankee Candle has been around since 1969, and over the last few decades, they have made millions of candles and a plethora of candle scents. Not all Yankee candles are still in production, and in fact, quite a few unique and interesting scents have been retired.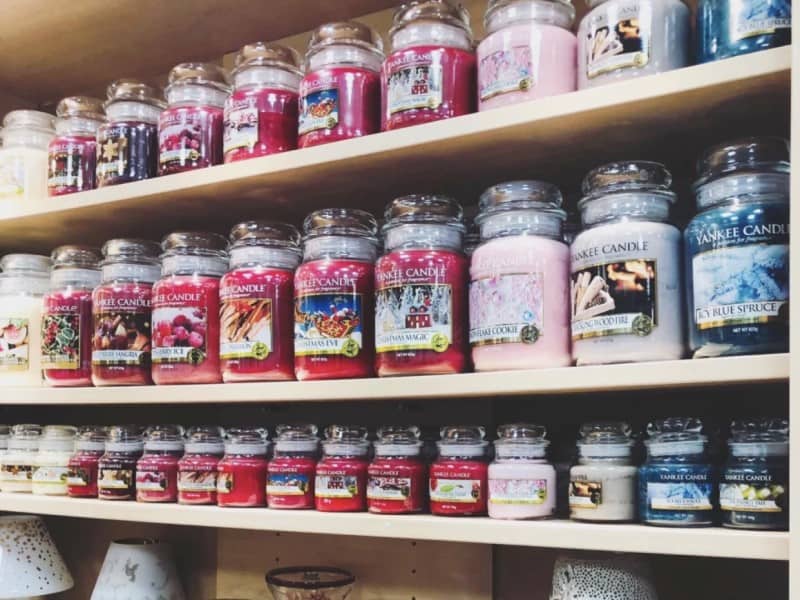 17 Unique Retired Yankee Candle Scents
The list of retired Yankee candles is quite long, reaching well over a hundred different scents, and is constantly changing. In the following sections, I'll go over seventeen of the most interesting, popular, and famous retired Yankee candle scents.
If you ever have the opportunity to get your hands on any of these retired Yankee scents, you likely won't be disappointed. Let's get right into it!
1. Evening Air
Evoking a feeling of walking through a wooded area with the lush scents of trees, foliage, and nature all around you, this candle has a bit of a crisp touch to it. This candle has notes of cloves, cedarwood, geranium, basil, and musk.
2. Lavender
Instead of relying on fancy scent mixes and combinations, this candle is very simple and pure. With just the scent of lavender in this candle, it is refreshingly relaxing and perfect for nearly any situation where you just need a simple candle that smells pleasant.
3. Fireside Treats
This candle manages to capture and bring the rich scent of an outdoor campfire with a slight hint of sweetness. The smell is warm, complete, and creates a welcoming and homey feeling and atmosphere in the room where you light this candle.
4. Honey Glow
When lit, this candle brings a charming and warm atmosphere, perfect for both bitter cold days and summer weather. With notes of pineapple, lemongrass, sandalwood, jasmine, ginger, and musk, this scent is very full with a touch of sweetness.
5. Orange Splash
As the name suggests, this candle has a very crisp orange scent that is quite refreshing. It is a very uplifting citrus smell that is sure to lighten up any space and bring a pleasant summer feeling. Many buyers noted that the orange scent is not as strong as many other Yankee candles.
6. Olive & Thyme
This candle has a unique herb smell with olive leaf, orange, lemon, thyme, and musk notes. The Mediterranean-inspired scent of this candle is quite refreshing and crisp, with a hint of sweetness from the citrus tones. This candle is sure to bring a pleasant fresh scent to any room where it's lit.
7. Pink Dragon Fruit
The pure dragon fruit and citrus extracts in this candle give it a very fruity smell that is quite crisp and pleasant. Its striking pink color and strong tropical fruit aroma make this candle stand out from the rest and grab people's attention when they walk into the room.
8. Winter Glow
This candle is unique because it has a crisp, almost cold quality while remaining warm and inviting. A great alternative to the standard cinnamon and spice holiday candle, this scent evokes a feeling of walking through fresh snow with a hint of citrus and evergreen.
9. Cranberry Pear
A bit of an unusual combination, the cranberry and pear scent in this candle work surprisingly well together. Not overpowering each other too much, this candle's tones deliver a tart, sweet, and relaxing aroma that will surely engulf the room and create a comfortable and welcoming environment.
10. Apple Pie
Not to be confused with the other retired Yankee scent Mom's Apple Pie, this candle brings a mouth-watering spice, cinnamon, and apple scent to your home. Perfect for cold weather and holidays, it smells exactly like a freshly baked apple pie straight out of the oven.
11. Farmhouse Apple
This Yankee candle is much like the Apple Pie scent above, but it focuses on the apple aroma much more. This candle has detectable tones of cinnamon and spice, but its primary apple scent is exceptionally robust, refreshing, and crisp.
12. Plumeria
Much like the flower that inspired and lent its scent to this candle, the Plumeria Yankee candle has a powerful floral aroma that fills the room and creates an enjoyable atmosphere. It's like walking through a field of flowers in late spring, with hints of sweetness and tropical fragrance mixed in.
13. Pineapple Paradise
Pineapple has a very distinct and sweet smell that this candle captures nearly perfectly. With subtle tones of cream and tropical fruit mixed in, this candle is extremely sweet, rich, and sure to make any room smell wonderful.
14. Mulled Wine
Retired when Yankee acquired Illuminations in 2006, the Mulled Wine scent is very distinguished and elegant. This candle has a rich and subdued fruity smell with a hint of clove and spices that makes it a very welcoming and comforting scent that is sure to be a great addition to any room.
15. Ocean Water
Sure to add a pleasant aroma to any room in your home, this candle scent is very light with a hint of exotic flora, hibiscus, and musk. It gives you the feeling of a light breeze coming over the water on a spring afternoon — crisp, pleasant, and comforting.
16. Treehouse Memories
With a bit of cologne-like smell, this scent is vibrant, rich, and bold. It got a very woody base fragrance, with notes of musk and various spices. While not very forestry, this candle scent evokes feelings of hanging out in an old treehouse and is a very comforting and warm fragrance.
17. Almond Cookie
This candle smells like you just removed a fresh batch of almond cookies from the oven. Its scent is exceptionally vibrant and rich, with hints of almond, spice, and vanilla. While not great for every situation, it smells exactly like fresh-baked pastries and is very sweet, warm, and comforting.
Where to Find Retired Yankee Candle Scents
Because Yankee no longer produces their retired candle scents, getting your hands on any of these discontinued candles can be challenging. But with a little bit of effort, searching, and knowing where to look, it is possible to find many discontinued Yankee Candle scents.
Online Marketplaces
There are many online marketplaces where many people put up listings to sell their retired Yankee candles. Some of the best places to look are eBay and Craigslist, but there are many other great ones, and local online marketplaces in your particular region are even better.
Facebook Groups and Forums
Facebook groups dedicated to trading, selling, buying, and discussing Yankee candles are a great place to get your hands on some retired candle scents. While often less inclined to buying, trading, and selling, forums like Reddit and Quora are perfect for finding like-minded people and potentially buying retired Yankee candles.
Yankee Candle Outlet Stores
Factory outlet stores are a great place to find discontinued or off-season merchandise. Primary Yankee Candle stores want to get rid of discontinued candles quickly, so they'll ship them to Yankee outlet stores where you have to chance to find the scent you're trying to find.
Local Garage Sales
A surprisingly large number of people have retired Yankee scents just sitting in their homes or garages, so going to local garage sales can be an excellent way to find some discontinued candles. You can often negotiate a low price at a garage sale as well.
Flea Markets and Swap Meets
Flea markets and swap meets are usually local gatherings where people can bring items they want to trade or sell. Yankee Candle is a pretty popular brand, so you can often find quite a few of them at swap meets and flea markets, and if you're lucky, a retired scent or two.
Thrift Stores and Antique Shops
People donate large boxes of items from their attic or garage to local thrift stores and places like Goodwill, so it's not uncommon to find retired Yankee candle scents. Antique shops are also a great place to look because you can usually find vintage and discontinued candles among the other old furniture and items they sell.
Why are Some Yankee Candles Scents Retired?
Over the last few decades, Yankee has retired a ton of candle scents, and they do so for a variety of different reasons. Yankee admittedly has discontinued some pretty fabulous candles, so what causes a scent to be retired and why?
It's usually not a single factor that gets a scent retired, but instead a culmination of many different things and circumstances. Below are a few of the most common reasons Yankee to discontinue a candle scent:
Lack of Initial Interest – When Yankee announces the release of a new scent, there is usually an initial buzz from Yankee collectors, customers, and fans. If the initial interest for the candle is low, the scent sometimes gets retired quire quickly.
Negative Customer Reception – If customers don't respond well and give negative feedback on a candle, there is no need to continue selling the scent, and it can lead to the scent being retired.
There is a Replacement – When Yankee releases a new candle similar to one of their existing ones, they may discontinue the old scent.
Company Acquisition – Yankee is a prominent player in the candle and fragrance industry, and they have acquired a few companies. During the acquisition process, some scents don't make the cut and get discontinued.
Seasonality – Some candles are very seasonal, and after the season is over, Yankee retires the scent.
Limited Edition – Yankee releases some candles as a limited edition with plans to discontinue the scent after a certain amount of time.
Final Thoughts
Finding retired Yankee scents is not an easy task. There is not a centralized location where you can go to find them, so it's sort of a wild goose chase to get your hands on any discontinued Yankee candle.
The scents mentioned in this article, and many of the other retired Yankee candles, are truly exceptional and well worth the effort of finding and purchasing in the end. You've just got to have a bit of patience and be willing to put in the effort to pursue these retired scents, even though it often isn't an easy task.
Read more: