Two of the biggest names in the candle scene are Yankee Candle and Goose Creek. They're both great companies that provide you with high quality candles, but which of these companies is the best?
Out of both of these companies, Yankee Candle provides their customers with the best candles and Goose Creek candles are budget choices. While both of these candle companies produce very similar candles, there are several differences that I will go over in this post, including the varieties of fragrances and sizes.
First, we'll take a look at the similarities between the candles distributed by each company and then we'll discuss the differences that each company offers. By taking in the similarities and differences, we're going to be able to clearly see that the better candles are produced by Yankee Candle.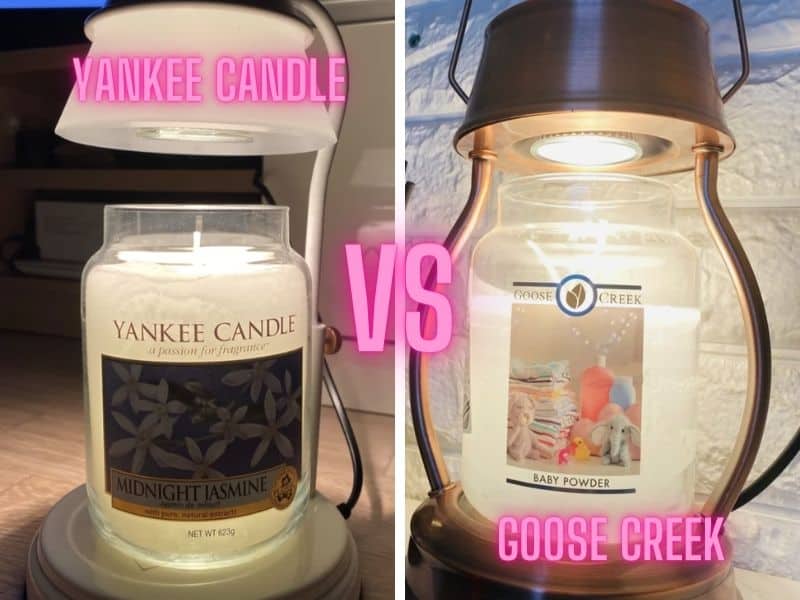 Read more:
The Similarities between Yankee Candle and Goose Creek Candles
There are several similarities between Yankee Candle and Goose Creek, the most obvious being the almost identical look to their large glass jar candles. Both candle companies offer a candle size where the candle is poured into a large glass jar with a glass lid. The labels, too, are similar in that they have the brand name at the top with a picture representing the fragrance beneath it. Under the picture, the name of the fragrance is displayed.
Another similarity between these two brands is their composition. Both companies use premium paraffin wax to create their candles, which gives them their strong scent throw. The fragrances in their products are both created through manmade fragrance oils, which gives them their strong, long lasting scents.
With the large jar candles that are offered from both brands, you will be treated to around 150 hours of a burn time before having to replace your candle. Each candle is also created to have a layered fragrance. For example, when you choose to buy a Balsam Fir candle from Goose Creek, you'll get the notes of:
Top: fresh balsam and pine
Mid: woodlands and bergamot
Base: oak moss and evergreen
Similarly, if you were to choose a Balsam and Cedar candle from Yankee Candle, you'll get the notes of:
Top: crisp citrus, herbs, and red berry
Mid: pine balsam, cedar, and sandalwood
Base: vanilla, warm amber, and musk
By creating a candle with layered fragrances, these companies are creating a well rounded fragrance that feels complete.
Differences Between Yankee Candle and Goose Creek Candles
So, we know there are several similarities between these two popular brands. But, even with the similarities, there are several differences that leads us to choose Yankee Candle as the better of the two companies. The two biggest differences between these two brands are the amounts of size and fragrance options provided to their customers.
Size
One of the differences between these two brands, is the amount of size options you have. Goose Creek offers four different candles sizes to their customers. They can pick from 24 ounces, 16 ounces, 14.5 ounces, or 7 ounces. The majority of their candle lines, including their candles for men and aromatherapy lines, are offered in the 16 ounce candle size.
From these sizes, you have a few different types of candle styles to choose from. Their large jar candles come in the classic jar that most people think of when they think of Goose Creek. These jars come with two wicks.
The 16 ounce candles come in smaller glass jar with a metal lid. These candles can come with two or three wicks. Instead of just using clear glass, you can get tinted or colored glass with these candles.
Their 14.5 ounce candles are sold in their modern farmhouse collection. These candles come in a white tinted glass jar with a word written in large handwritten style letters.
The 7 ounce candles come in small clear glass jars with metal lids that screw onto the candle.
If you're looking for a specific fragrance, you won't be given a very wide range of sizes to choose from. Goose Creek tends to have different fragrances for each size of candle.
Yankee Candle offers a wider range of candle sizes for their customers. When you buy from Yankee Candle, you can choose from 22 ounces, 19.5 ounces, 18 ounces, 14.5 ounces 12 ounces, 7 ounces, 3.7 ounces, 1.75 ounces, 1.3 ounces, and .35 ounces.
These candles come in varying styles, too. Their iconic jar style candle gives you three different sizes, their large jar (22 ounces), their medium jar (14.5 ounces), and their small jar (3.7 ounces). These jars use one wick. You can also get a 22 ounce candle in a tumbler form with two wicks instead of one. Their small tumblers are 7 ounces and only have one wick.
Their 19.5 ounce candles come in a square jar and uses two wicks. Their remaining sizes come in pillar jars, as votive candles, mini candles, and tealight candles.
When you're buying from Yankee Candle, there are many different sizes that are associated with a single fragrance. For example, if you were to pick the fragrance White Strawberry Bellini, you can choose from the large jar, medium jar, small jar, large 2-wick tumbler, or small tumbler. Not every candle is offered in every size but you do get a wider range of size choices than you do with Goose Creek for a single fragrance.
Fragrances
While there are similar fragrances in each brand, Goose Creek has a very different type of fragrance they stick to than Yankee Candle. What I mean by this is that Goose Creek tends to please their customers with food related fragrances. While they do stray away from food fragrances in some of their candles, the majority of their fragrances tend to be food related.
Yankee Candle on the other hand has a larger range of fragrance types. They do offer food related candles, they have more to offer than Goose Creek. With Yankee Candle, you can expect to find more fragrances that fall in the fresh and clean, woody, and floral categories than you would at Goose Creek.
Yankee Candle offers candles that have a strong scent throw the majority of the time. While Goose Creek also gives strong fragrances, Yankee Candle has a strong enough scent throw to make their candles stronger than Goose Creek. With Yankee Candle's products, you can buy them knowing that they are widely loved because of the amount of fragrance they give off in their scent throw.
Price
Another difference between these two brands is the price. Yankee Candle has a higher cost than Goose Creek Candles do. When buying a large jar candle from Goose Creek, you're going to find the candles are $28, which is slightly cheaper than the the $30 that Yankee Candle sells their large jar for. While the price isn't incredibly different, pair that with the difference in ounces, it can be worth the few dollars you save.
Goose Creek's large jar candles have 24 ounces of wax in them while Yankee Candle's large jars only have 22 ounces. By pairing this with the few dollars difference, you're getting a better deal for the amount of candle when you buy from Goose Creek.
And the Winner is…
While both Goose Creek and Yankee Candle are great brands to buy from, Yankee Candle is the clear winner in this matchup. From their wide range of sizes to their extensive lines of fragrances, you have much more variety when it comes to Yankee Candle.
While Goose Creek offers a cheaper candle for slightly more wax, it doesn't compare to the amount of benefits you get from Yankee Candle compared to Goose Creek. The strength of the fragrance and the amount of fragrance varieties and candle sizes and types you're given make Yankee Candle the better of the two candle companies.