If you are in a hurry and just want to find out what the best waterless essential oil diffuser is, then we recommend the PtahTex Essential Oil diffuser as the best one.
Essential oil diffusers are a great way to add a more personal touch to your home, among all the benefits that come with diffusing essential oils. Waterless essential oil diffusers are even better because they don't come with the risk of spills and they don't add as much moisture into your home. But which waterless essential oil diffuser is the best?
There are countless different types of essential oil diffusers, but there are a few that stand out from the crowd. Based on careful consideration, I have picked out the top five waterless essential oil diffusers that I believe are worth your time and money. They won't stand out against the décor you have in your home and they'll withstand the test of time and add some amazing fragrance to your home.
When looking for a waterless essential oil diffuser, it's important to keep in mind the type of power source it has. You'll also want to make sure you're buying a diffuser that has a means of diffusion that you'll be satisfied with. Another thing to keep an eye out for is the scent throw you'll get from each diffuser. By keeping these things in mind, you'll be able to make an accurate choice for which diffuser will fit in your home.
In this article, I'm going to be reviewing the following waterless essential oil diffusers:
7 Best Waterless Essential Oil Diffusers Reviewed
1. Classic Design: Raindrop Nebulizing Diffuser
Fully assembled, my raindrop diffuser was 9.5 inches (24.13 cm) tall. The glass reservoir and cap were beautifully hand blown and its wooden base was undoubtedly made from pure wood. All components from the adapter to the glass cap were carefully shipped in thick protective foam. Its base was even stored in its own velvet pouch.
You'll receive an instruction manual to help you assemble and operate the nebulizing diffuser. But there are also videos to help you set up and clean your device.
Because it's atomizing the essential oils without diluting them, I find that I use more oils in a nebulizing diffuser than with an ultrasonic one.
For example, in two days I used more than 8 mL of essential oils, operating the diffuser off and on for six to eight hours a day at a low-medium speed. So I guess you can say I used close to 1mL of oil per hour, which isn't too bad since it's undiluted.
Organic Aromas' signature oil blend is truly unique. It's an herbal citrusy sweet blend that I've never smelled before. I felt both focused and relaxed while diffusing it.
The Raindrop diffuses oil for two minutes, and then pauses for a full minute. This cycle continues for two hours. My only complaint is that I can hear the motor shut off and come back on each time. If it were a little quieter, I would enjoy this device even more.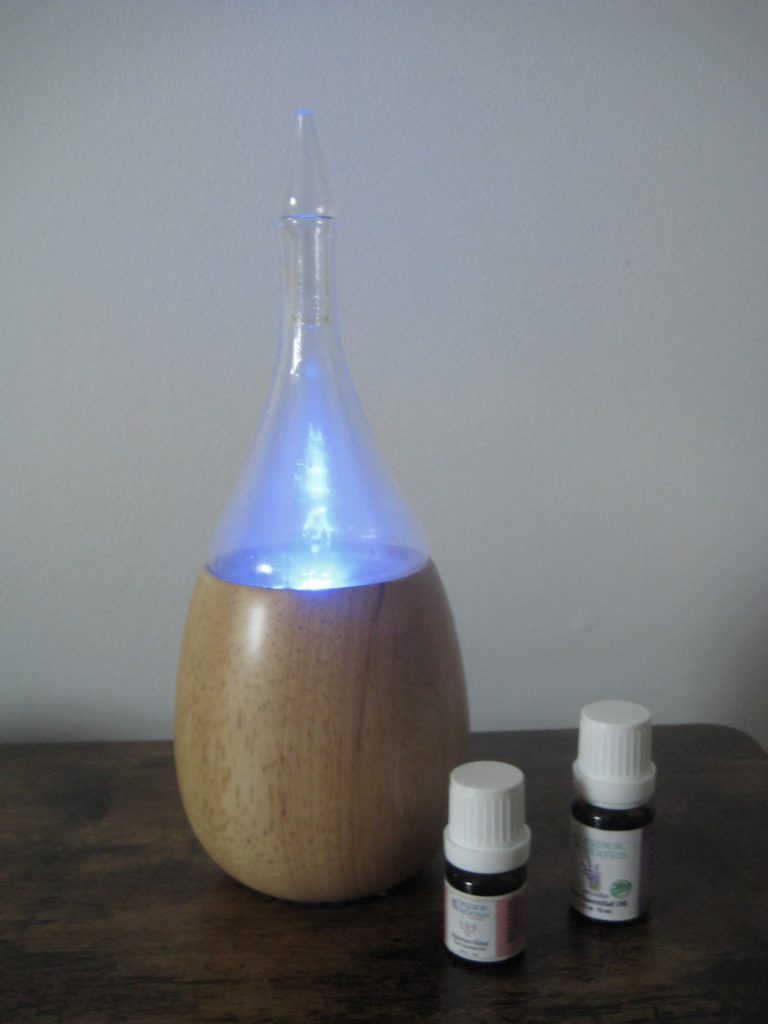 Typically, I use the touch sensor to deactivate the LED lights while I'm working. But it is cool to see the mist accumulate and disperse from the reservoir when I turn the lights on in the evening. It can be a meditative experience.
Overall, this diffuser was a pleasure to use.
Pros
Easy to assemble and use
Alternating rainbow LED lighting
High quality wooden base
Easy to clean
Strong fragrance distribution
Cons
Motor hum is a little too noticeable
2. Best for Bedroom: LOXIM Pride Aromatherapy Diffuser
LOXIM's aroma diffuser is a product that will help your home smell and feel amazing. This sleek product offers a subtle appearance that will fit in with any aesthetic and won't stand out if you don't want it to. While the appearance is a nice feature, though, the best parts of this product come with how the product operates.
This product is a nebulizing diffuser, which means that a cool mist of pure, undiluted essential oils is being let off into your home while it functions. Don't expect to see the mist, though, as you'll only be able to slightly notice it under direct lighting. The nebulizer functions on a timer with options of 1, 2, 4, and 8 hour intervals. Along with the time intervals, you also have three intensity intervals: low, medium, and high. All intervals diffuse for 10 seconds and, depending on the interval intensity, will then rest for 270, 30, or 10 seconds.
The medium intensity setting provides enough strength to fill a medium sized bedroom with fragrance within as little as ten minutes. If you're looking to fill a larger room, you may want to adjust the intensity setting to the highest intensity. This product is fairly small so it will work best in rooms that aren't larger than 700 square feet. If you're looking for a diffuser for your bathroom, the medium to low intensity would be a great option.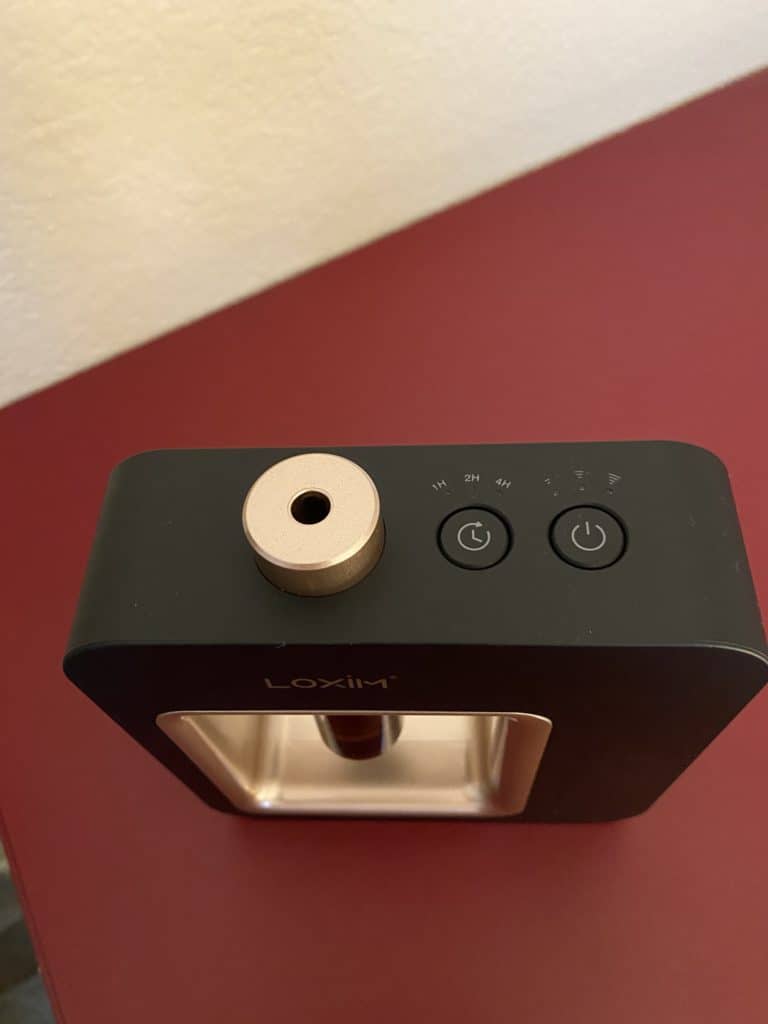 Overall, this product is great if you're looking to start diffusing essential oils. It's easy to operate and care for and can fit practically anywhere because of it's small size.
Pros:
The diffuser has a strong scent throw
This diffuser is easy to use and maintain
There are different time settings so you don't have to remember to turn it off.
You can change the intensity level to fit your preferences and room size.
It uses pure, undiluted essential oil
The build of this model makes it easy to fit in with any aesthetic.
The product is nearly silent when running.
Cons:
Not all types of essential oil bottles will fit on this product.
3. Best Overall: PtahTex Essential Oil diffuser
This essential oil diffuser uses a nebulizing design to diffuse the oils you put into it. The atomizing ability this product has means that here's no need to clean out the chamber when you're finished diffusing. There's nothing left in the diffuser to be cleaned out. One of the great things about this product is that it's powered by batteries. This means that you can use it anywhere at anytime. The power of a wonderful aroma can quite literally be carried around with you, if you choose.
Because there's no water needed for this product, this product uses an atomizing method for diffusing. To do this, the device compresses the air around the essential oil. This helps when you don't want any extra moisture added into the air of your space. The fog that you see coming out of this device is from the atomizing of the essential oils. On top of this, you can enjoy this product quietly/ The aluminum casing creates a sound-proof shield for a completely quiet diffusing.
Pros:
This product is incredibly quiet while it diffuses.
The amount of fragrance distributed by this product is powerful but not overwhelming.
Several rooms can be quickly filled with fragrance from this product.
It's easy to change oils in the chamber.
This is a portable product.
You can use this product while charging it.
This product can fit in a cupholder so it's easy to use in a car.
This product charges quickly.
Cons:
The battery doesn't last very long without needing to be recharged.
Spills are easy if this product tips over.
4. The Best Portable Diffuser for Your Car: Organic Aromas Mobile-Mini 2.0 Nebulizing Diffuser
This device is modeled specifically for easy use in your car. Its small design is perfect for fitting in your cupholder, but that doesn't mean it has to stay in your car. Because this device uses a rechargeable battery, which lasts nearly six hours, you're able to take it on the go to wherever you want it. It'll effectively fill a room with fragrance, whether it's for yoga, working, or your commute. This product is a nebulizer, which means there's no heat and no water needed to power it.
The reservoir is made out of glass and there's no plastic used at all in this product, which makes it perfect for people who want to cut down on their use of plastic items. One of the great features about this product is it's power cycling. It'll run with a two minute on and one minute off ratio for two hours before turning itself off. This way you don't need to remember to turn your diffuser off if you become busy.
Check this out: Best Car Essential Oil Diffusers
Pros:
This is high quality and powerful product.
The glass reservoir makes this product easy to clean.
The casing on this product is steady, making the device durable.
This product has a great scent throw.
You don't have to remember to turn if off because it does so automatically.
The on-off button is touch sensitive, so if you're using it in the car, turning it on and off is not distracting.
Cons:
The reservoir can sometimes be difficult to push into the device correctly.
This diffuser isn't as quiet as others.
5. The Best Affordable Diffuser: QBUC Solar Aromatherapy Diffuser
This diffuser is a bit different from the last few I've reviewed. Instead of being a nebulizer, this product uses a fan to disperse the fragrance. It's also solar powered so you don't need to worry about forgetting to charge your diffuser or having somewhere to plug it in. This is also a great product to use in your car because of it's compact size and need for sunlight. You won't have to worry about breaking this product easily, either, because it's a metal product instead of glass.
The air quality in whatever space you place this diffuser in is going to improve while the product is being used. This product comes equipped with a cologne aroma ring, which is designed to improve the air quality and keep wherever you place it feeling and smelling fresh. The fragrance in this diffuser also lasts a long time so you don't have to constantly replace the oils your use in it.
Pros:
This product is simple to use.
The fragrance in this product lasts a long time.
The product doesn't need to be turned on and off because it's solar powered.
You don't have to worry about forgetting to charge this product.
The fragrance from this product is light and fresh.
Cons:
Using your own fragrances in this product isn't very easy to do.
If you live somewhere that doesn't typically have a lot of sun, this product isn't much good for you to use.
6. The Best Nebulizer for Large Spaces: Organic Aromas Radiance Nebulizing Diffuser
This product is styled eloquently and will fit into your home as a talking point and as a piece of sophistication. This product doesn't need heat to diffuser your oils and, because there's no water, there's no need to worry about mold growing in the glass chamber. The product is also made out of glass so there's no plastic to worry about giving off harmful chemicals.
This product uses a quiet air pump to atomize the oils and diffuse them throughout the room. One of the unique features on this product is that it has LED lights that can be turned on for mood lighting. There's also a power cycle that can be used where the product is on for two minutes and off for one minute over a span of two hours before turning itself off.
You might also like: Best Essential Oil Diffusers for Large Rooms and Best Nebulizer Essential Oil Diffusers.
Pros:
You can control the strength of the diffuser by turning a knob.
The product uses a timed cycle, turning itself off after the cycle is finished.
While this product delivers a strong scent throw, the throw isn't overpowering.
The LED lights in the product are soft, creating a subtle ambiance.
Cons:
While the product has a quiet system, it's not a completely quiet product.
This product can be difficult to clean.
7. The Best for Fitting in With Your Décor: Pilgrim Sofia Waterless Nebulizing Diffuser
This diffuser is created with a minimalist design so that you don't have to worry about your diffuser standing out. The minimalist design is executed using oak wood and handmade ceramic. This casual design is perfect for someone that wants to use a diffuser discreetly. The diffuser doesn't use heat while diffusing and it's not necessary to clean the product between uses because all of the product is used during diffusing.
This product comes with two glass reservoirs so it's easy to interchange fragrances whenever you deem necessary. It also uses a power cycle of two minutes on and one minute off for a span of two hours before turning itself off. One of the great things about this product is that it's durable and leakproof so you don't have to worry about it breaking or spilling if it's tipped over. There's also a meditation light installed into the product that you can use it for a breathing pattern or for sleep.
Pros:
This product is small enough to fit nearly anywhere.
The light is peaceful and good for meditation or sleeping.
This product is aesthetically pleasing.
This product is user friendly.
You'll get a really good scent throw with this device.
The instructions for this product are clear, making it easy to assemble.
Cons:
The ceramic may be prone to cracking.
This product is more high maintenance than other diffusers.
What to Consider When Choosing a Waterless Essential Oil Diffuser
When picking a diffuser, you're going to want to keep in mind some features that may make it more fitting for your home. While it's not required to have certain features on you diffuser, it may make your life easier and your diffusing experience more satisfying. In this section, I'll go over some features you should look for when trying to choose which diffuser is best for you.
Means of Diffusion
There are a two main means of diffusing when it comes to waterless essential oil diffusers. One of the most common ways you'll see is through the nebulizing method. In this method, the product atomizes the oil, releasing it as a fog that comes out of your diffuser.
Another method that's used is fan power. Some products spread the aroma from your essential oils by using a fan to disperse the fragrance. This way is less common than the nebulizing method, but is still fairly common.
Either of these options are great, but some people tend to enjoy the mist option for aesthetic purposes. The nebulizing diffusers also tend to be quieter than the fan powered diffusers. One thing to consider, though, is that nebulizing diffusers tend to be made out of glass, which means they're fragile.
Power Source
There are several different kinds of power sources you can choose from when picking a diffuser. One type of power source is a plug for the wall. This is great for people who want to keep their devices in one place and don't have to worry about the cords being in the way.
Another type of power is a rechargeable battery. This is a great type of power source for people who like to move their diffusers around or take them on the go. Most rechargeable diffusers are charged using a USB port, which most people already have. If you don't have one, they're incredibly easy to come by.
A third type of power source is solar power. This is the most uncommon type of power source, but is good for people who like to use their diffusers in their car. The downfall with this type of power source is that some people may not be able to use their diffuser often if they tend to live in a climate that is cloudy.
Portability
Whether you decide you want to keep your diffuser in a single room or have it be easy to transported throughout your home and, possibly, car, portability is a big feature you'll want to look into. If you're looking into getting a diffuser that will remain in one room, you won't have to consider the portability of it, but that's not always the case. In many cases, people want to be able to move their device around as they see fit.
Portability doesn't just stop at the size of the product, either, even though that is a big factor. Another factor that leads into portability is the power source. If you're using a diffuser that has to be plugged into a wall, it's not going to be as portable as a rechargeable diffuser that can be moved easily.
The design of the product also plays into the portability, too. You'll have to make sure you're going to have a product that is designed to prevent spills or to fit wherever you want to take the diffuser to.
Scent Throw
Scent throw is another feature that you should definitely consider when choosing your diffuser. There are some products that are meant to be placed in larger rooms because their scent throws are so powerful. A product like this wouldn't be as suitable for your car as it would your living room, though. For this reason, you'll want to make sure you're choosing a product that is going to have the right strength of scent throw for the space you place it in.
Appearance
I feel it's safe to say that you're going to want a product that's going to fit into your personal aesthetic. If you're into more subtle decorations, you're going to want to look for a diffuser that isn't going to stand out. Likewise, if you're looking for a statement piece, there are definitely some nebulizing diffusers that would fit this category. Regardless of what kind of appearance you're looking for, there's going to be a diffuser that will fit your aesthetic.
So Which Waterless Diffuser is the Best?
While all of these products have their perks and downfalls, there's one product that stands out from the crowd. The PtahTex Essential Oil diffuser is going to be the best of the best when it comes to this list. The sleek design mixed with the nebulizing diffusing method makes this a great product for anyone. This product is also rechargeable and can be transported throughout rooms and your car if you want.
On top of this, the diffuser offers three different cycles to meet your diffusing needs, throwing fragrance into the air within minutes. No matter what reason you have for choosing the PtahTex diffuser, you're not going to regret your decision.
If you are seeking a waterless diffuser for your bedroom. A LOXIM essential oil diffuser is a product that is worth your time and will leave your home smelling and feeling truly amazing. This product is easy to use and maintain so you don't need to worry about having a product that you're not going to understand.
You'll also have a product that is designed simply and will fit in anywhere you place it, no matter what other kind of decorations you have. By adding this product to your home, you're going to be fully satisfied in your essential oil diffusing journey.
Final Thoughts
Choosing a diffuser can take a bit of thought and consideration. Between the cost of these products and the features they offer, it's a pretty big decision you'll need to make. With the features I've described in the above section and the five products I reviewed, your choice will hopefully be easier to make. No matter what diffuser you choose, you can now do so carefully knowing what to look for.