Citronella oil has been used as a natural remedy to repel insects in the United States since the late 1940's. While it has been a common outdoor candle solution, you may be wondering, can you burn a citronella candle indoors?
While the citronella candles that are labeled for outdoor use should only be burned outside, citronella oil itself does not pose any additional harm to you and there are citronella candles that are safe to burn indoors.
If you are noticing the presence of pesky flies and insects inside your home, read on to learn more about how citronella is used in candles and which ones are best to burn indoors.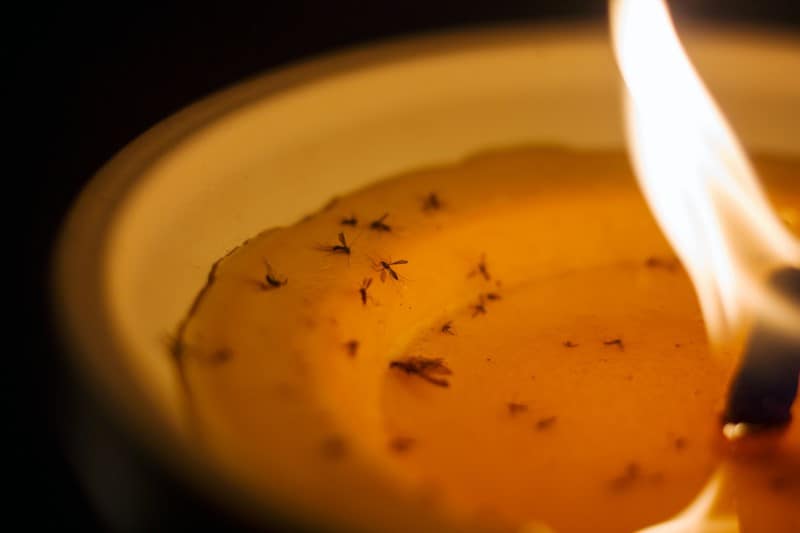 What Is Citronella Oil, Anyway?
Citronella oil is extracted from the Cymbopogon plant family. Also called lemongrass or citronella grass, this tropical plant has been cultivated for a long time and used for both medicinal and culinary purposes.
According to the Environmental Protection Agency (EPA), which evaluates safety and regulates pesticides used in the United States, citronella oil is classified as a "biopesticide (biochemical) with a non-toxic mode of action."
In the U.S., this oil is registered as an insect and animal repellent. But even though it can repel animals as well, citronella oil is not expected to create any environmental threats to other animals. For example, if you light a citronella candle outside, it wouldn't harm any deer that might trot through your yard and inhale the essence.
The EPA also notes that this oil would not harm fish or other wildlife, say for instance, you use citronella repellent while taking a hike or camping in the forest.
Regulated citronella oil is from one of two grass varieties, C. nardus which is the "Ceylon" type, or C. winterianus which is the "Java Type." Similar to essential oils I've written about, steam distillation is used to extract this oil from its grass state to draw out its oil form.
According to this EPA report, citronella oil is approved to be used in the following ways:
Hand-held sprayer
Cloth wipe-on
Candles
Cartridge
Rub-on
Scent-post application
Sprinkle by hand
Flea collar
The EPA cautions that this oil is only to be used externally, and it may slightly irritate skin or cause an allergic reaction if used for a prolonged period of time. Another precaution is that citronella oils should not be used on babies six months or younger without the advice of a physician.
Remember, citronella is not a traditional pesticide, it's a biological repellent. So if the oil somehow gets on an adult's or even a baby's skin, it's unlikely to cause irreversible harm or pose health risks. All of these warnings are typical of most natural oils because they are all highly concentrated.
In terms of inhaling citronella essence, both plant types were considered "practically non-toxic" when tested by scientists. From what I understand, all of the claims that citronella oil and hence candles are toxic seem unfounded or misinterpreted.
Since I am not a medical professional, it would be best that you contact a physician who can clarify this information and help guide you towards reducing irritation and addressing any allergic reaction, if necessary.
How Do Citronella Candles Work?
In the same manner that all candles are made, citronella oil is added to wax, and then poured over a wick into a container to harden in preparation for burning. What's slightly different is that citronella candles are typically created for one reason and that's to repel insects.
Citronella oil is registered as an "insect repellent/feeding depressant." As a feeding depressant this oil makes it difficult for insects to detect attractive scents that normally draw them towards humans and pets. So citronella repels insects by making it hard for them to locate their feeding source, which is us.
How Effective Is Burning Citronella Candles?
Although the need to protect yourself from insect bites by mosquitoes and other winged pests is real, burning candles – whether indoors or outdoors – might not be the most effective way to go about it.
While citronella oil can naturally guard against mosquitoes, biting flies, black flies, fleas, and other flying insects without harming or killing them, its effectiveness varies and depends on the amount of oil used to repel these bugs, environmental conditions, exposure time, and proximity.
Potency
In most cases with outdoor citronella candles, there's only about 5% of citronella oil in them. With such a small percentage, you would need to burn multiple candles in order to ward off the flying insects. Both Repel and Cutter outdoor citronella candles are made with only 3% citronella oil.
Environmental Conditions
Outdoor citronella candles are only effective when the air is still and there is one candle lit about every two to three feet. If it's a windy day, any barrier created by the oil no longer protects you.
Exposure Time
Citronella candles are effective for about two hours at a time, and they have to burn for at least thirty minutes before you begin to notice that the insects have flown away.
Proximity
You also have to remain pretty close to the candles in order for them to properly create a barrier around you to repel the bugs.
So, Can You Burn Citronella Candles Indoors?
Citronella candles that are labeled for outdoor use should only be used outdoors. Outdoor candles tend to release more smoke, likely due to the kind of wax used to make them, in addition to the 97% of other ingredients that are not listed. The excess smoke is why citronella candles are often described as toxic and contributing to poor indoor air quality. Exposure to the candle itself is not a threat, it's inhaling all of the smoke that's considered the problem.
Indoor citronella candles, on the other hand, are often made with soybean wax and only produce as much smoke as your typical scented candle, making them a healthier option. All of these indoor candles can also burn outdoors.
Five Indoor Citronella Candles to Consider
1. Aromatherapy Citronella Candles
Each 13.5 oz candle is made with natural soy wax, so they're eco-friendly and won't produce hazardous black smoke when burning. You can expect burn time between 48 to 56 hours. Since there are three included, if you burn them all at the same time and strategically place them around the room, you would be more protected against mosquitoes and other pesky insects.
There are three wicks to help the wax melt evenly. Each candle comes in decorative blue patterned reusable tins.
2. Large Citronella Jar Candles
Each 8oz glass jar is made with 8% of citronella oil and the only other ingredient is organic soy wax. What makes this significant is that 20oz outdoor candles only have 3% of citronella oil and we are unsure of what else is in them.
But with these natural candles, you are getting a much higher concentration of citronella oil in fewer ounces of wax, which means that they will more effectively create a protective barrier around you.
Each candle burns for at least 50 hours, and you can reuse the jars once they're done.
3. Hand-Poured Citronella Scented Jar Candles
Each of the four jars is 7.5oz and will burn for about thirty hours – that's a total of 120 hours burn time. The citronella essential oil throw is expected to extend to 49 feet.
Also made with natural organic soy wax, the candle wick is 100% cotton so you can be certain of a clean, healthy burn. Though the exact oil concentration is not shared, customers have consistently given this product a high rating, at an average of 4.5 stars.
4. Natural Citronella Candle in Pottery Container
Another environmentally-friendly option, this beautiful hand-crafted pottery container holds 14oz of 100% soy wax made with three 100% cotton wicks for slow, even, and clean burning. It's close to 6inches wide and about four inches tall. Natural citronella oil concentration is 6%, which is still higher than all of the outdoor brands that I've come across.
5. Chloefu Lan Citronella Candle for Outdoor and Indoor Use
At 85 hours of burn time each, these 13.5 ounce candles offer a lot of value for the price. Made with natural citronella oil, all soy wax, and a wooden wick, it's an eco-friendly option for indoor citronella candles.
It comes boxed for gift-giving, so you could keep one and gift the other if you wanted to.
As an aside, you can feel comfortable burning these candles indoors even if you have a dog as citronella oil has effectively been used to control dog barking for decades.
Final Thoughts
While not the most effective solution against biting insects, citronella candles do an adequate job of keeping them away from you. While outdoor versions are really smokey and have questionable ingredients with a lower concentration of citronella oil, indoor candles are a viable option.
Now you know that you can burn indoor citronella candles that are healthier for you and your family.
Read more: