If you are in a hurry and just want to find out what the best candle for candle warmers is, then we recommend Nest Classic Candle Mooccan Amber as the best one.
Scented candles are a bit on the pricey edge of things, and it's quite frustrating to buy a candle only to find the fragrance has no throw or that it doesn't smell as good as it looks, especially after shopping online since every product claims to be the best.
We have created a guide on choosing the right candle for your warmer, attaining the maximum from it, and settling some controversies on the use of candles and candle warmers.
In this article, we're going to review the following candles: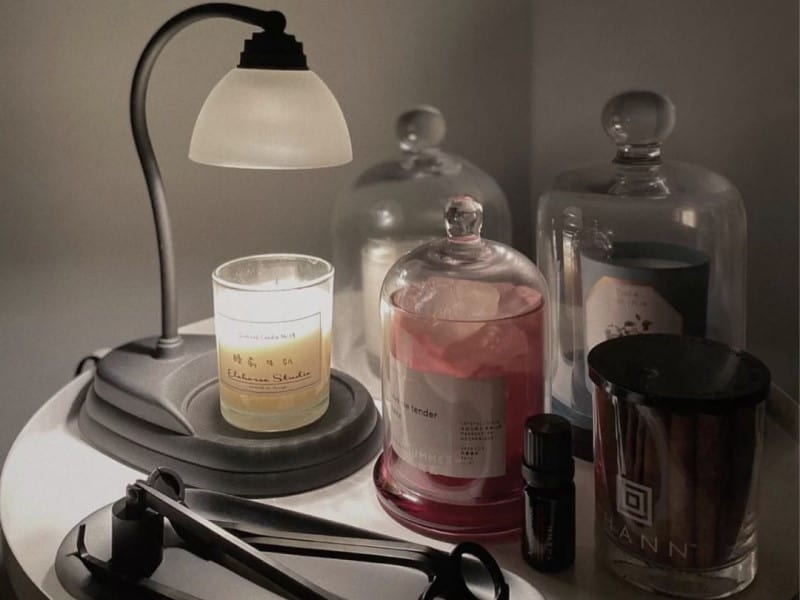 Choosing The Right Candle for Your Candle Warmer
Picking a candle for your warmer may not be as easy as just checking for your favorite scent. There are a few things you need to consider to make a guided decision.
The design of the candle
Your intention with the candle
Your fragrance preference
The quality of the Wax
Let's look into them in detail.
Design
Not every candle can go on a candle warmer. The first thing to ensure is that the candle is in a glass jar; this eliminates tapered candles, most tea lights, and any candle you see without a container.
Next, compare the size of the candle's container with that of your candle warmer plate. The jar should appropriately fit the plate and rule out the candles that are too small since you lose a lot of heat and waste electricity. On the other hand, a candle bigger than you warmer will not release its maximum throw.
Intention
Before going candle shopping, keep your intention in mind. For instance, is your purpose to musk the scent left by your pets? In that case, you will need to buy a candle with a strong throw. Consider the size of the room you wish to place your candle warmer.
The larger the candle, the quicker the fragrance gets released into the air from your warmer. The aroma released is usually from the melted wax pool; therefore, a more significant surface area will push more air fragrance.
So, if your candle warmer will be in a small room like your bathroom, you don't necessarily have to look for candles with a strong throw, since the scent can get overpowering. If you place it in a big room with high ceilings, a candle with a strong throw will do.
Preference
When picking a candle online, think about the kind of smells you enjoy, then categorize them into categories such as floral scents.
Now look for scents that combine two things that you enjoy. For instance, I love the smell of fruit, that is, fruity scents, and I also like woody scents. Therefore I'd consider a scent like Mulberry and Sandalwood.
If you mistakenly order a scent you really can't stand, some reputable providers with 30-day money-back guarantees may allow you to switch. But to avoid the hustle, think of what you like rather than getting swayed by product descriptions.
Quality of the Wax
The creation of scented candle wax involves the combination of wax with fragrance. When the mixing takes place at the right temperature, the fragrance will bind correctly into the wax. Once heated, the oil will release seamlessly as a fragrance. For instance, when you warm a beeswax candle, you will note that it lasts way longer than the other wax types, making it a favorite.
On the other hand, paraffin wax always has a better throw than soy, since it binds better to the oil. Soy candles will be vital when cold, but their throw when hot isn't too wide. The issue with paraffin candles is the pollution prospect, but candle warmers eliminate the whole soot, flame, and other pollutants.
However, even with all this, how do you identify a high quality scented candle? Do not just go smell candles at the store or spot a pretty one online with your favorite scent and buy. You need to check reviews and guides from personal experiences.
How To Attain the Best Fragrance Throw When Using a Scented Candle on Your Candle Warmer
Most people assume that all you need is to find a candle with a great scent, but this won't help you if its fragrance doesn't fill the room to your satisfaction. First, throw refers to how well or to what extent a candle's scent circulates in a space.
The fragrance always comes from the wax that is warmed. Therefore, the bigger this wax pool is, the broader its throw. Candle warmer crocks usually heat the candle from all sides, turning the whole jar into a big wax pool to release the maximum fragrance.
With that knowledge in mind, a more giant-sized candle will always give you maximum throw—the downside of this method is that shortens the life of your candle shortens.
Lantern candle warmers, candle warmer lamps, and bulbs, among others, apply the top-down methodology to create a wax pool. Therefore, they warm the top while preserving the layers beneath to use in the future. Such candle warmers will give you a mix of the best from both worlds, longer-lasting candles, and maximum fragrance throw.
However, the size of the candle still applies.
Controversial Questions
Here are some controversial questions you may encounter while using candle warmers.
Can I Use Any Normal Candle With a Candle Warmer?
You can use normal candles but not just any candles. Candles in glass jars are the only ones you can use. The thing to note is that after you warm them with a candle warmer, the wick will sink into the candle, especially if warming from the bottom.
So, you can use an ordinary jar candle, but once you do, remember you cannot remove it halfway and try to light it again.
Do Candles Release More Fragrance When Used on a Candle Warmer?
Looking at how candle warmers work, it depends on your type of warmer.
Using a warmer lantern or lamp will start melting the candle from the top with a much larger wax pool than a burning wick could create. Remember the correlation of fragrance to the wax pool? So, Yes, more fragrance is released.
On the other hand, traditional warmers may not release as much fragrance at a go as the lantern or lamp warmers will. The speed is also slower.
Best Candles for Candle Warmers Reviews
High-quality candles will always have great reviews and end up on top lists of candle lover favorites. That said, here is my pick of the best candles for candle warmers.
This is that one candle I used, and every guest would ask, 'what smells so nice?' This scent is a deep and rich fragrance choice. It features a hint of patchouli and amber balanced out by a surprisingly well blending and refreshing touch of eucalyptus.
It comes in two versions; the standard one will last on your warmer for about fifty to sixty hours. If you want to go out and splurge, the luxury candle option will do and last up to 120 hours on your warmer.
The glass design is minimalist, and I appreciate that it is easy to use on any warmer. I have two different types of warmer, one in my living room and the other in my bedroom; I've come to appreciate candles that are versatile to whichever warmer you place them on.
Pros
Great and long-lasting smell
Has a wide throw
Last longer than most candles due to the strong throw.
The strong scent doesn't irritate allergies for people allergic to fragrances.
Cons
Might be a little on the pricier edge for some.
Tranquility is the best way to describe this scent. I prefer to use this scent in my bathroom when having some 'me' time. The fresh and clean scent created by pairing herbaceous basil and citrusy lemongrass is soothing.
Frankly, it gives off a very spa-like aura. I discovered this scent when I noted that it in three different high-end resort spas I had visited, which is a great way to find new scents. If it's good enough for the hotel, it's good enough for my bathroom.
The scent throw is quite strong, so once you place it in your warmer for a while, you'll find yourself switching it off soon after, especially if you are in a smaller sized room. It also comes with a glass jar option for your candle warmer.
Pros
Has a classy chic scent.
Suitable for large rooms like open plans.
Strong throw.
Lasts long on a candle warmer.
Has beautiful and chic packaging.
The fragrance has distinctive calming qualities.
The candle is hand-poured within the USA.
The blend of scents is unique.
Cons
The manufacturer needs to ensure the safety of CANDLES shipping outside the USA.
How the manufacturers managed to capture fresh linen's scent is a mystery to me, but it does smell like fresh linen. This candle's scent is very clean and crisp; it strikes a perfect balance between delivering a significant fragrance and not being overpowering.
I bought this scent when I was housing my mum. She is the kind that gets thrown off by perfume scents, incredibly strong ones. Since I wasn't looking to give up the scented candle life, I hunted for one that would suit us both.
The Luku candle is made purely of eco-friendly soy wax. It's an excellent choice for vegans; it's cruelty-free and paraben-free. Once you have the scent, don't be surprised if you find yourself buying it in the two-pack package.
Pros
Eco-friendly manufacturing
Long-lasting burn time.
It has the perfect amount of fragrance for the minimalist who prefers undertone scents rather than the strong ones.
Does not irritate fragrance sensitive noses, asthmatic people, and those with allergies
Vegan
Great for offices and official workplaces due to the simplicity and subtleness of the scent
Cons
The candle is a lot smaller than it seems in their product picture; this can be misleading if you miss the size information.
It cannot suffice bigger rooms.
Might require a more extended period on your warmer to make the throw strong.
I'll have to confess when I received my package of this order; I was very tempted to light its wick and just let it burn because its packaging is just so breathtaking. However, I still used my candle warmer because I have a curious pet; I can't gamble with flames here.
This soy wax candle is entirely non-toxic. The scent derives from some organic essential oils, which combine hints of a sweet strawberry and lemon scent, blended with a rich sandalwood and musk fragrance.
I find it perfect for the bedroom since it seamlessly strikes a balance between being masculine and feminine. I also gifted the same type of candle to a friend who loved it, so you can consider this one if you're looking for a presentable gift for a candle loving friend.
Pros
Great choice of scents to blend.
Fancy California design.
Suitable for velvet aromatherapy
Gender-neutral scent.
Great packaging, the glass will look great in a translucent candle warmer.
Vegan.
The scent is delicate and won't overpower.
Gift worthy bubble wrap and packaging.
Long-lasting
Cons
It's pretty small but still worth its price.
Might not be suitable for people who love the strong room-filling scent
The Boy Smells candle brand creates their fragrances guided by olfactory memories: did you know that the sense of smell is associated with most memories?
Their Kush scent is definitely among their most popular and brands in my top picks.
The scent is verdant and fresh, with some notes of green cannabis. The fragrance also has a warm amber and suede scent along with a touch of floral tulip.
Cannabis in a candle? It sounds weird, but something about their blend of scents, including cannabis, worked surprisingly well. I placed this on my warmer and got a wonderful scent that I couldn't seem to put my finger on, which of the ingredient fragrances was most prominent.
The creme of this candle is that it will last up to approximately 50 hours on your warmer. This is mostly because of the old fashion beeswax and coconut blend used to make it, which outlast soy or paraffin candles.
The scent is unisex and goes beyond binary preference, which is such an underrated quality in candles. Nobody likes the debate on whether everyone else is enjoying the candle fragrance as much as you are.
Pros
Subtle and beautiful scent
Unisex scent
Luxurious scent
Personally crafted with natural oils and waxes
Gorgeous design and packaging
Cons
The scent might be too subtle for some candle lovers.
Name a bit misleading since it doesn't exactly smell like cannabis.
My Top Pick
The Nest Classic Candle Mooccan Amber is my top pick amongst all the candles. Being a scented candle lover, I appreciate a scent that warms and just fills up my whole space. This candle has a strong throw; I place my candle warmer in one room, yet the scent manages to make its way up to the other rooms.
Irrespective of the strong throw, this candle's fragrance choice makes it applicable even in homes with people with sinuses and allergies. The design itself also perfectly fits any warmer, as it pays less attention to the glass and more into the fragrance.
There are two choices, a luxury option, and a standard option, making it affordable for its fans at their different economic phases.