With all the indoor fragrancing options that exist out there, it can be hard to decide which one is right for you. In this Yankee Candle Scenterpiece review, I want to help you understand how to use them and what makes them so unique.
Yankee Candle's Scenterpiece is a really functional wax warmer that was designed to be used in conjunction with their Easy MeltCups. Currently MeltCups are available in over 32 of Yankee Candle's most popular scents. They are moderately priced and are known to fill the home with memorable fragrances.
Continue reading to learn more about how to use Scenterpiece and to find the right Scenterpiece and MeltCup combo that works well for you!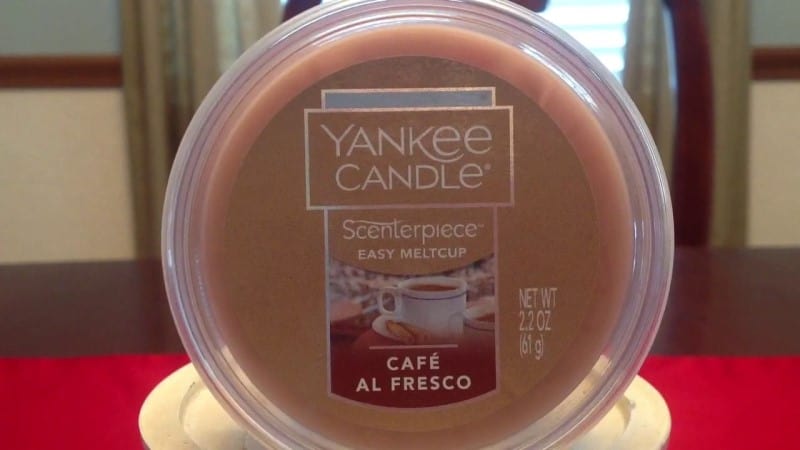 All About Yankee Candle Company
Founded in Massachusetts, USA in 1969 by teenager Mike Kittredge, Yankee Candle Company has grown to become one of the most loved home fragrance companies, and a household name.
In 1998, Forstmann, Little & Co purchased Yankee Candle Company, expanding the company overseas. After decades of more growth, the company was acquired by Newell Brands in 2016. To aid in more efficient international distribution, they opened their first international production plant in the Czech Republic.
It all began with one guy who wanted to make his mother a Christmas present and now the company employs over 6,000 people worldwide.
What Does Yankee Candle Offer?
Last year, in 2021, Yankee Candle released an all new Signature Collection which includes thirty existing fragrances and ten new ones. They've given their candle jars a makeover by making them more modern, sleeker. And now their labels are hand-illustrated. 
These new candles are created with soy wax blends and all-cotton wicks. Some of the new fragrances include: Black Tea & Lemon, Pink Cherry & Vanilla, Praline & Birch, Tropical Breeze, and Vanilla Crème Brûlée.
Yankee Candle is primarily known for their highly scented signature candles, but they also offer home fragrance products like reed diffusers, room sprays, wax melts and warmers, gel tins, scent plugs, scent lights, car scents, and candle accessories.
Their main mission is to help make your house cozy and appealing so that it feels more like home.
What Makes Yankee Candles Special?
Yankee has all the scents! Over 600 to be specific, making them creators of the world's largest selection of home fragrances. And what's extra special about Yankee's fragrances is that they remind us of special moments.
Cliffside Sunrise, Farm Fresh Peach, and Macintosh are just a few. When you inhale their scents, you recall those special moments with your feet dangling over a cliff as you watched the sunrise on the beach. Or, you remember the time you visited the farmer's market and bought the juiciest, most flavorful peaches. What about going to the country fair and competing in the annual apple bobbing contest? Oh the memories, right?
Well Yankee Candle has a special way of mixing the right ingredients that help spark the best memories or even cause you to fantasize about the memories you would like to make.
Your Yankee Candle Scenterpiece Questions, Answered
There seems to be some confusion about Scenterpiece in comparison to other wax warmers, so I hope I can clear up some of your doubts.
Is Yankee Discontinuing Scenterpiece?
It doesn't look like it, but I think I know where the confusion comes in. Not long ago, Yankee Candle stopped producing their very popular classic wax melts, also called tarts. They replaced tarts with little cup-shaped wax melts to be placed inside a Yankee Candle wax melt warmer.
Customers use unscented tea candles to warm the newer wax melts sitting inside Yankee Candle's wax melt warmers. So unlike Scenterpiece, you can't warm these and walk away.
Another reason why people might think that Scenterpiece is being discontinued is because certain scents are often discontinued by Yankee from time to time. Also in the year 2020, Yankee indefinitely closed all of their stores due to the pandemic. As the pandemic has persisted, Yankee Candle stores have been a casualty, as many have closed over the past year and a half.
Although there have been store closings and discontinued fragrances, it does not appear that Scenterpiece or Melt Cups are going anywhere.
How Does Scenterpiece Work?
The Scenterpiece Easy MeltCup system was first introduced in August 2014, and it is so easy to use!
You plug in the warmer and turn it on to your preferred timer setting.
Next select one of your Easy MeltCups,
Pull off the lid, and then set it inside the warmer.
You can even walk away after it's set. The warmer automatically turns off once it's timed out. Easy peasy!
How Long Does the Yankee Scenterpiece MeltCup Last?
Overall, the fragrances will last for 24 hours. The number of times you can use the MeltCup depends on which timer settings you choose. You can set the timer for three, six, or nine hours.
In any case, you can continue to warm the MeltCup until you no longer smell any fragrance. It won't evaporate, its smell will simply fade. If you ever forget how long each fragrance lasts, just look on the back of the Easy MeltCup.
Since MeltCups are heat-resistant, you can pick it up and discard it while the warmer is still on and simply replace it with a new one.
Can You Use Wax Melts In Scenterpiece?
Scenterpiece was designed to solely work with Yankee Candle MeltCups, and I don't think Yankee Candle would recommend it any other way.
That said, it is possible to get a little creative and test out other waxes to see if they will also melt and disperse fragrance throughout your home.
In terms of size, Yankee's wax melts are smaller than their MeltCups, so they would fit inside and could potentially melt.
If you place a used MeltCup in the freezer for a little while, you can then remove the wax. You may have to safely coax it out with a butter knife or some other blunt object. Once the wax has been removed, hand wash the container with soap and water, and then make sure it's dry before moving to the next step.
It is best to place softer waxes inside the empty MeltCups container because Scenterpieces are low-wattage warmers and won't melt the harder waxes all that well.
So you can try placing Yankee's wax melts inside the newly cleaned MeltCup and then sit it inside your Scenterpiece. Just remember that substituting other waxes might not lead to the same aromatic experience.
You may have to use more than one Yankee wax melt by stack one on top of the other in order to actually fill the empty MeltCup container.
There's no way of knowing how long the fragrance will last. It may or may not give you 24 hours of fragrance like the original MeltCups will, but it's worth a try if you want to experiment.
So let's have a look at some Scenterpiece Easy MeltCup system products.
Yankee Candle Scenterpiece & MeltCup Product Review
1. Yankee Candle Belmont Collection Scenterpiece with LED and Timer
It all starts with a Scenterpiece wax warmer! This is a beautiful, modern, brushed bronze metal Scenterpiece warmer with triangular grid pattern. So if you have more modern decor, this warmer might be a good fit for you.
Having a timer on your Scenterpiece is everything because you can "set it and forget it" as they say. Additionally, this model has an LED light which can act as a night light or just bring ambiance to a room on a quiet evening.
It's about 6 inches (15.24 cm) tall and 5.25 inches (13.34 cm) wide. With its 6-foot long power cord, you can find just the right spot to place your warmer and then set the timer for three, six, or nine hours.
Pros
Stylish, modern
LED light is a plus
Timer is convenient
Cons
May not match your decor
Only works well with Easy MeltCups
2. Yankee Candle Pineapple Scenterpiece with Timer
For some people, just seeing a pineapple, even if it's fake, makes them feel happy! This ceramic warmer has more of a farmhouse or country home feel to it, so it can complement a wider range of decor styles.
Although it doesn't have an LED light, I think it would look great in the kitchen or breakfast nook area of a home, so it doesn't really need a light.
This model is approximately 6.5 inches (16.51 cm) tall by 6 inches (15.24 cm) wide and also has the super long cord, which is really convenient.
Pros
Timer is a plus
More traditional
Great gift idea
Cons
No LED light
Possibly limited to kitchen use
3. Yankee Candle Claridge Collection Scenterpiece with LED and Timer
Definitely a bit more girly, this shimmery gold Scenterpiece caught my eye, and I couldn't imagine not having it in my home. I see it as a good fit in a dining room or living room, and it would make a beautiful gift for the glitzy girly girl in your life.
It's also approximately 6 inches (15.24 cm) tall by 5.5 inches (14 cm) wide with a 6-foot long power cord. Watch it shimmer when you turn on the LED light – so beautiful!
This one is definitely more stylized and modern, but it can complement elegant, sophisticated, and modern decor styles.
Pros
Quite beautiful
Great gift idea
LED and Timer are a plus
Cons
May be too glitzy for some
Priciest one
4. Yankee Candle Easy MeltCups: Random Assortment of Three
One of my favorite things about Easy MeltCups is how truly easy they are to clean up. There's no messy wax to touch or try to clean. You simply remove the cup and repurpose it, recycle it, or discard it some other way.
Also, MeltCups are a great alternative to candles. Some people can't burn candles due to breathing challenges and people who are reliant on oxygen tanks to assist with breathing, can't be anywhere near an open fire. Enter Easy MeltCups as the perfect solution to wonderful, saturated fragrance without flames or smoke.
I thought it'd be cool to mention this option to buy a random assortment of MeltCups. You'll receive three total, and it gives you an opportunity to try scents that you may not have otherwise considered.
Pros
You get to try new scents
Easy to use
Easy clean up
Cons
You don't know which scents you'll receive
You may not like any of the scents
5. Yankee Candle Easy MeltCups: Set of Three Summer Beach Scents
With this set of three Easy MeltCups, you'll know exactly which scents will arrive in your mailbox: Pink Sands, Bahama Breeze, and Sun and Sand. All three are absolutely delightful!
The Sun and Sand fragrance made its debut in 2008; Pink Sands and Bahama Breeze were both released in 2011. So these are some of Yankee Candle's most popular scents. The dimensions of each container is 3.4 inches (8.64 cm) by 1.2 inches (3.05 cm).
When you first smell Pink Sands, you'll get a whiff of citrus, berry, and melon notes. But overall, Pink Sands has a delicately floral scent of the osmanthus flower with undertones of vanilla mingling with woody musk notes.
Bahama Breeze is a fruity tropical delight with citrus, passion fruit, and pineapple fragrance notes accompanied by mango and peach, then rounded out by powdery musk.
Lastly, at your initial encounter with Sun and Sand, you will smell sweet orange blossom followed by citrus and eucalyptus notes, with a powdery musk base.
Pros
Fragrances complement each other
Soft floral fragrances
Set of three
Cons
Some feel the scents are too soft
Scents may not linger as long
6. Yankee Candle Christmas Cookies Easy MeltCup (Set of 2)
Who doesn't love the smell of fresh baked cookies? And with the holiday season right around the corner, you may want to warm these MeltCups to help your home feel welcoming and cozy.
Wafts of vanilla and butter with hints of cinnamon can never be a bad thing and with a set of two, your home can smell like sugar cookies for at least a weekend. This fragrance conjures up old memories and can help you make new ones.
Pros
Warm, familiar fragrance
Perfect for holiday season
Not a sickeningly sweet scent
Cons
7. Yankee Candle MeltCup for Scenterpiece in Lemon Lavender
This fragrance made its Yankee Candle Company debut back in 2006 and is one of their most popular fragrances. Both lemon and lavender are refreshing scents and can be used as cleaning agents, so smelling them kind of gives you the same feeling – as if you were cleaning your house.
But there's also a powdery sweetness to this fragrance that mellows out the lemon and lavender just enough.
Pros
Lovely, familiar scent
Easy clean up
Let's you try single scent
Cons
Can't these MeltCups everywhere
What Do Customers Love About Yankee Candle's Scenterpiece?
Unlike candles, you can easily switch out scents. If you dislike a fragrance or would simply like to smell something different, you can lift out the Easy MeltCup, place its lid back on, and then drop a different MeltCup into your Scenterpiece warmer.
Having a timer on the warmer units is a huge plus. It's not only a safety feature, but it helps you prolong the life of the MeltCup fragrance as well.
MeltCup fragrances are highly concentrated – even more than candles. So most of the fragrances quickly fill the room and linger for a long time. Some scents are simply not as strong as others, but all of them are stronger than typical candles.
The cup takes about 30 minutes to warm up whereas candles can take up to an hour to evenly melt down.
Yankee creates amazing fragrances that have pleased customers for decades.
What Do Customers Dislike About Yankee Candle's Scenterpiece?
Easy MeltCups are a little pricey, in comparison, they are at least twice as expensive as Yankee's wax melts.
From the opposite perspective, MeltCups take about 30 minutes to warm up, which is too long for some people.
Some of their favorite fragrances can be hard to find and are sometimes abruptly discontinued.
Fragrance selection for MeltCups isn't as broad as with other Yankee Candle products.
Final Thoughts About Yankee Candle Scenterpiece
The Scenterpiece and Easy MeltCup system is a fun, stylish, and safe way to fill your home with fragrance. They're super easy to use and their low wattage won't put a drain on your electric bill. With many fragrances to choose from, you are sure to fall in love with at least one.
Since each Scenterpiece has its own style, you'll have to choose one that fits in with your decor. After that, start trying out fragrances. I would suggest trying, the random set of three if you are new to Yankee Candle and do not have a scent preference. You can't go wrong with the summer beach scents, and if you need a traditional warmer, everyone loves this pineapple Scenterpiece.
Enjoy the selection process and filling your home with memorable fragrances!