Choosing the right essential oils for you can be a huge undertaking. It requires a lot of experimenting with various companies, and then trying multiple oils within each company. Well, I hope that this Plant Guru essential oils review can help you in the decision-making process.
With close to 90 single essential oils and 15 essential oil blends, Plant Guru seems to be committed to its mission to offer a wide variety of oils at a reasonable price. Beyond all of the familiar oils, there were a number of surprises and interesting essential oil set options.
To learn more about this company and the wide range of oils that they have to offer, continue reading. By the end of this article, I hope to help you determine whether Plant Guru is a good option for your essential oils needs.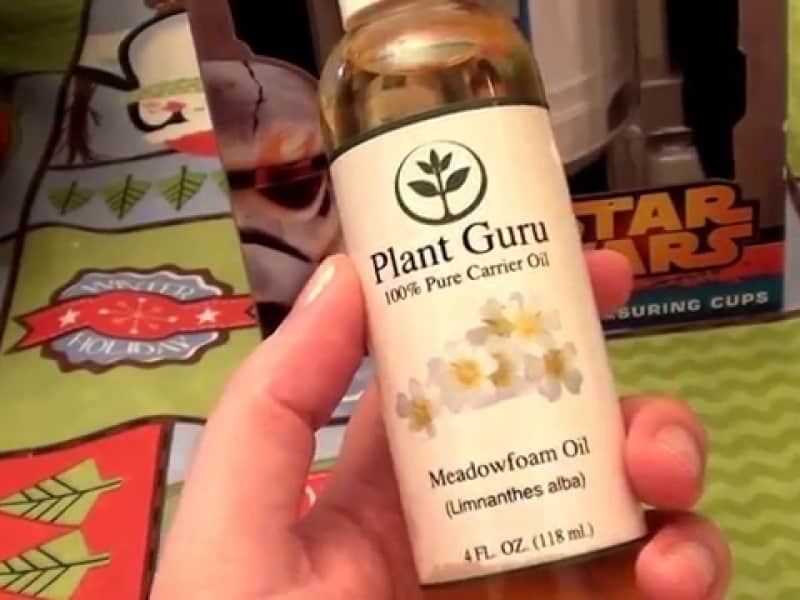 All About the Company Plant Guru
Plant Guru is a New Jersey, USA based ecommerce company that was founded around 2012 by co-owners Axel Roman, Jr., and Marcia Mangui-Lopez. It's a small family-owned business that has been operating under the radar for close to ten years.
Born out of the frustration of paying high prices for small amounts of essential oils from multi-level marketing (MLM) companies, founders of this company vowed to cut out the middlemen and offer high quality oils at reasonable prices. They wanted to help make the healing benefits of using essential oils more accessible to everyone.
Without a marketing plan, advertising dollars, or selling their oils at MLM prices, Plant Guru has grown to a little over 30 employees and have sold over a million products online.
Plant Guru Product Offerings
In addition to selling over 100 essential oils, Plant Guru also sells diffusers, roll-ons, herbs and plant powders, body butters, natural African soaps, scented incense sticks and carrier oils for personal or commercial use.
This company also sells products and materials for customers to make their own goods with their oils. Natural waxes, unscented incense sticks, bottles and packaging, and additional product ingredients can get a fragrance and/or body care company started.
Plant Guru Essential Oils
In terms of their essential oils, though, they are globally sourced from sustainable companies that meet or exceed US Department of Agriculture (USDA) standards. They also test the authenticity of their oils using a third party lab.
They vow that their essential oils are made from ecologically grown raw materials that do not contain any chemicals, genetically modified organisms (GMOs), pesticides, or any other additives, resulting in pure essential oils.
I like the fact that they include somewhat unusual essential oils like bay leaf, black pepper, clementine, and coffee. You could get creative and blend your own scents like spicy chai using black pepper, cardamon, clove, cinnamon and vanilla. And their davana essential oil can be used as an alternative to eucalyptus or fir needle.
Below are some of their essential oils that I liked most.
Plant Guru's Top Essential Oil Products
Plant Guru offers over 100 essential oils, so it can be hard to narrow down which ones to choose, but I've listed some here that might be a good place for you to start.
Even though I think this company seems to have good intentions, I think it's important to note that all of their essential oils are labeled as "therapeutic grade" but that isn't really a meaningful description. Nonetheless, they are all 100% natural oils and blends.
1. Plant Guru 7 Singles 7 Blends Essential Oils Set
In this set you'll get a total of fourteen 10 mL (⅓ fl oz) bottles of essential oils – seven single oils and seven blends. The blends are still all natural; there weren't any carrier oils or other ingredients added to them.
Single Essential Oils
Eucalyptus – With a smell similar to mint combined with fresh leaves, eucalyptus is great for diffusing during months when you experience seasonal allergies. It relieves congestion and helps purify the air.
Lavender – The sweet herbal scent of calming lavender oil can help you fall asleep.
Lemon – Diffusing citrus oils like lemon can put a spark in your day and that energy helps improve your mood and focus.
Peppermint – You can't get a much fresher scent than that of peppermint. If you're tired or irritable, it'll invigorate you and even help clear out your sinuses.
Rosemary – Another invigorating scent, rosemary boosts mental alertness, concentration and helps you breathe easier.
Sweet Orange – Another air purifying, sweet orange oil also helps you focus and relax.
Tea Tree – This oil really freshens the space while removing airborne bacteria.
Essential Oil Blends
A balanced blend of pure essential oils that are carefully formulated by master aroma therapists.
Alive – Created to help you feel energized and uplifted, this blend includes: juniper berry, rosemary, black pepper, lemongrass, clove, fir needle, and nutmeg.
Four Gurus – Inspired by the thieves' blend, this antibacterial and antiviral blend contains cloves, rosemary, eucalyptus, lemon, and cinnamon.
Happy – An uplifting citrus blend of lemon, cassia, ginger, peppermint, and pink grapefruit.
Meditation – Formulated to calm you from the inside, this blend includes camphor, lemon, yarrow blue, frankincense, ho wood, and ravensara.
New Beginnings – Start your day afresh with this blend of Spanish rosemary, lemon, sweet orange, frankincense, tea tree oil, and eucalyptus oils.
Sleep Tight – A calming blend of Roman chamomile, rue oil, lavender, sandalwood, copaiba oil, Spanish marjoram, and ylang ylang to help you relax and fall asleep.
Stress Relief – A soothing mixture of ylang ylang, sweet orange, bergamot, patchouli, pink grapefruit, and gurjum oils.
Pros
Great starter set for sampling EOs
Opportunity to add singles to blends for your own unique combinations
Nice gift idea for him or her
Cons
You may not like all of the fragrances
2. Plant Guru Ginger Root Essential Oil
While ginger has a lot of health benefits when eaten, it can also improve health when diffused. This bottle is 118 mL (4 oz).
Extracted from the root stem of the ginger plant, the warm and spicy fragrance of ginger root essential oil can help reduce nausea and vomiting, and even alleviate migraines. This soothing aroma can also be combined with other oils, like lemon or sweet orange to create a delightful balanced atmosphere of groundedness and airiness.
Pros
Can blend with other oils
Soothing, grounding fragrance
Great price for an oil that isn't offered by many companies
Cons
This scent alone is not enough for some people
Not for those who dislike earthy scents
3. Plant Guru Egyptian Geranium Essential Oil
Geranium essential oil tends to smell like an herbaceous fresh cut rose because it has subtle powdery and leafy fragrance notes. It's a sweet scent that grounds you, helping to reduce stress, anxiety and fatigue. And if you prefer floral scents to citrus ones, geranium oil can be mentally stimulating as well, helping you to concentrate.
This 118 mL (4 oz) bottle comes with a dropper that you can screw on as a lid and then easily add this oil to water in your diffuser.
Pros
Light floral, herbaceous scent
Stress and anxiety reducer
Aids in mental focus
Cons
Not for those who dislike floral scents
4. Plant Guru Vanilla Planifolia Essential Oil
This oil has been extracted using solvents instead of steam distillation, so it's more like an absolute than an essential oil. But in those cases, little to no trace of solvent remains in the essential oil. Vanilla planifolia has a strong scent, so you can try using one or two drops in your diffuser, and then making the necessary adjustments to your preference.
When diffused, its sweet, comforting fragrance helps you relax and fall asleep. It would be a nice aromatic oil to add to bath water as well. This bottle is 10 mL (⅓ fl oz) and the oil has a thick consistency, so it will move more slowly when dripping it from the bottle.
Try blending with cinnamon and clove essential oils to make your home smell like a sugar cookie. It also blends well with sweet orange and most other oils, even earthy and woodsy ones.
Pros
Delicate, sweet fragrance
Blends well with other oils
High customer rating
Cons
5. Plant Guru Ultrasonic Cool Mist Oil Diffuser
This graceful and stylish essential oil diffuser has the capacity to hold 200mL of water. A diffuser this size can fill a medium-sized room or smaller with the fragrance of your choice. Because it diffuses using cool, ultrasonic vibrations, it doesn't alter the molecular composition of natural essential oils.
There are four timer modes: continuous, 60 minutes, 120 minutes (2hours), and 180 minutes (3 hours), and there is also a quick mist mode. Running continuously, misting can last up to 10 hours on a low setting and up to 6 hours on its high setting.
When the water runs out, the machine shuts off, which is a great feature for those who like to run their diffusers right before going to bed. Its color blocks out light, which also helps those who prefer not to have a nightlight on when sleeping. With a noise level that is less than 35 dB, you will barely notice any sound.
Being that it's lightweight, you can easily relocate it from your bedroom to your home office, kitchen, or another room in our home.
Pros
Does a good job distributing fragrance
Only makes faint sounds when in operation mode
Perfect for an average-sized room
Great gift idea
Cons
Not for larger spaces
Lightweight
Made of plastic
6. Plant Guru Earth and Wood Essential Oil Set
I thought this was a unique oil set that I don't see offered by many companies. This set includes six steam-distilled essential oils in 10mL (⅓ fl oz) bottles. Sometimes I forget to mention this, but the oils are stored in amber bottles that have a Euro-style dropper cap. That means that you can slowly drip the oils out by slightly tipping the bottle over until the desired number of drops fall out. I prefer these caps because you don't have to have droppers on hand and there's less oil loss.
This set includes the following oils:
Cypress – This oil has a bit of everything – evergreen woodiness, airy herbaceousness, and it even has some spice notes mingling in as well. It also gives you an emotional boost and can help with clearing up congestion when inhaled.
Fir Needle – A refreshing scent, somewhat like eucalyptus, fir needle essential oil is pungent, sweet, and refreshing all at once. This one also helps soothe the respiratory system, reducing inflammation in your throat and bronchial passages.
Frankincense – If you are looking for an earthy stress reducer, try frankincense. It helps alleviate anxiety and can even calm your heart rate and lower blood pressure. Like sweet resin combined with lemon peels and wet bark, frankincense has a gravitating aroma that will make you feel more at home.
Juniper Berry – Definitely peppery, but with hints of citrus and cedar, juniper berry can be refreshing, making your space feel cleansed and new. I also dilute this one with oil in a small mister bottle and spray it on my mat while doing pilates to intensify the calmness I feel from the workout.
Patchouli Dark – Patchouli has an intense fragrance that can't be mistaken for anything else. So strong that it's almost stifling but in a strangely good way. It's sweet and musky but grounded by the smell of tree roots sinking deep into the soil. Inhaling it can help you feel more relaxed.
Vetiver – This one reminds me of burned leather combined with dewy grass. It has a calming, meditative effect when diffused and has been known to help insomnia sufferers to fall asleep.
This set of grounding fragrances will not disappoint. If you have been reluctant to purchase some of these oils individually, then this set gives you the opportunity to sample all of these intriguing earthy aromas.
Keep in mind that some oils are thicker than others and will require more time to drip out of the dropper cap.
Pros
Interesting variety of oils
Authentic earthy scents
Nice scents for Autumn and Winter
Unisex scents, but also a great gift set for him
Cons
Not for those who dislike woodsy aromas
Feedback from Plant Guru Customers
Plant Guru customers seem to be a loyal bunch. There are a lot of positive reactions to their essential oils and negative comments are related to scent preferences, not poor product quality.
Pleased Customers
Fantastic scents that beautifully spread through rooms.
Impressed with the company and quality of the oils, many customers become repeat-buyers.
Customers find Plant Guru sets to be of great value. They've been able to explore oils that they might not have bought individually and even make their own blends with what's included.
The quality of their pure and natural oils is surprising considering that their prices are really reasonable.
Some customers prefer the larger bottles of oils that come with a long glass dropper instead of the euro-style dropper cap. They felt they had more ease of use with the long medicine droppers.
Disappointing Experience
With the Earth & Wood set specifically, some customers felt that the oils were too strong, overpowering the room.
Final Thoughts On Plant Guru
While nothing about the company itself really stands out, Plant Guru essential oils are a hit with their customers. They offer a solid product, and I like that they create sets and individual oils that aren't available through the majority of essential oil companies out there.
If you are new to this brand, definitely start with their singles and blends set. You'll get to try fourteen of their most popular oils and get a feel for the company and product quality. Otherwise, it's really just a matter of need and preference. 
Looking to improve air quality in your home? You can try their Lemon Eucalyptus Essential Oil. If you want a soft floral scent that can also help you stay awake, then Egyptian Geranium Essential Oil might be a great fit for you. 
Consider what you would like to accomplish with your diffused oils, and then think about the types of scents you prefer. Most customers like Plant Guru oils enough to return for more, so at the very least, you might have found your new favorite essential oil brand.
So just try Plant Guru, store your oils properly, and I'm pretty sure you won't have any regrets. These are definitely essential oils worth exploring.
Read more: