While not the most recognized and famous candle brand out there, HomeWorx is definitely not a company to write off entirely and disregard. In this article, we'll be reviewing a few of HomeWorx's best candles and exploring a little bit about them as a company.
HomeWorx Candles is a very reliable and reputable company founded by Harry Slatkin, a world-famous fragrance expert and businessman. HomeWorx makes a variety of popular items, including all-natural scented candles, oil diffusers, stick diffusers, and many more fragrance-related products.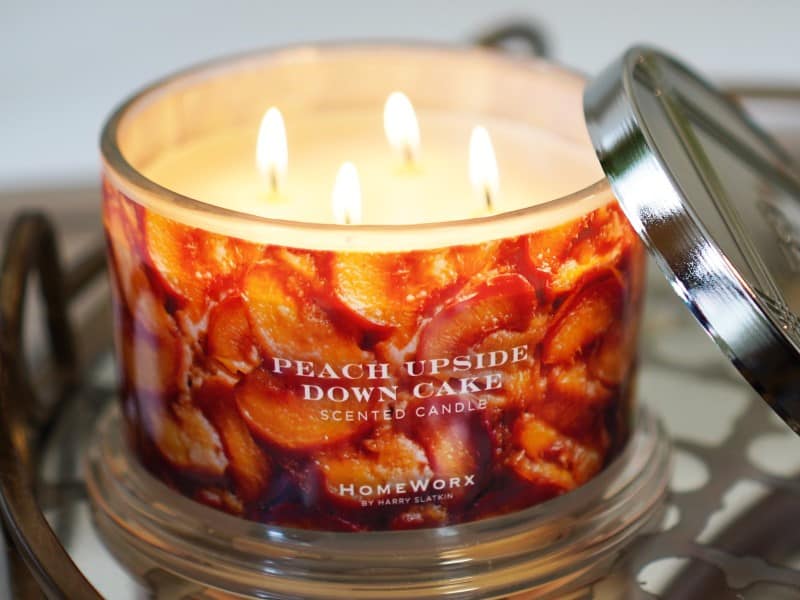 Now that you know a bit about HomeWorx and the sort of products they make let's take a more in-depth look at the company and its products. Keep on reading for more information on HomeWorx and some guidance on choosing the perfect HomeWorx candle for your needs!
Read more: Best Candle Brands: 16 Big Names You Need to Know
In this article, I'm going to be reviewing the following HomeWorx Candles:
All About HomeWorx Candle Company
There are some pretty fascinating things about HomeWorx as a company, the founder of HomeWorx, and how they make their candles. Let's take a deeper look at these topics in the following sections.
The History of HomeWorx and Its Founder
Founded by the award-winning fragrance connoisseur Harry Slatkin, HomeWorx is a luxury candle and fragrance company specializing in high-quality scented candles.
Harry Slatkin founded Slatkin & Co. in 1992 and soon became a leading name worldwide in the home fragrance industry. He went on to become President of Home for L Brands, which owns Bath & Body Works, PINK, and Victoria's Secret.
After exiting a few of his other ventures, Harry returned to his fragrance roots and started HomeWorx. Since its founding, HomeWorx has only grown in popularity and has become a staple in the luxury scented candle market.
HomeWorx Product Lines and ScentWorx
HomeWorx makes a variety of different items related to home fragrance, and below are a few of their product lines:
Canister Candles
Candle Holders
Jar Candles
Novelty Candles
Fragrance Diffusers
Ornaments
Out of all HomeWorx's product lines, their canister candles and jar candles seem to be the most popular due to their extensive selection and quality. HomeWorx's fragrance diffusers and refills are also quite popular, followed by their candle holders, novelty candles, and ornaments.
Additionally, Harry Slatkin started an exclusive fragrance product line for Kohls called ScentWorx, which offers various fragrances, candles, soaps, sanitizers, and much more. While HomeWorx and ScentWorx provide similar quality products, we'll only be discussing HomeWorx candles in this article.
Unique Things About HomeWorx
HomeWorx is a well-respected fragrance company with many unique and interesting characteristics that set it apart from other similar brands. In the following few sections, we'll look at a few of the unique, positive qualities of HomeWorx candles.
High Quality, Natural Candles
HomeWorx candles are known to be very high quality and made from natural ingredients. The exact mixture of wax, fragrances, and other additives in HomeWorx candles is a company secret.
However, the HomeWorx website confirms that the company only uses FDA-approved ingredients and tries to keep its products as natural as possible. Most HomeWorx candles are made using paraffin wax.
For more creative freedom with scents, the company does opt to use some synthetic fragrances in its candles and products.
Strong Emphasis on Fragrances
One of the company's primary focuses, and a personal specialty of the founder, are the fragrances used in HomeWorx candles.
Most candle brands have a candle characteristic that they pay special attention to, and for HomeWorx, it's defiantly fragrance. The company mixes and experiments with different variations and quantities of fragrance to bring out a bold and pleasant scent in all of their candles.
HomeWorx candles are known to have a bold and distinctly strong scent that is sure to add a little extra something to any room.
The Amazing Founder of HomeWorx
Another unique thing about HomeWorx is the founder of the company and the particular expertise that he brings to the brand.
Harry Slatkin, the founder of HomeWorx, is a long-time fragrance connoisseur that has received many fragrance-related awards and appeared on some pretty big platforms, such as CNN, ABC, The Martha Stweart Show, CNBC, and many more.
In addition to his many accolades and media appearances, Harry Slatkin has been at the helm of many of his own fashion and fragrance brands (Slatkin & Co, Belstaff, HomeWorx), as well as more prominent brands like Bath & Body Works.
His excellent track record and experience brings a little something extra to HomeWorx candles and their fragrances that you won't quite find in any other candle brand.
Where Can You Purchase HomeWorx Candles?
Unlike many candle brands, HomeWorx candles aren't available on most online retailers or physical stores.
Currently, here are the places you can get HomeWorx candles:
Amazon
The official HomeWorx website
QVC
QVC UK
Ulta Beauty
4 HomeWorx Candles Reviewed
Now that you have a little more information on the HomeWorx brand, let's look at a few of the best HomeWorx candles to help you make a more educated decision on which one is best for your needs.
Each HomeWorx candle I review in this article has its significant pros and cons clearly listed out, so you can conveniently skim over them to get a better idea of what you're looking for in your ideal candle.
1. HomeWorx Harvest Leaves Candle
To start off the list is the Harvest Leaves candle by HomeWorx. This candle, much like its name suggests, has hints of spiced pumpkin, mandarin, cranberry, and fir balsam; great for bringing the autumn small and ambiance into your house.
While its scent is strong, it isn't too robust so as to be overwhelming. If you leave this candle burning for a little while, the smell will often linger in your home for a bit after extinguishing the flame.
The autumn scented candle comes with four wicks, which can be both a pro or a con depending on how you look at it. For one, it will smell much more robust than a single wick candle, but it will burn quicker and won't last as long.
Overall, this paraffin wax candle is high quality and comes in a well-constructed glass and metal container.
However, its autumn-inspired fragrance isn't ideal for all situations, so you may want to consider another candle on this list if you're looking for one that is more versatile and good for year-round use.
Pros
Strong scent, but not too overwhelming
Great, reasonable price
It puts off a strong scent due to having four wicks
High-quality glass and metal container with a lid
Perfect for bringing an autumn ambiance into your home
Lead-free wick
Cons
The fragrance isn't ideal for all situations
Burns quickly because of the four wicks
2. HomeWorx Spun Vanilla Sugar Candle
Next up on the list, we've got the Spun Vanilla Sugar candle by HomeWorx. This candle has a pleasant and unique blend of vanilla, spun sugar, whipped cream, and sugared lemon fragrance that combines to make a supremely versatile scent, perfect for relaxing or entertaining guests.
While this scented candle has four wicks that would usually create quite a strong aroma, many customers have noted that this candle's fragrance is quite subtle. The downside is that the four wicks cause it to burn quicker than a single wick candle would.
This candle's light scent is perfect for creating a welcoming and pleasant environment in your home, but it may be too unnoticeable for some people's preferences. Most people will like this candle, making it a perfect gift as well!
Overall, this is a well-made candle that, while a little subtle, has excellent fragrance and a reasonable burn time (between 30 and 55 hours).
Pros
Light but bold vanilla scent great for many situations
Beautiful glass container with metal lid
A great neutral choice for everyday use or as a gift
Lead-free wick
Cons
It burns rather quickly due to having four wicks
Light scent that may be too insignificant for some people
A bit more expensive than other similar candles
3. HomeWorx Spiced Vanilla Pumpkin Candle
With notes of vanilla bean, pumpkin, warm caramel, and blood orange, the Spiced Vanilla Pumpkin candle by HomeWorx is a great all-around candle and definitely deserves to be on this list.
Most notably, this scented candle is has a powerful aroma and definitely lingers even after you've put out the candle. Its powerful scent is primarily due to the great mixture of fragrances, but its four wicks also contribute.
Because of having four wicks, this candle may not burn for as long as some other single wick candles. However, you should expect to get between 30 and 55 hours out of this candle, and because the scent is so strong, you often don't need to burn it for long periods.
While this HomeWorx candle is extremely appealing and good, there are a few downsides to consider. Most notably is its price. When compared to similar candles, it is on the pricier side of things.
However, it is essential to point you that for the price, you are getting an extremely high-quality candle that has a strong aroma and lead-free wicks, all characteristics that come with a higher price tag wherever you go.
Pros
Bold pumpkin and vanilla scent
Nice glass and metal container with lid
It puts off a lot of scent due to having four wicks
Lead-free wick
Puts off so much scent that you won't have to burn for very long
Cons
It may not last as long because of having four wicks
A bit pricey when compared to similar candles
4. HomeWorx Enchanted Peony Candle
The Enchanted Peony candle by HomeWorx is a very unique and subtle candle that is an excellent all-around choice. With notes of velvet peony, pink camellia, leafy greens, and fresh blackberry, this candle is powerful and robust, but also very calming.
This candle is perfect for burning in your home every day just to liven up the space, or it would make a great gift. Its scent is very relaxing and neutral, making it wonderful for nearly any situation.
The candle's four wicks are a sort of double-edged sword, depending on how you look at it. On the one hand, it has four wicks that allow the candle to release a more bold scent, but it also burns quicker than single-wick candles and won't last as long.
Compared to similar products, this HomeWorx candle is a little bit on the pricier end of things. However, you should consider its high-quality materials, lead-free wick, glass container, and its many other appealing qualities.
Overall, the Enchanted Peony candle by HomeWorx is an all-around good choice that is sure to bring a relaxing but bold aroma to your home.
Pros
Calming and pleasant scent that is perfect for many situations
Beautiful glass container with metal lid
Lead-free wick
Very bold and noticeable aroma
Great for everyday use or as a gift
Cons
It is a little more expensive when compared to similar products
May not last as long due to having four wicks
Customer Opinions on HomeWorx Candles
Now that we've gone over four of the best HomeWorx candles and you have a better idea of which one is best for you, let's take a quick look at what customers who have bought HomeWorx candles think about their products.
What Customers Like About HomeWorx Candles
Overall, HomeWorx candle customers are very positive about the company's products and their purchasing experience as a whole.
Many customers were very pleased by the boldness and purity of the scent put off by their HomeWorx candles. Customers often highlighted the quality of the paraffin wax, the lead-free wicks, and the glass candle containers as well.
What Customers Don't Like About HomeWorx Candles
To find some bad things that customers had to say about HomeWorx candles, I had to dig pretty deep through product reviews.
While there were no major red flags, a few customers noticed that the wicks on some HomeWorx candles were too thick for the candle size and resulted in black smoke when extinguishing and an overall shorter burn time.
The availability (or lack thereof) of HomeWorx candles was another sore point in customer reviews. HomeWorx candles are only sold at select retailers, and even then, they are often out of stock or are limited in quantity.
Final Thoughts
After looking at HomeWorx as a company and examining their most popular candles, the best overall candle for most people is the Spun Vanilla Sugar Candle. While the scent wasn't as strong as some of the other options, it was still robust and offered a neutral and relaxing experience when burning.
In the end, though, candle scent is exceptionally subjective. It's essential to consider your personal preferences and needs when choosing the best candle for you.
Read more: