When talking to other candle lovers, Goose Creek Candle products are often suggested as an alternative to Bath & Body Works. They're described as being less expensive and of higher quality, but I would like to know more about Goose Creek to determine if it's a good replacement.
Read on to learn how these companies compare so that you can make the best choice for your home fragrances.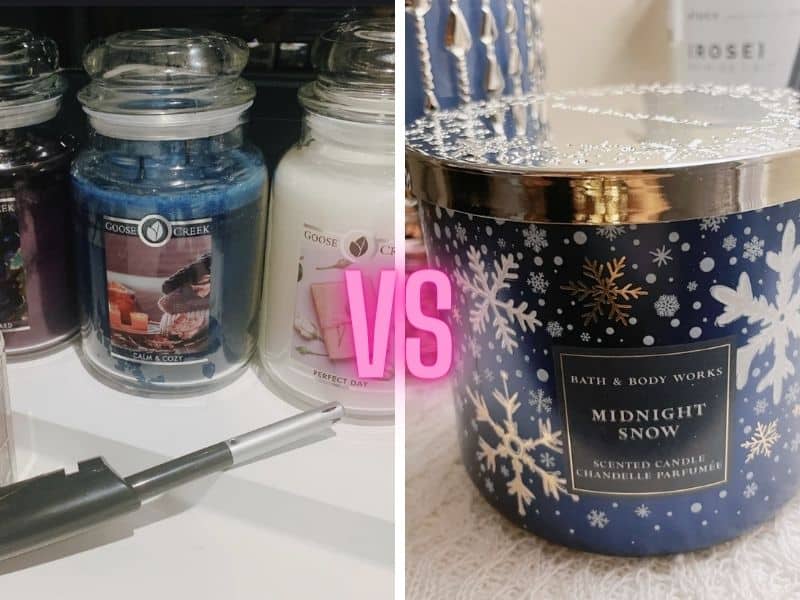 Goose Creek Candle vs Bath & Body Works: Company Overview
To start off the examination of each brand, it can help to know some basic information about each one.
Goose Creek Candle Short Company Overview
Goose Creek Candle is a family-owned business that started in Liberty, Kentucky, USA, in 1998 by Chuck Meece. Their products are still made in the USA, and they are known to add three times the industry standard of fragrance into their candles.
What they don't add to their formulas is unsafe or banned chemicals. Customers can burn these candles in their home without fear of toxins being released.
Even with high fragrance content, Goose Creek candles cost significantly less than most candle companies out there in their category.
Bath & Body Works Short Company Overview
Bath & Body Works was founded in 1990 by Les Wexner. Originally based out of New Albany, Ohio, USA, the company still operates a few towns over in Reynoldsburg. Although the company is no longer owned by the Wexner family, Bath & Body Works still has a strong fan following.
Similar to Goose Creek Candle, BBW adds a high amount of fragrance oils to their candles but the ingredients might not be as eco-friendly as Goose Creek Candle. Nor do they specify whether it's triple the industry standard.
There's a rumor that BBW candles are far more expensive than Goose Creek, but I haven't found that to be true. Their 3-Wick candles cost the same amount and Goose Creek Candle's 7 oz option actually costs $1 USD more than Bath & Body Works.
Is Goose Creek Candle Better Than Bath & Body Works?
In addition to home fragrances, both companies sell bath and body care products as well. As you can see below, Bath & Body Works offers many more options in these categories.
Bath & Body Works | Bath & Body Products
Goose Creek Candle | Bath & Body Products
Body scrubs

Body washes and shower gels

Body lotions

Fine fragrance mists

Bubble bath

Bath fizzies

Bar soaps

Hand creams

Lip gloss and lip balms

Cologne

Foaming hand soap

Body lotion

Shower gel

Hand cream
It makes sense, though, since BBW doesn't even include the word candle in its company name and Goose Creek does. It's obvious where each company focuses their product development.
Candle Size Comparisons
Since the primary overlap between these two companies is candles, let's hone in on that. In this area, Goose Creek surpasses Bath & Body Works with one additional size option.
| | | |
| --- | --- | --- |
| | Goose Creek Candle | Bath & Body Works |
| Single Wick | 7 oz (198g) tumbler | 7 oz (198g) screw lid jar |
| 2-Wick | 24 oz (680g) jar | N/A |
| 3-Wick | 14.5 oz (411g) container | 14.5 oz (411g) container |
Both companies pour their candles into glass jars and containers. With proper cleaning the jars can be reused for a multitude of DIY projects or holders. Their 24 oz jars are akin to Yankee Candle's original jars.
Fragrance Comparisons
Goose Creek Candle only uses fragrances on the International Fragrance Association's (IFRA) safe list.
From what I can tell, Bath & Body Works does not make the same claim. But looking at one example of their ingredients list, they don't appear to use any toxic ingredients in their candles, either.
But neither company fully reveals their ingredients. Due to protections, companies can choose not to share components of product recipes considered proprietary.
I have noticed that both companies combine essential oils with fragrance oils for all but their aromatherapy candle lines. The aromatherapy lines can only be made using essential oils, otherwise they don't fit in that category.
From what I can tell, both companies have close to or a little more than 100 candle scents across all of their collections.
Wicks & Wax Comparison
Both companies use lead-free wicks. At times, Goose Creek Candle describes its wicks as 100% cotton but that's not a consistent claim, so I am not sure if they use a variety of wicks or not.
Depending on the wax blend and which fragrances are used, some candle companies have to use a different wick for each fragrance in order for the candles to burn evenly. That might be the case here.
In terms of wax, there are more similarities. Both companies use a "proprietary soy wax blend." Bath & Body Works' blend includes soy, palm, and paraffin waxes. Goose Creek does not specify which additional wax types are included in their blend.
Something else I noticed is that Goose Creek Candle repeatedly claims to use all natural ingredients without substantiating that claim. They repeatedly use terms like, "clean" and "health conscious" on their website.
They also indicate that their products are vegan and cruelty-free and that there aren't any parabens or toxins in their products, which is great. But unlike BBW, they don't link to candle ingredients for each product on their website, so there is no way to know if their product is truly all natural.
Here is an example of similar 3-Wick fragrances offered by each company:
Are There Any Differences?
There are four points that seem to help Goose Creek Candle stand out from Bath & Body Works:
They use three times the fragrance oil
Customers consistently compliment their wonderful scents
When burning, there's a strong fragrance throw
Candles continue to burn evenly over time
The last point seems to make customers most pleased. I've seen a lot of Bath & Body Works customers complain that over time, their candles no longer burned well or smelled as strong towards the end and that made them feel as though the purchase was a waste of money.
Takeaway: Considering all other factors pretty much the same, in terms of value, Goose Creek Candle might be the better option. You will experience a consistent potent fragrance all the way to the bottom of your candle, and it will burn evenly down to the very end.
Goose Creek Candle's Unique 3-Wick Candle Collections
Another thing that I noticed about Goose Creek Candle is that they offer collections beyond traditional holidays.
Here are the four collections that stand out:
Aromatherapy
Farmhouse
Candles for Men
World Traveler
Below I will give an example of each collection and what makes them unique. In all of the examples, each candle is 14.5 ounces, has three wicks, burns for at least 35 hours, and is made of soy wax blend.
Goose Creek Aromatherapy Collection
This collection is a combination of their soy wax blend and essential oils.
Goose Creek Citrus & Basil Aromatherapy Candle
Some blends help reduce stress, others comfort, or bring clarity. In the example above, the Citrus and Basil candle refreshes and energizes. It smells like lemons, basil leaves, tea, and apricots.
Goose Creek Farmhouse Collection
All of the glass containers in the farmhouse collection showcase a handwritten word related to home life.
Goose Creek Butter Cake "Welcome Home" Candle
They boast a clean, modern look in basic balck and white with minimal sans serif lettering. Words like, Love, Gather, Thankful, Joy, and Relax can help make a room feel more like home.
The Welcome Home example smells like yellow cake batter, butter, apples, and pear cream.
Candle Collection for Men
The men's collection is rife with woodsy scents that many men will love. I think that beyond the luxury candle brands this is a unique collection to have for a mid-tier candle company.
Goose Creek Vanilla Tobacco & Amber Candle
This collection includes scents like Teakwood, Barbershop, Fall Kickoff, Leather, and Oud. Titles alone make clear who the target customers are for these fragrances. The example above smells like vanilla, tobacco, amber, and bergamot.
World Traveler Collection
In this collection, favorite dishes or most memorable aspects of various countries are expressed through scent.
Goose Creek Black Forest Cake 3-Wick Candle
There's pumpkin gnocchi to represent Switzerland, Jamaican fruit cake, sweet tiramisu for Italy, and the nordic spruce tree for Norway.
Black Forest represents Germany's specialty cake and smells like cake batter, chocolate icing, dark cherries, cream, and vanilla.
Positive Takeaways:
Goose Creek's candles burn well and for a long time. They don't tunnel and there's no waste because they burn evenly all the way to the base of the container. Exceptional fragrance throw that lingers long after the candle has been blown out is another customer favorite.
Possible Concerns:
It is unclear if the ingredients are 100% natural, even the aromatherapy candle labels have some mixed messaging on them.
In Conclusion
Candles made by Goose Creek are definitely of high quality. I would be more willing to trust that their products are health-conscious and natural if they were to be more transparent about product ingredients.
Bath & Body Works is more forthcoming about their candle ingredients. While they do not claim to use 100% natural ingredients, or even make vegan or cruelty-free products, the ingredients that they do share do not appear to be toxic based on cursory research of items on their list.
In terms of price, their prices pretty much mirror one another, so comparisons must be made in other categories.
Here are some points to consider when deciding between the two:
Choose Goose Creek Candle if:
You hate candles that tunnel
You want a candle that burns with strong scent to the bottom
You plan on placing the candle in a large space
You want to buy candles for a male friend or partner
You prefer scents that reflect everyday living
Choose Bath & Body Works if:
You are not too concerned with ingredients used
You plan to burn the 3-wick candles in a large space
You have a leaning towards nostalgia and celebrations
You aren't bothered by only two candle size options
If I were choosing a candle today, it would be Goose Creek Candle but you have to consider the kinds of scents you prefer to have in your home and the extent to which ingredients matter to you. While I did not find their prices to be lower as others have said, they do seem to make high quality candles.