As the name states, Febreze Small Spaces are portable air fresheners that you can place nearly anywhere in your home.
They're similar to solid cone air fresheners but instead of masking odors, these little fresheners actually eliminate odors, making them more effective than solid fresheners.
Even more important, Small Spaces fragrances are four times more concentrated than solid fresheners. And each unit releases fragrance up to 45 days.
This particular set includes four units, two each of Linen & Sky and Unstoppable Fresh fragrances. You can place them anywhere you'd like to eliminate odors, like the bathroom, near the garbage can, in the mud room, near your cat's litter box, and so forth.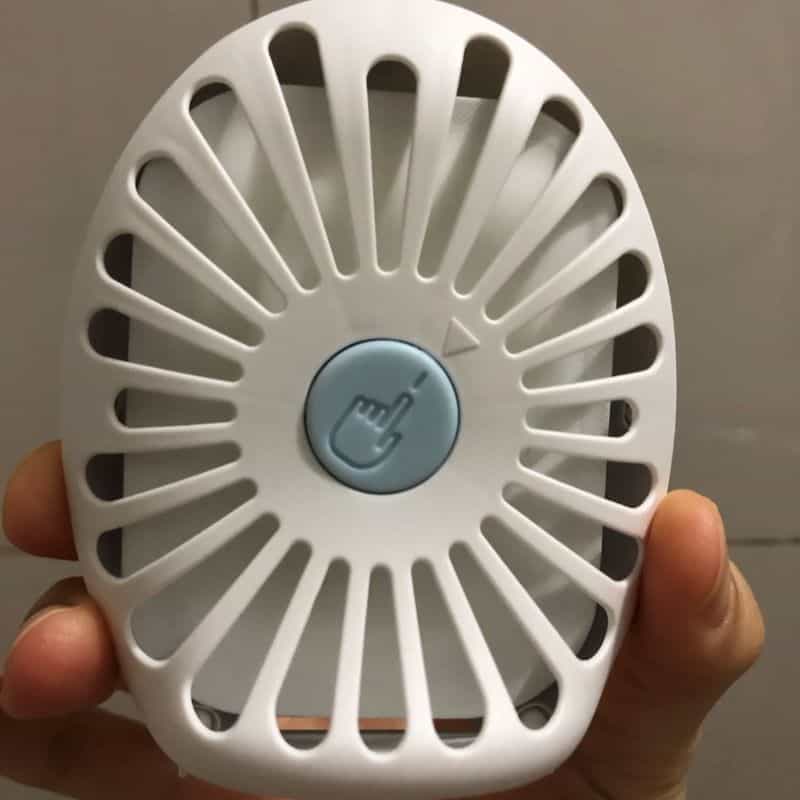 Pros
Small, can fit in tight spaces
Strong enough for pet odors
Goes beyond deodorizing to eliminate odors
Compact in size
Strong fragrance throw
Cons
Containers are not refillable
You can't control the amount of scent released
Fragrance is too strong for some people
Things to Consider before Buying Febreze Small Spaces
Febreze Small Spaces are a convenient solution for fighting odors and freshening up your home. What's most useful about them is that they can reach spaces that a wall plug can't.
You can stick these inside shoe cubbies, in closets, and other tucked away spaces. This is a great way to keep those areas fresh for more than a month without much monitoring.
But there are some things you may want to consider before buying Small Spaces.
Limited Placement Options
These units sit on flat surfaces, like tabletops or shelves. They aren't designed with a hook or two-sided tape. You'll need to choose a place where you can sit the unit upright and out of the way.
Unfortunately, if you're looking to freshen the interior of a diaper pail or garbage can, this isn't the best option for either.
Fragrance Options
Currently, there are twenty-two Small Spaces scents available. Half of them fall into the fresh and airy category. But there are some fruity, sweet, floral, and holiday scents as well.
If you don't typically enjoy the kind of scents you'd encounter with other Febreze products, you may not like these either.
Room Size
If you plan to freshen and deodorize a large room with one of these, you may be disappointed.
One unit might be effective in a dorm room, but it likely wouldn't be strong enough to fill a large living room or open concept floor plan. Small Spaces are ideal for bathrooms, closets, and other tight quarters.
Manual Reminders
Since this is an analog device, there isn't a sound or light that reminds you to replace the unit after 45 days.
You will have to create a system for yourself in order to remember to periodically set up a new unit. If you would need or want a reminder, you may want to try a plug in freshener.
Not Eco-Friendly
Throwing them out after 45 days is easier. Not having to plug them in helps keep the electric bill low. But since you'd have to repeatedly purchase and replace these units, that makes them unsustainable. They also can't be recycled.
If you are concerned about the environmental impact, then you may want to consider an alternative to Small Spaces. I've listed a few suggestions below.
Febreze Small Spaces: Features & Benefits
There are a few additional reasons why Small Spaces might meet your needs.
Non-Messy Device
Another thing that makes Small Spaces different from the solid cones is that they wouldn't create a mess if exposed to extremely warm temperatures. Small Spaces won't melt, and you don't have to worry about pets or young children attempting to touch or bite the freshener substance.
Instead, there's a button on the back of the unit for you to press. Pressing the button punctures the pouch holding the fragrance, which releases it. Everything remains contained inside the unit for safety and low maintenance.
Safe for Little Ones
This product is safe enough to use around young children and most pets, except birds.
If you own a bird, you may want to place your Small Spaces freshener in a different room. This product can create respiratory problems for birds, especially if the room isn't properly ventilated.
Last Longer than Scent Cones
Solid cone air fresheners typically last three weeks. Small Spaces can last more than six weeks before needing to be replaced.
Odor Elimination
This is a big deal because most air fresheners simply make a room smell nice without cleaning the source of the bad odors. Febreze products are formulated with molecules that bind and trap odors, and then release a nice scent.
Small Spaces: Social Feedback
When it comes to fresheners and deodorizers, peoples' experiences vary widely. Some people love the fragrances, and others strongly dislike them. Here is some customer feedback:
Some customers prefer the previous Small Spaces model, which was refillable. They feel that repeatedly purchasing and discarding this product is too harmful to the environment.
For some customers, the fragrance does fill larger rooms, and sometimes even the entire house.
The fragrance intensity seems to trail off after a few days. It doesn't last the full 45 days.
They make the closet smell like a basket of fresh laundry!
Small Spaces devices eliminate funky bathroom odors.
You can place them in multiple rooms and spaces throughout the house without needing to plug them into the wall.
Alternatives to Febreze Small Spaces
After reading about Febreze Small Spaces in this post, there might be a number of reasons why you may no longer feel that they would be a good fit for your needs.
With that in mind, I found a few alternatives that might better appeal to your needs or preferences.
1. Febreze Plugin Air Freshener
This Febreze alternative also eliminates odors instead of simply covering them up. If you would prefer to fill an entire room with fragrance, then you might want to try this electric oil warmer. Here are some highlights:
Includes one plug and two oil refills.
If used on the lowest setting, fragrance lasts 50 days.
Fragrance won't fade over time. It's digitally monitored and slowly released.
There's an indicator light that blinks for seven days to let you know when it's time for a refill.
You can adjust fragrance intensity.
Easily rotate the warmer for use in horizontal or vertical outlets.
2. Remodeez Deodorizer & Odor Eliminator for Small Spaces
Lock in odor molecules without strong fragrances using these non-toxic fresheners. Made with activated charcoal derived from coconut husks, you can freshen your space without harming the environment. Here are more highlights:
Absorbs both odor and moisture; doesn't just cover up smells.
Heavy-duty adhesive allows you to stick this unit to the side of litter boxes, diaper pails, garbage can lids, clothes hampers, and more. You won't need to place them on top of a flat surface.
Lasts up to a year. Simply place it in the sun to reactivate the charcoal.
Less waste. Once the year has passed, you can use the carbon powder as compost.
Fragrance-free, which is perfect for those who dislike strong scents.
3. Fresh Wave Odor Eliminator & Air Freshener Spray
From time to time, it helps to be able to use a spray freshener. You can't control when and how much fragrance is released from Febreze Small Spaces, which can be inconvenient.
Fresh Wave products are made using natural ingredients. This particular bottle is lavender scented, but it doesn't simply mask odors. This chemical-free formula tackles strong odors, including those from pets and cigarette smoke.
It is safe to spray this solution on furniture fabric, pet bedding, carpets, clothes, and similar surfaces without harming humans or pets.
Most importantly, instead of constant fragrance release, you can choose when to freshen up a space.
Conclusion
It can be off-putting to walk into a smelly bathroom, closet, or pet area. Smaller air fresheners offer a suitable solution for keeping those areas fresh around the clock.
Febreze Small Spaces can give you 45 days of freshness that also gets rid of odors altogether. They're a non-messy alternative to solid air fresheners, and they're strong enough to destroy pet odors. You can try it for yourself.
But Small Spaces air freshener isn't for everyone. Remodeez deodorizer and odor eliminator is an unscented, environmentally friendly alternative.
Read more: