If you are in a hurry and just want to find out what the best Diptyque Hourglass Diffuser for a newbie is, then we recommend Diptyque 34 Boulevard Saint Germain Hourglass Diffuser as the best one.
Looking for a great way to liven up your space with only the finest and most unique scents? Then look no further as you've come to the right place. This Diptyque hourglass diffuser review will give you valuable insights on why it's special and the right choice for you to use as a mood setter and at the same time convert your place to a relaxing and sensual area.
In this article, we're going to review the following Diptyque Hourglass Diffusers: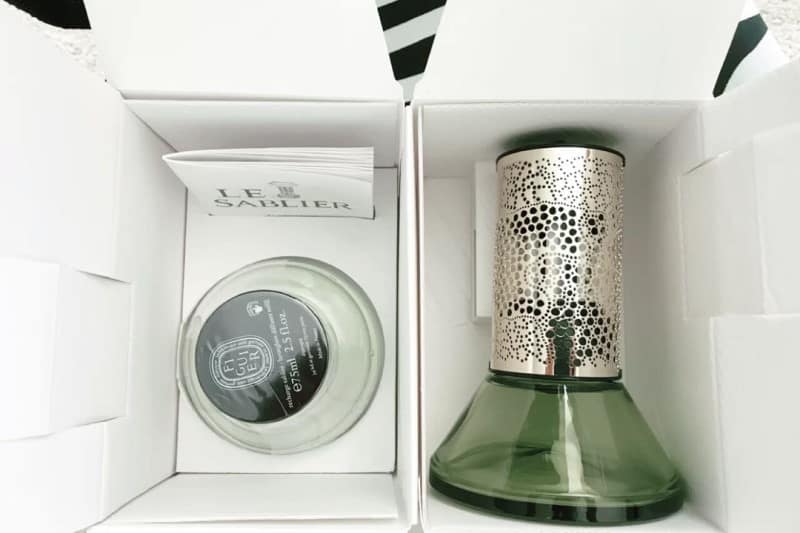 All about the Company
Diptyque prides itself as a brand that is demanding, a visionary, and most of all a passionate perfumer. They offer products from personal fragrances to the art of body care, and also a wide array of home fragrances.
Their products are imprinted with unique, distinctive, and particular olfactory signatures. Made only from the finest raw materials blended to yield unexpected harmony which in turn results in outstanding fragrances that many of their followers have enjoyed throughout their lifetime of operation.
These are not just products but creative expressions out of unusual ways to delight all their loyal and initiated followers and is targeted to enlighten more people to join in and bask in their amazing scents.
Diptyque's story started in 1961 at a boulevard in Saint Germain (34th) in the center of fashion and art Paris. The company was founded by Desmond Knox-Leet, Christiane Gautrot, and Yves Coueslant where they gave birth to the idea of basking oneself in the ultimate luxury without any compromise.
The company has evolved from fabrics to perfumes and released their first three scented candles namely Hawthorne, Tea, and Cinnamon in 1963 and the first unisex eau de toilette L'Eau in 1968.
As you can see these people are pioneers in their craft. So you're assured that you only get the best of the best when choosing one of their products.
Product Lines
Speaking of which we will discuss briefly the products Diptyque offers just so you'll have some idea.
Skin Care for Face and Body
Diptyque gives it their all at the service of natural beauty. They take pride to have mastered the unique art of capturing active plant molecules including even the most fragile ones using slow and state of the art infusion techniques.
Through these gentle formulas, these active molecules reveal their full efficacy once in contact with your skin. These were products of rigid adherence to a charter of formulas excluding any controversial ingredients.
Diptyque produces skincare products ranging from face serums, exfoliating hand washes, lotions, shower gels, and oils for both hair and body.
Fragrances
There's no other than Diptyque fragrances, for them it is an art and they believe that art is a journey. It means that the brand believes in a never-ending quest for supremacy in their field.
A non-stop quest for rare raw materials and unexpected accords. Their fragrances are like a journey from the past and towards the future. A magnificent blend between tradition and the avant-garde, aiming towards disruption of current norms.
They sell perfumes, scented body care, solid perfumes, hair mist, roll-ons and so much more.
Candles and Home Fragrances
Candles, ceramic diffusers, wax palettes, scented papers, sprays, and hourglasses (featured) you name it they have it all. Diptyque believes that perfuming your home is also an art form and that it should be the ultimate sensorial place.
In turn, their diffuser products are composed of car diffusers, stone diffusers, cartouches, hourglass diffusers, and scented objects.
Read our full review about Diptyque scented candles.
Decoration
Diptyque is more than just scents they also strive to spice up your living spaces with fantastical decors. From useful everyday objects, tableware, textiles, and accessories they got it all. Rest assured that they are of the best quality and most unique in terms of design.
Diptyque's products are some of the best gift ideas that you can find and surely the recipient would appreciate the class and quality that comes with it.
Diptyque Hourglass Diffuser Reviews
Product Information:
First up on our list is the Diptyque Baies Hourglass Diffuser 2.0 New Design. This hourglass diffuser was driven by a spirit of innovation. Diptyque has reinvented the concepts of home fragrance over and over again and with their hourglass diffusers. As mentioned, theirs is an unending quest for supremacy in the field of scents. This hourglass diffuser is a product of that dedication.
Simply turn the hourglass over to begin the diffusion cycle for about an hour then there is nothing left to do but to enjoy the fragrance and the sensory experience or what the brand likes to call "the Diptyque hour".
This hourglass diffuser is ideal to perfume small to medium-sized spaces for up to several months. That should be enough time until the perfume evaporates completely. Don't worry as the bottle can be refilled with the same fragrance after.
The flavor of this rendition is a mix of the irresistible freshness of roses, sweetened w/ blackcurrant leaves.
Review:
First off, all of these hourglass diffusers are really fancy decorations that would fit right in your home's aesthetics. This Baies Hourglass Diffuser 2.0 is all that and more. It's got a fresh, spicy, woody, and warm scent that relaxes your calms your mind and body.
It's definitely top-notch quality and we highly recommend it.
Product Information:
Next up is the Diptyque 34 Boulevard Saint Germain Hourglass Diffuser 2.0 that comes in a 75 ml bottles. Another product of Diptyque's quest for innovation this wonderful scent should light up any place in your home.
Infused with the scent of the one and only historic store at 34 boulevard Saint Germain which is a combination of unusual green accords, crushed blackcurrant leaves, moist mosses, and sun-dried fig leaves.
It doesn't get any better than that for sure. This is a signature line that captured the essence of the scent of an incomparable house and is perfect for both mind, body, and home. It's not only captivating but complex and at the same time should give you a boost of energy.
Set the mood right for your day with this hourglass diffuser.
Review:
The 34th boulevard of Saint Germain scent has been infused in more than just this hourglass diffuser. It's a signature insert to all of Diptyque's unique products. From body and skincare to their perfume to any home décor. It's been in the market for decades and that is evident enough that people are demanding it.
It's a classic so for us, it's a winner!
Product Information:
The third entry on our Diptyque hourglass diffuser review is the Diptyque Figuier (Fig) Hourglass Diffuser 2.0 New Design. Infused with none other than the fig tree and all its enchanting entirety. Characterized by the warmth of its bark, the milky sap of its fruit, and most of all the freshness of its leaves.
The fig tree has been a part of many fragrances and it's been prominent in Diptyque's products too. From scented candles, ovals, and decoratives its scent is undeniably amazing. This brand new design further reinforces the strength of this wonderful aroma.
Nothing is left unused whether it's the fig tree's bark, sap, or leaves as Diptyque employs a very efficient process to capture its essence. This hourglass diffuser is ideal for any area in your home, bedroom, bathroom, or living room.
Review:
May not be as popular as the Baise and the 34 boulevard Saint Germain variety but this fig tree version is also no pushover. It's proven to be long-lasting and has the best range in terms of scents.
It has a tasteful and lovely aroma that lingers for hours in any room. It could last you for 6 months so a refill won't be needed quickly. It's just a great value for your money.
Product Information:
I bet no one here is unfamiliar with how roses smell, right? So if you're someone who craves the familiar smell of roses then this Diptyque Roses Hourglass Diffuser 2.0 NEW Design is for you.
Part of Diptyque's floral family of scents and fragrances this hourglass diffuser is specifically reinvented to be a top perfume for the home. You'll experience the Diptyque hour like no other with this product we assure you.
Your space should smell like a delicately fresh picked bouquet of rose. This is the brand's way to pay tribute to the ravishing queen of flowers.
Review:
This rose-themed hourglass diffuser is for everyone. You can send it as a gift to your loved ones, friends, and even to yourself. The scent and fragrance won't fail you. It's both classy and stylish and should calm everyone's senses once it takes over the room.
Product Information:
Last but not least on our Diptyque hourglass diffuser review is the Diptyque Fleur Orange (Orange Blossom) Hourglass Diffuser 2.0 New Design. Of course, the list won't be complete without a fruity fragrance and this is the brand's entry for this side of the spectrum.
It's infused with the bark, leaves, and citrus fruit. A unique and delicious concoction of tart and lightly spicy reflection of the orange tree in its entirety. It comes in an orange themed hourglass container which is sure to spice up your living spaces.
Review:
We've all had fruity scents, from kid's cologne to scented candles and all that fancy stuff. But we tell you, there's nothing like this orange-flavored fragrance diffuser from Diptyque. It's got decent reviews online and we recommended it too.
The brand perfectly captured that citrus smell that should not only provide a refreshing scent throughout but at the same time give you that needed boost of energy to go through a tough day. No need to look anywhere else, order this one now!
Customer Opinions
We've scoured the internet for feedback to make sure to provide you only with honest and unbiased perspectives from legit users of our reviewed hourglass diffusers. Here are some of their opinions.
Positives
There are a lot of pretty elaborate reviews about Diptyque's hourglass diffusers. They are mostly centered on their Baies, 34 Boulevard Saint Germain, and Figuier.
The most used words are comforting, unique, and luxurious. And indeed that is proven true by the hundreds of reviews we've found. It's averaging about 4 out of 5 stars in most reviews and in this cut-throat industry that's something not that easy to do.
It's obviously quite a well-known brand and its reputation is definitely up there with the biggest brands.
The words' fancy and convenience are also getting thrown a lot as the hourglass design highly desirable plus it should blend right in your home or office's aesthetics. It's quite versatile and if you're someone who doesn't like lighting up scented candles and doesn't want any burning involved then these beautiful diffusers are definitely for you.
Needs Improvement On…
What the brand or this line of hourglass diffuser products needs to work on is in functionality. The scent is always fresh and is wonderful most of the time. But if the hourglass won't function as expected then all of that will go to waste.
Some users claim that at times the bottle just won't diffuse anything into the air thus being counterproductive. Other than that this product seems to be a must-have and a great bang for your buck.
Final Thoughts
Diptyque is the best at what they do, it is tradition mixed in with only the finest techniques to create a journey with scents and fragrances. We've listed down some of the best hourglass diffusers that the company has created. With these scents, you'll not only have peace of mind but at the same time have a better disposition when facing a challenging day ahead.
In my opinion, if you are using Diptyque Hourglass Diffuser for the first time, then Diptyque 34 Boulevard Saint Germain Hourglass Diffuser is a good choice.  It has the classic logo and fragrance of Diptyque, as well as the classic shape of Hourglass Diffuser. Diptyque Baies Hourglass Diffuser is an alternative. As far as I know, Baies scent is one of people's favorite Diptyque scent, and it is also a frequent choice for a newbie.