If you are in a hurry and just want to find out what the best electric wax warmer is, then we recommend Equsupro 3D Glass Electric Wax Melt Warmer as the best one.
Wax warmers are a great way to fragrance your home without bringing a flame into it. If you're in a situation where you can't burn candles or you prefer not to burn candles, electric wax warmers are the perfect device for you. You can customize fragrances by mixing wax cubes in the warming plate and the used wax can be reused by adding more fragrance or essential oil to it.
In this article, we're going to review the following electric wax warmer: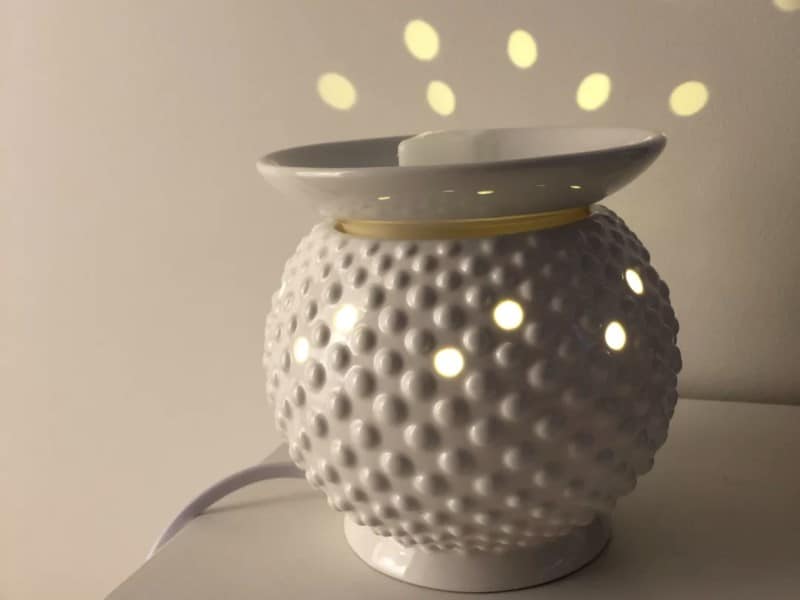 What are the Advantages of Electric Wax Warmers?
Electric wax warmers are great to use if you don't like to use products with flames. Many parents of young children find these devices better to use around their children because they don't hold a high risk of starting a fire. If the warmer tips over, all you have to do is clean up the wax, you don't have to worry about anything near it catching fire.
Another advantage to electric warmers is that they're inexpensive. Candles can be a costly investment if you're a home fragrance lover. After you purchase your wax warmer, which can be around the cost of a Bath & Body Works candle, the wax melts are incredibly affordable. This gives you the opportunity to easily collect more fragrances than you can with a candle.
Wax warmers offer you more fragrance than burning a candle does, too. Wax melts are loaded with more fragrance than in candles. This gives you a longer fragrance lifespan as well as a stronger scent throw while you're warming your wax.
What to Look for in an Electric Wax Warmer
When you're looking into buying a wax warmer, there are different features offered by several types. Knowing what you want tp have featured in your wax warmer is an important step in buying one. You want to make sure you will be fully satisfied with the product you are purchasing so buying a product that gives you the features your desire is the best idea.
One feature that can be really helpful is a built in timer. By setting the timer, your warmer will turn off after the timer is finished. This is the perfect feature for someone that is forgetful or for someone that has a busy schedule and doesn't stay home for too long.
If you enjoy candles but can't burn them, you can buy a warmer that can be used for both wax melts and candles. These warmers come with a tray to set on top of the warmer when you want to use melts. When you want to warm your candle, you take the tray off and and set the candle on the warmer.
Ways to Use an Electric Wax Warmer
With an electric wax warmer, you have a large variety of options for fragranced wax melts. A trick that you can do with your wax warmer is to combine two or more different wax melts to create a new fragrance. Be careful not to mix too many at once because it can be too much wax for your warmer.
Mixing your wax melts gives you the opportunity to create new fragrances. It also makes wax melts more customizable than candles. While you can burn two candles at once to create a new fragrance, the fragrances won't blend as well as they will when using wax melts.
Another option you have with your wax warmer is to diffuse essential oils. You can do this by adding some water to the melt dish and then adding a few drops of essential oils and gently stirring it together.
One thing to keep in mind when doing this is that the water and oil will eventually evaporate so you'll need to keep an eye on the dish and refill it when the water and oil has evaporated.
Choosing Your Electric Wax Warmer
When you choose an electric wax warmer, you want one that you are going to enjoy displaying. Wax warmers, luckily, come in countless different variations. There are simple warmers that are just cylindrical but then there are more intricate warmers that are meant to be decorations.
You should take into account where you're going to display the warmer and choose a wax warmer that will complement your current décor. For example, if you are putting your wax warmer in a beach themed room, you may want to consider getting a beach themed warmer or even one that has the colors associated with beach life.
Another thing you want to take into account is the features you want on your warmer. As I have previously stated, you want to make sure your warmer fits your needs. If you need a warmer with a timer to make sure you don't forget to turn the warmer off, then a device with a built in timer is perfect for you. If you are a candle lover, you may want to consider purchasing a warmer that allows you to warms candles as well as wax melts.
5 Electric Wax Warmers Reviewed
This glass wax warmer is a great addition to a space that has a contemporary style, such as a home, office, spa, studio, or gym. This is a good option for people who not only love using wax melts, but also love diffusing oil. Using this wax warmer will turn your house into an aromatic atmosphere that provides a wave of relaxation throughout the space it's in.
This wax warmer is perfect for someone who has unwanted odors in their home. Using this with your favorite wax melts will help eliminate the odors left behind from cigarettes, pet urine, and garbage, along with other unwanted odors.
This product is also known to be energy saving and environmentally friendly. It uses a 25 watt light bulb, which provides your wax melts with a stable temperature. Because there is no flame and wick, this product doesn't produce any soot or other pollutants that you don't want in your air.
While this is primarily a wax warmer, there is also a secondary purpose to this product. You can use this product as a subtle light in the room you place it in.
Pros:
Looking at this warmer is mesmerizing.
They use lightbulbs that are widely available and cheap to replace.
Only needs one wax melt cube to fill a room with fragrance.
This product provides a wonderful light.
It's a nice silver when unlit and then provides a beautiful display when lit.
These make a great gift.
The price is very affordable for the product.
The fragrance can fill a medium sized room.
This warmer melts the wax quickly.
It creates a stunning display both lit and unlit.
The dish is big enough to hold two wax cubes.
The warmer looks just like the advertised picture when lit.
Cons:
This warmer is too lightweight and easy to tip over.
The whole warmers gets hot while it is on.
The warmer takes a long time to cool down.
The warmer gets too hot for the warming dish and can lead to cracking.
The warming dish is too fragile and shallow.
This handcrafted warmer is the perfect decoration for someone who wants an eye catching mosaic piece to add to their home. If you are looking for a contemporary decoration, you will definitely benefit from adding this to your space.
You can use your favorite wax melts to fragrance whatever space you put this wax warmer in. This warmer is created with the specific intention for giving you the ability to warm your wax for hours upon hours. They've created a way for you to safely fragrance your home without having to worry about the risk of fire.
The Bobolyn wax warmer is easy to operate, too. You just need to plug it into the wall and switch it on. Put a few wax cubes in the melt tray and let the warmer work its magic. As the wax warms, the fragrance will spread around your room and will create a pleasant and relaxing atmosphere.
This product is perfect for people who are looking to eliminate unwanted odors from their home. Place it wherever you need to remove odors, whether it's the kitchen, office, bathroom, garage, or basement, this warmer will fit in anywhere it's needed. The scent throw given off from this warmer is strong enough to fill a room and eliminate even the toughest of odors.
Pros:
This is a good product to use for aromatherapy.
This warmer can brighten and freshen up a room.
Serves great as a nightlight.
Makes a great decoration.
This is a great conversation piece.
The melt dish is deep and holds several wax melt cubes.
The warmer gives off beautiful, colorful light when in use.
Heats up the wax well.
Creates a strong enough fragrance to eliminate unwanted smells.
This warmer heats up wax melts quickly.
The price of this warmer is very affordable for the high quality product.
A calming atmosphere is created when using this warmer.
The product you receive looks exactly like the product picture.
This warmer is constructed to be sturdy.
Cons:
The mosaic tiles start to chip off after awhile.
This warmer goes through light bulbs very quickly.
After about a month or so, the product may stop working.
Light bulbs tend to shatter while the warmer is being used.
This uniquely designed electric wax warmer will bring a sense of elegance to your whatever room you choose to put it in. Some rooms that would be perfect for this warmer addition would be the office, studio, spa, or gym. The swirled design also provides you with a conversation starter with any visitors that come to your home.
This wax warmer can not only be used for warming wax melts, but it can also be used for diffusing essential oils. To use this with oils, just add some water to your melting dish and stir in a few drops of your favorite essential oil. When you turn the warmer on, your room will fill with the fragrance from the essential oil. Whether you use essential oil or wax melts, the warmer will fill your room with a relaxing fragrance.
If you're looking for a product that saves energy and is kind to the environment, this is the perfect product for you. This warmer comes with the feature of temperature stability and provides you with a product that is durable. This is also an easy product to use. All you need to do is plug the cord into an outlet and flip the switch to turn it on.
Pros:
This warmer gives off a warm light but isn't too bright.
You could use this warmer as a nightlight if you want.
The size of this warmer is perfect for it to sit nicely on a mantle or end table.
This is a beautiful decoration whether it's lit or not.
For the affordable price, you receive a high quality product.
The melt dish is easy to clean.
You get a strong scent throw from this warmer.
These make perfect gifts.
This warmer works as well as more expensive warmers.
The warmer is a piece of art within itself.
The warmer is long lasting.
Cons:
You can only fit one or two wax melts in the melt dish at a time.
The colors vary so you may not get the coloring that is shown in the product picture.
The warmer doesn't get warm enough to melt a lot of wax.
This adorable owl shaped electric wax warmer makes a great addition to any home, no matter what kind of décor you have in your home. The ceramic warmer will give a bit of sophistication to whatever room you place it in. When the warmer is on, the glow of the light gives off a warmth into the room. This creates an atmosphere that is both cozy and promotes relaxation.
This warmer comes with a 100% satisfaction guarantee. It will give a great ambiance to a room when it is lit and can freshen the air in any room. If you have a room that is filled with an unwanted and unpleasant odor, this is the perfect product to get rid of the odor. In its place, you'll have a room filled with the pleasant aroma given off from your favorite wax melts.
This wax warmer is easy to use. All you have to do is plug the cord into an outlet and turn on the switch. The heat is given off by a halogen lightbulb and allows the wax to warm up evenly. Because it uses a lightbulb to generate heat instead of a flame, this product does not produce soot or pollutants that you wouldn't want to fill your air.
Pros:
This warmer is high quality for an affordable price.
The owl design makes this a good decoration.
When being used, this product lights up full and creates a great ambiance.
This warmer melts wax really well.
If you have issues with the product, this company works quickly to resolve them.
This warmer gives off a strong scent throw, filling a medium sized room with fragrance.
The melting tray is the perfect depth for several melts.
If bumped, the melting tray does not easily spill.
Even though the price is affordable, the product doesn't look cheaply made.
This warmer can fit in anywhere in your home.
This is a great conversation starter.
If you're looking for a gift to give, this warmer is perfect.
Cons:
This warmer makes the wax too hot.
The scent throw is not strong enough to fill a large room.
This warmer may only last a few months.
This beautiful crystal wax warmer gives you an elegant decoration to add to any room in your home. The warmer is perfect to fit in with any type of décor you have in your home and will blend in easily. Because it is made from crystal, when the product is on, the light reflects out of the warmer, giving the room you put it in a relaxing warmth.
If you need a product that will eliminate odors, this is the perfect warmer for you. The scent throw this warmer gives off is enough to eliminate the smells left over from pet urine, cigarette smoke, and garbage. Just place your favorite wax melt in the warmer and let this product do the odor eliminating work for you. You'll be pleased with the results you're given.
This wax warmer is easy and safe to use. You plug the cord into the outlet and flip the switch to turn on your product. It heats up your wax but doesn't make it so hot that you need to be worried about it burning you or anything it touches. There's also no flame so you don't need to worry about this product setting surrounding objects on fire.
Pros:
This wax warmer is a beautiful decoration.
You receive a high quality product for an affordable price.
The light given off from the warmer is enough to use the warmer as a dim lamp.
You are given a strong scent throw from this warmer.
The wax melts pretty quickly.
The design looks expensive, while the price is affordable.
The melting dish is easy to clean.
Cons:
The wax throw is not strong enough to fill a large room.
The melt dish is fragile.
You can't have use the warmer without it lighting up a room.
The lightbulb included isn't strong enough to melt the wax sufficiently.
So Which Warmer is Worth Your Money?
The Equsupro 3D glass electric wax warmer is definitely the best of the products I've reviewed. This warmer shines brighter than the others because of its mesmerizing design and its ability to not only melt wax cubes but also diffuse essential oils. This makes it a flexible product that's perfect for several types of consumers, whether you enjoy wax melts or essential oils.
When you're looking for a wax warmer, you want to make sure you're getting a product that suits your home and your needs. If you want a warmer that doubles as a beautiful decoration, this is the perfect warmer for you. This is also a warmer that is easy to use and has a switch to turn it on and off.
All in all, this is the best warmer out of the several warmers I've reviewed. If you purchase this product, you won't be disappointed with the high quality product you receive.