If you are in a hurry and just want to find out what the best candle making dye is, then we recommend the Candle Shop Wax Color Chips as the best one.
If you are like me, you enjoy making exciting, brightly colored candles. I love matching my candles' colors to natural elements like aquamarine ocean water, sunny-hued pineapple, or deep brown cinnamon.
With the best candle-making dyes you can make candles that work with any decorative scheme and brighten up your living space with a pop of color.
In this article, we are going to review the following candle making dyes: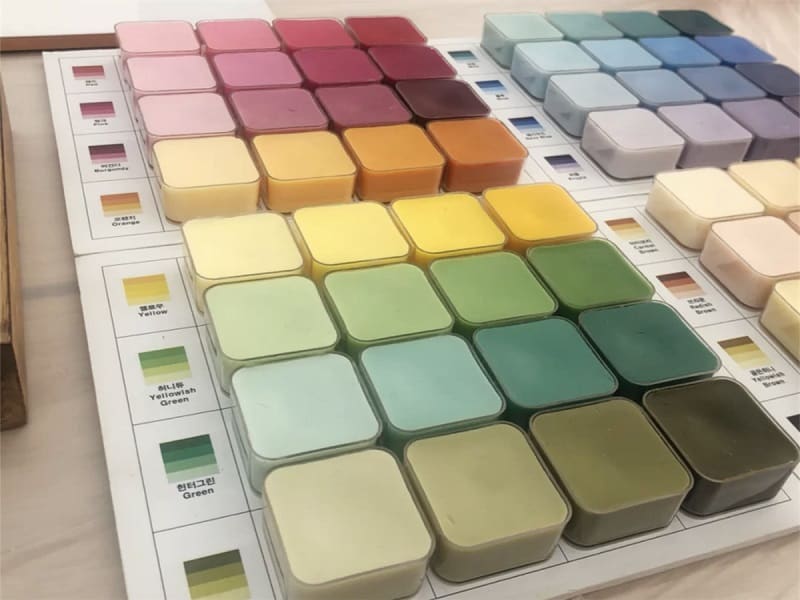 5 Best Candle Making Dyes Reviewed
Ready to see how these candle dyes stack up against each other? I'm going to walk you through the pros and cons of each candle dye product and give you my breakdown of how well they work to create vibrant colored candles.
1. Candle Shop Wax Color Chips
The Candle Shop's dye color chips come in .64 ounce baggies and boast 16 vibrant colors to use for your candle-making projects. They are vegan and cruelty-free and are non-skin staining which is a plus. They work in all types of wax, and their site even gives you a visual guide as to what their colors look like in paraffin, soy, and palm wax.
I really liked the way these dye chips mix into my candles and the colors turned out phenomenal. These were a great option for wax dye chips.
Pros
Bold, true-to-packaging colors
Helpful guides on their site
Works with all types of waxes
Little bit goes a long way
Best color results of the bunch
Cons
Most expensive candle dye on the list
2. YRYM HT Liquid Candle Dye
YRYM HT's liquid candle dyes offer 16 different colors like green, dark green, rose pink, and even bean paste. They come in 10mL bottles with a squeezable dropper that you don't have to remove every time you use it. They recommend using these dyes with soy wax only, and unlike some liquid dyes, these don't have a strong chemical odor.
I liked these dyes and it was fun to mix the colors to try out my own creations. I also enjoyed that, unlike block or chip dyes, I didn't have to wait for these to melt to see the color in my way.
Pros
Super easy-to-use bottle tip
No wait time to see colors
Mixed into my wax really well
Lots of fun colors
Most convenient candle dye on the list
Cons
Isn't recommended for other types of waxes like paraffin
Had to use a lot of product to get a strong color
3. Kingfinger Soy Candle Powder Dye
The Kingfinger powder candle dyes come in eight different colors, including vibrant prime colors that you can mix to create whatever hue you want. They are super concentrated and allow you to get strong, attention-grabbing colors with just a small amount of powder. The bottles hold 6 grams of colored powder.
I personally loved the way these worked in my beeswax candles. Beeswax is sometimes hard to color, but these powders mixed well and produced great results.
Pros
Only need a tiny bit to get great color
Good for all types of waxes, including beeswax
Amazing results with purple and blue powders
Fun to mix powders get creative
Overall best value candle dye of this group
Cons
Only contains basic colors
Didn't love the final result of the pink powder
4. EricX Light Wax Candle Color Dye
The EricX Light candle dye color chips come in 24 exciting colors in 3-ounce bags. These dye chips are skin safe and won't stain your fingertips. They are good for any type of wax you use to make your candles and easily melt and mix into your candle creations. You only need to use about .02 ounces of dye chips to color your wax.
I liked the variety of colors that I received and enjoyed watching how each color chip from the packaging turned my soy wax into gentle color variations depending on how much I used.
Pros
Can be used for all wax types
Safe to use without gloves
Melt easily into wax
Lots of fun colors to choose from
Best deal for new candle makers
Cons
Packaging is a little plain
Noticed some color flakes settle at the bottom
5. GESD Wax Block Candle Dye
The GESD candle dye blocks come in 12 bold colors and offer a great way to color your candles made of any type of wax. These dye blocks are non-toxic, produce no air bubbles, and create vibrant, intense colors that match the color of the block. They don't stain your skin and don't interfere with any fragrance oil you put in your candle.
I found that these were great for straightforward colors. I also noticed that when I broke up the blocks into smaller pieces they melted faster and mixed in better.
Pros
Easy to use
Nice selection of colors
Good for all wax types
Mixes easily with other types of dyes
Best dye for getting solid, straightforward colors
Cons
Only 60 grams for each block, looks much smaller than expected
Required a large chunk of wax to obtain high color saturation
Things to Consider When Choosing a Candle Dye
When choosing a candle dye for your candle-making hobby or business, there are several factors to consider. I'll walk you through some of the most important aspects that you should think about when deciding between candle dye options.
Pigments vs. Dyes
One of the first things to keep in mind is that there is a difference between pigments and dyes, and in the candlemaking world, ignoring this difference can cause big problems.
A pigment is usually an insoluble inorganic compound that does not dissolve in a mixture. Instead, a pigment blends in and sits in a suspended state. This is important to candle making because when you use a pigment rather than a dye, you introduce particles that will end up clogging your wick. Not only do pigments keep your wick from burning the wax properly, they actually increase the risk of combustion.
Pigment-based products that you should avoid using to color your candles include crayons, titanium dioxide, and mica powder. Mica powder is often marketed as a candle dye, and while it can be used to color the outside of a candle, you should avoid using it to color the inside of the wax.
Dyes are oil-soluble compounds and work perfectly for coloring candles. Many dyes are made of aniline, a synthetic compound that has been used to make dyes for centuries. Because they are oil-soluble, these candle dyes emulsify with the wax and create even coloring and a smooth burn. Always use a product that is an oil-soluble dye when making colored candles.
Color Saturation
When using candle-making dyes, it is important to consider the level of color saturation you desire. Different types of dyes produce varying levels of color saturation, so it is essential to know what your end color goal is when choosing the right dye product.
Generally, dye blocks and liquid dyes produce the most vibrant colors, while dye chips are better from achieving a pastel hue. In my experience, this varies greatly between brands and depends on what type of wax you are using.
Dye blocks work well with paraffin wax in large amounts, dye chips color small amounts of wax well, and liquid dyes are perfect for mixing and creating your own shades. Always make sure to check the product to see what type of wax it works in. For example, the YRYM HT liquid dyes is not recommended for paraffin wax, so you would need to use another type of dye.
As for creating the color shade that you desire, there are a few tips you can try:
Start with a small amount of color and add as you go to create more intensity.
Test different types of dyes and waxes to decide which gives you the results you prefer.
Learn about mixing colors and implement the color theory as you gain experience.
To test the final color, coat the back of a spoon with your wax and dip it into ice water. The hardened wax will show you the color of the cooled, finished candle.
Follow the candle dye's manufacturing directions. They should give you exact specifications for their product to help you reach certain colors.
Dye Type
Candle dyes come in many different types of forms. While I can give you a general idea of how each one performs, the products' actual performance might vary depending on the type of wax you use and where that wax is sourced. That being said, let me tell you the different types of dyes and their general characteristics in candle making from my experience.
Liquid dyes are synthetic dyes in liquid form. They are extremely concentrated and produce vivid, highly saturated colors in soy, palm, and coconut waxes. Most liquid dyes come in a bottle with a dropper lid, which is why they are the best type of dyes to use when you want to mix colors.
Some liquid dyes can have a strong chemical smell which reflects their concentrated, synthetic nature, but this quality is easily overlooked because liquid dyes are so easy to use and produce a stable, predictable color. Just make sure to count the number of drops you use so that you can recreate the colors that you love.
Dye chips are small pieces of pre-colored wax (or wax-soluble material), while dye blocks are larger "chunks" of the same medium. To use dye chips or dye blocks, measure out an amount and place it into your melted wax. Once they melt and are mixed in, their color saturates your wax and voila, you have a brilliantly colored candle.
Dye chips are smaller and work well with small batches of candle wax. Dye blocks are larger and therefore work better for coloring large batches. These types of dyes are convenient and don't require you to measure anything out unless you are mixing different pre-colored waxes to create your own shade.
The only downside I've run into with dye chips and blocks is that if you don't mix them enough they can settle at the bottom of your candle. To avoid this, ensure that the dye fully melts into your wax and stir thoroughly.
Powdered candle dyes are concentrated colored powders that you mix into your candle wax to create different hues. Powdered dyes produce lovely colors, and because they are so concentrated, a little goes a long way, but they are also notoriously messy and can also clump together when you try to mix them. Additionally, to get consistent colors, you have to spend time weighing out how much powder you use which can become complicated.
In my experience, powders can produce wonderful results, but they are slightly harder to use than other products. If you don't mind the potential mess and taking extra time to ensure that your powder is mixed in, then you can get vibrant colors with a small amount of product which is a plus.
Storage
One thing to keep in mind about all dye types is that they are usually sensitive to UV light. When you make a vibrantly colored candle, keep it stored in a cool, dry place to maintain its color.
Alternatively, you can purchase an additive called a UV inhibitor that you mix in during the creation process to help protect your candle color from fading in sunlight. This is especially helpful if you sell candles and need their colors to stay fresh in all sorts of conditions.
Are Candle Dyes Safe?
All dyes that are made for candles are considered safe to use. It doesn't matter if you are using liquid dyes or wax dyes, there are no known health concerns for any type of candle colorant. You want to make sure that you follow the manufacturer's instructions when it comes to safe-handling and avoid ingesting a colorant, but you don't have to worry about a high-quality candle dye creating a combustion hazard.
Read More:
Precautions When Using Candle Dyes
Although candle dyes are considered safe, you still need to take a few precautions when working with these beautiful colors.
Wear gloves to protect your skin from becoming stained by the dyes.
In rare instances, you may have an allergic reaction to a dye product. Be alert to any sensations that may indicate you are having an allergic reaction and stop handling the product.
Protect your workspace countertops from staining with some type of covering such as a tarp, newspapers, or an old sheet or towel.
Never use an insoluble pigment to color your candles, as these materials increase the risk of combustion.
Always avoid leaving dyes open and within reach of children or pets.
Never use candle dyes for other creative projects. They are only formulated to be used with candle wax.
Make Vibrantly Colored Candles
My choice for the best candle dye is the Candle Shop Wax Color Chips . Out of all of the dyes that I reviewed, these were the most vibrant, consistent, and high-quality. They looked amazing in their packaging and produced the kinds of results you desire in a well-made, hand-crafted candle.
The Candle Shop dye chips produced good color saturation, blended well throughout, leaving the wick unclogged for a great burning experience, and work well with any type of wax. What really pushed me over the edge was the helpful guide that the company provides that helped me to know what to expect and how to use the product.
My runners-up are the Kingfinger powder dyes and YRYM HT liquid dyes. They were both a good value and each boasted different benefits for coloring candles. Test out any of these options to decide which works best for you.
Read More: