You may be wondering, are Bath & Body Works' Wallflowers simply glorified Plug-ins, or do they actually work well?
Bath & Body Works Wallflowers can effectively fragrance your home for up to thirty days and there are more scent options than you can imagine.
Read on to learn more about the benefits of choosing Wallflowers along with some of my top picks to fragrance your home.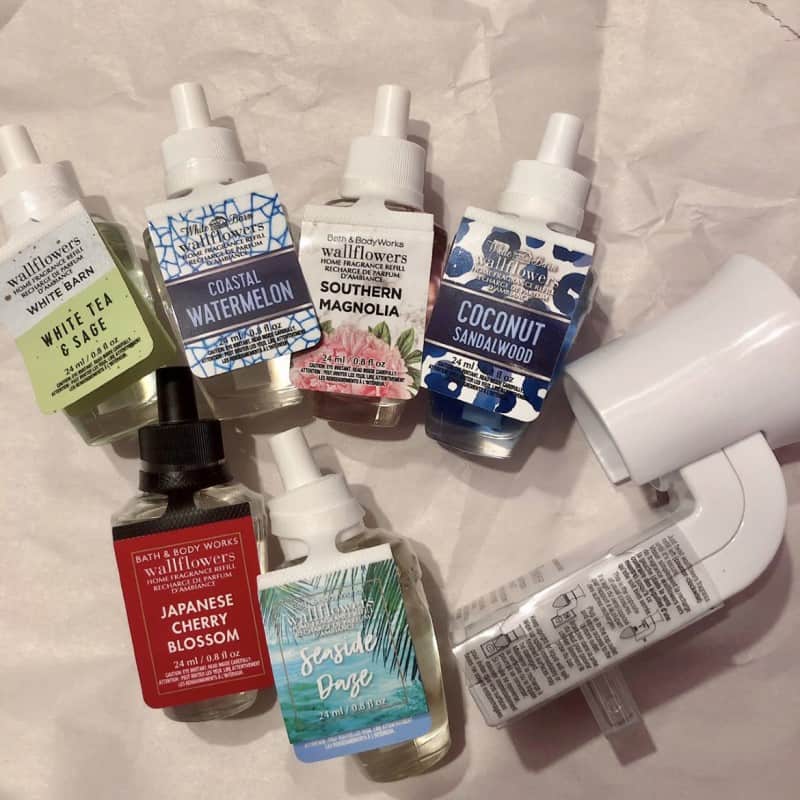 Bath & Body Works: A Short Introduction
Bath & Body Works (BBW) is an American retailer founded in 1990 by Les Wexner in a small Ohio town. It has grown to locations in six of the seven major continents.
Of course, there are retailers in all three North American countries: Canada, Mexico, and the USA. In Europe, there are stores in Italy, the Netherlands, Poland, and Turkey. There are nine locations across the Middle East and Africa. Just under a dozen Bath & Body Works locations can be found in Latin America. Seven locations exist in Asia, and you can also find some shops in Australia.
Product Offerings
Known for its festive and trendy fragrances, Bath & Body Works has become a household name on an international scale, even though their products are still mostly made in the United States.
In their stores and online, you can find body care products like lotions, hand soaps and shower gels. They also sell home fragrances, like candles, room sprays, and wallflower plugs.
All About Bath & Body Works Wallflowers
Wallflowers are a stylish and fragrant upgrade from Glade Plug-ins. The actual plugs range in appearance from minimal to glam. Some are sleek, simple, and neutral-colored. But there are also brushed metallic options that are minimal but sophisticated.
For those who like a little bling, there are holders with rhinestones, glass gems, and even a glitzy Eiffel Tower.
And those who prefer for their Wallflowers to make even more of a statement, there are Christmas ornaments, like Santa in the Fireplace, a sleigh overflowing with gifts, or a Cozy Pine Tree. There's even a Royal Polar Bear sitting pretty with a crown, scarf, and mittens. These are just a few examples.
The plugs themselves can be used for up to two years and each refill is said to last for at least a month.
Prices vary as widely as the designs. Some of the most basic plugs have price points comparable to Glade Plug-ins, while the most decorative ones can set you back an amount in between the costs of their single and 3-Wick candles.
Wallflowers Fragrance Options
But Wallflower plugs are just one piece of the puzzle. After selecting the plug design you want, your next step is to select a fragrance to twist inside.
This is where Bath & Body Works really surpasses Glade Plug-ins. There is a refill scent available in all of the fragrance categories offered by Bath & Body Works. Whether you want something fruity, sweet, floral, citrus, fresh, or woodsy, there's a Wallflower refill that you'll probably enjoy.
Wallflower Duo Plugs switch between the two connected scents every two days. There's an indicator light that lets you know which scent is active at any given time.
Wallflowers Ingredients & Usage
According to the company, their Wallflowers are made using essential oils. "Fruit, flower, and tree essences" are some of the ingredients used to create longer lasting scents within the home.
But the essential oils are definitely combined with fragrance oils, solvents, stabilizers, and coloring.
Similar to an electric oil warmer, electricity causes the oil inside the Wallflower refill container to warm up. The warm oil is disseminated into the air, spreading fragrant bliss throughout your home.
You won't need to be concerned with an increase in your electric bill. As long as you're using a properly-functioning 120-volt outlet, Wallflowers use less than five percent of the electricity that a 60-Watt light bulb would use.
Some of the plugs also have a nightlight feature. Wallflowers won't kill germs or otherwise cleanse the air, but you'll experience an ongoing pleasant aroma for as long as you have it plugged in. You can't adjust fragrance distribution with these wall warmers. I guess that's why they're marketed as, "Always On" fragrance.
Wallflower Safety Measures
There are some things that you can do to ensure safe use of your Wallflowers. Firstly, they should be plugged in one foot (12 inches) away from any other object or surface. You don't want them hiding behind long curtains or right next to a desk leg.
Next, always keep the refills upright because the oil can stain surfaces if it's accidentally spilled. If there is an accident, clean up the oil as soon as you notice it to prevent damage to your carpets, floors, or any surface.
Luckily, you can rotate the base of the Wallflowers plug if you have an outlet that is vertical instead of horizontal, and vice versa. This should help prevent any mishaps.
Lastly, BBW added a safety feature that causes the Wallflower to shut itself off if it overheats. If this were to happen with your Wallflower, you should always return it to the store for a replacement.
Bath & Body Works Wallflowers Top 5 Products
1. Gem Topper Wallflower Nightlight Plug
This is one of the more girly plugs available, and it gets lots of positive reviews.
Round crystal gems are encased in connected silver metal frames. When plugged in, there's a warm glow that can look as nice in a bathroom as it can in a master bedroom. It could also work well in a hallway to help light the path to the bathroom.
It is larger than the basic Wallflower plugs, so know that this isn't something that would be overlooked at all. Everyone who walks past this topper will notice it. So this is not the option for individuals who prefer something more discreet.
Pros
Aesthetically pleasing plug
Beautiful light feature
Lasts at least two years
Special addition to decor
Cons
Refills sold separately
Nightlight can't be shut off
2. Sampler Variety of Six Wallflower Refills
For the daring individual who has indiscriminate scent preferences, this sampler might bring you delight. You'll receive a random mix of colors and fragrances to try out in different rooms of your home.
Since the scents are a mystery, brace yourself to receive six sweet gourmands, or a mixture of fruity and floral scents, or any combination of the BBW fragrance categories.
It can sometimes be a hassle to shop BBW in-store sales. And sometimes what's left over are scents no one really wants. With this variety sampler, you are more likely to receive popular fragrances in the mail.
Pros
Can introduce you to the brand
You might enjoy all the fragrances
Perfect for those who like variety
You might discover a scent you didn't know you would like
Cons
You'll receive a random selection of scents
You may dislike some or all of them
Plug sold separately
3. Eucalyptus & Spearmint 2-Pack Aromatherapy Wallflower Refill
This fragrance is at the top of the Bath & Body Works most popular scents list. And this BBW version of Eucalyptus & Spearmint is an online exclusive that can't be found in stores.
Eucalyptus oil is refreshing but also calming, and it helps to clear the mind. Spearmint is uplifting and soothes your sinuses. It's a great scent combination to use when working or studying at home because it encourages increased concentration.
It seems counterintuitive for a scent to help you both relax and focus, but that's the exact effect this fragrance blend has on everyone who encounters it. Your home will feel inviting without being overwhelming.
Since it's a two-pack, this refill set can last for up to two months.
Pros
Customer favorite scent
Soothing and relaxing
Increases concentration
Neutral scent that most people will enjoy
Online Exclusive
Cons
4. Mahogany Teakwood Wallflower Refills 6-Pack
Another fan favorite, Mahogany Teakwood is a rich and alluring fragrance that also combines lavender and oak fragrance notes.
Within the home, it has a strong presence and extensive throw. Many customers use this one scent throughout the entire home. The amount of time this 6-pack lasts depends on how many are used at once.
Since Mahogany Teakwood distributes well throughout the home, strategic placement of two to three of these refills can help prolong their use.
Some people feel that it's more of a masculine scent, so it would be a great gift for men. But women love this scent, too, me being one of them.
I find it to be a balanced fragrance that I could smell all day without being annoyed or feeling ill.
Pros
Can last for half a year
Unisex fragrance
The scent draws you in without overpowering you
Strong fragrance throw
Cons
It may smell too masculine for some people
Plug sold separately
5. Set of 2 Brushed Copper Flare Wallflower Plugs
This is an elegant Wallflower plug design that I wanted to highlight as an option for those less prone to wanting bling on their walls.
It isn't made of real metal, but the faux brushed metal surface looks real and can add a special touch to your home decor. The subtle flare at the top takes the design up a notch without going over the top.
Since there are two included in this set, they can be used to spread one fragrance throughout the home or you can put a different scent in each one.
This is a design that works year-round, if desired. If you change your Wallflower scents with the seasons, you won't have to also change the plug if you don't want to.
Pros
Elegant design
Subdued decor
Includes two
Cons
What Customers Think About Wallflowers
Customers are overwhelmingly pleased with Bath & Body Works Wallflowers. There are some scents that have a stronger throw than others, which is also true for candles. Some fragrances are simply stronger or carry further.
What Customers Like About Wallflowers
Customers love that their favorite Bath & Body Works fragrances are available as wallflowers. They don't have to light a candle, they can simply leave the plug in the wall and smell their favorite scent all day long.
Parents prefer to use Wallflowers in order to prevent any potential problems that can arise from lighting candles around their young.
These scents can set the tone throughout a home or you can assign a scent to different sections of the home.
What Customers Dislike About Wallflowers
With regards to the Duos, it seems that sometimes the scents are not evenly alternating. More fragrance is distributed from one refill more than the other.
Regarding Wallflowers with a nightlight feature, you can't turn the light off during the day. You have to pull the plug out, find a safe place to store it, and then plug it back in at night. This can be a hassle.
Considering the price, it would be helpful to be able to adjust fragrance amounts.
Some people dislike Wallflowers' ingredients. If you are looking for natural, eco-friendly wall fragrances, this is definitely not what you will find in a Wallflower.
Final Thoughts
How do you feel about Wallflowers? Have you ever tried them? Are you willing to give them a try if you haven't already?
I find that they fragrance the home more effectively than Plug-ins, and I prefer the scents available through Bath & Body Works. They're more full-bodied and don't smell like bad perfume in the way some other brands do.
If you are looking for a signature home fragrance, you might want to start with the Mahogany Teakwood Wallflower Refills. Both men and women adore it, and it's unlikely to cause a headache.
Looking for a new BBW scent? Try this sampler of six refills. Whichever refill you choose, don't forget to also order a Wallflower plug.
While Wallflowers are not an eco-friendly choice, the benefit of using them is their expansive scent variety, long-term plug usage, and consistent fragrance distribution throughout your home.
And because there's so much variety in Bath & Body Works scent options, it is likely that you will find a fragrance that helps your house feel more like home.
Read more: