All three of these scented oil warmers mostly function in the same way, but there are slight differences to pay attention to when deciding which one to choose.
In terms of sales, customers gravitate towards Air Wick Plugins the most. But if you want to get rid of odors instead of simply covering them up, then Febreze would be the better choice for you.
Keep reading for details on how to pick the best one for your home.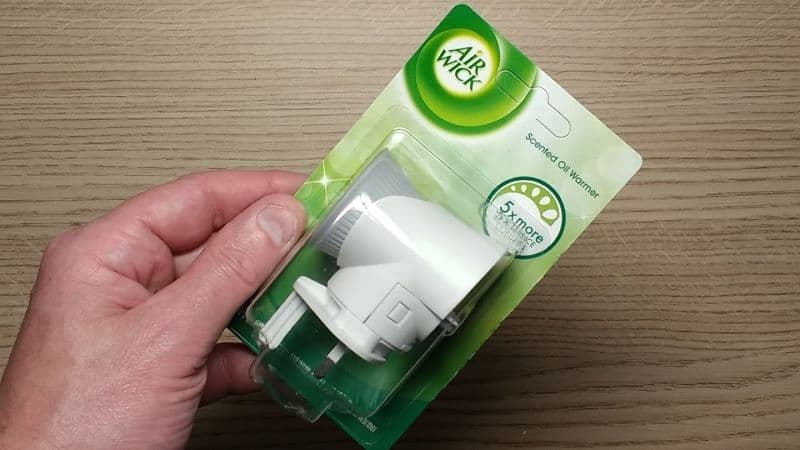 Air Wick vs Glade vs Febreze Plug-in Product Reviews
I decided to use a similar fragrance across all companies in order to compare them as fairly as possible.
Air Wick Plugin Scented Oil Starter Kit
All of Air Wick's home fragrances begin with 100% natural essential oils. Their goal is to help bring the essence of nature's smells into your home. They've been filling homes with nature-based fragrances since 1943, when Air Wick was launched in America by Guy Paschal.
This starter set includes two plug warmers and six scented oil containers in Air Wick's Fresh Linen fragrance. This popular scent falls into their "Fresh" fragrance category, which also includes: Fresh Waters, Palm Breeze, Blue Agave & Bamboo, and Simply Cotton.
Although this fragrance is Fresh Linen, there are also hints of floral notes. I'm not sure how sunshine smells, but it's also listed as a fragrance note.
A really helpful feature is that there are five intensity settings on each warmer. This means that you can reduce the amount of fragrance you'll smell in a smaller room, or increase the amount of scent released in a larger room. I know that in bedrooms, for instance, it helps to be able to turn the dial down so that you don't inhale such a strong scent as you sleep.
Air Wick's fragrances smell more natural than perfumy. And each refill lasts for 60 days if kept on the lowest setting. So this one pack can potentially last 360 days.
The warmer is designed to release fragrance upwards and outwards. This leads to full and balanced fragrance coverage throughout the room.
Pros
Two plugs for a large room or multiple rooms
Ample refills to get started
Popular, neutral scent
Essential oil based
Less packaging
Cons
There's only one fragrance included
Glade PlugIns Scented Oil Starter Kit
Glade is an SC Johnson brand. The parent company was founded in 1886 but Glade was introduced to the public in 1956. SC Johnson is still a family owned company based in America, but it has a global presence.
Master perfumers formulate all Glade fragrances. This Clean Linen fragrance smells like clean air, fresh laundry and lily of the valley flowers. It's a balanced and light fragrance combination. There are also two warmers and six refills included.
To alter fragrance intensity, you can turn the top dial in a full circle in order to customize your scent experience. Glade gives you much more flexibility with regards to scent strength. Each scented oil refill lasts 50 days when kept on the low setting.
Glade's fragrance heater is made of ceramic instead of plastic, and you can adjust the base of the plug. This means that if you have a horizontal or vertical outlet, this heater will work for either. It also has a sleeker design for a more modern yet sophisticated decor style.
Pros
Ceramic heater
Wider range of fragrance intensity options
Infused with essential oils
Adjustable plug base
Cons
Scent doesn't last as long
Febreze Fade Defy Plug Starter Kit
This is another American brand; it's owned by Procter & Gamble, which was founded in 1837. Febreze air freshener was first sold to the United States market in 1998.
In addition to the smell of freshly washed fabric, Linen & Sky fragrance incorporates hints of lily and pear. Neither of the other two linen fragrances included any fruity notes.
The base of this warmer also rotates so that it can be used in vertical or horizontal outlets. An interesting feature on this warmer is that there is a blue indicator light that flashes continuously to let you know when you'll need to replace a refill. Each refill lasts 50 days on its lowest setting.
In addition to a dial that you can turn to adjust scent intensity, Febreze uses digital technology to ensure that the same level of scent is released. The idea behind Fade Defy is that fragrance strength doesn't weaken over time. It'll smell the same on the first and last day of use.
You'll also notice that each refill has two scent chambers. Each side alternately releases fragrance in order to help keep your scents fresh.
Pros
Odor eliminator
Refill indicator light
Scent won't weaken over time
Fruity twist to common linen fragrance
Cons
May smell too strong
Not as many refills included
Air Wick vs Glade vs Febreze Plug-In Comparison
Here's how plug in products for each brand look side-by-side:
| | | | |
| --- | --- | --- | --- |
| | Air Wick Plugin | Glade PlugIns | Febreze Fade Defy Plug |
| Scent Intensity Levels | 5 | Full circle | 3 + Digital Release |
| No. Warmers Included | 2 | 2 | 1 |
| No. Refills Included | 6 | 6 | 2 |
| Amount of Oil per Refill | 0.67 fl oz (20 mL) | 0.67 fl oz (20 mL) | 0.87 fl oz (26 mL) |
| Total Amount of Oil | 4.02 fl oz (120 mL) | 4.02 fl oz (120 mL) | 1.75 fl oz (52 mL) |
| Fragrance Duration* | 60 days | 50 days | 50 days |
| Price | 💲💲 | 💲💲💲💲 | 💲💲** |
| Adjustable Plug? | Yes | Yes | Yes |
Two key points:
*Fragrance duration is estimated for use of the low setting only. If you adjust the dials to release more fragrance, your scented oil won't last as long.
**Although Febreze's starter kit costs about the same dollar amount as Air Wick, notice that the Febreze kit includes fewer refills and only one warmer.
Glade's version costs twice as much as the other two but the warmer is ceramic and it has an adjustable plug. Both of these factors might justify the price for some people.
Since individual Febreze refills are slightly larger than the other two brands, I would have expected the scent to last at least 60 days, but it's still only 50 days.
Adjustable plugs are a convenient feature, but must be used safely. When using them, always make sure that the scented oil container is situated in an upright position to avoid spillage.
How Each Company Compares & Cares
Here is some additional information about all three brands. Beyond more company history, I wanted to highlight some of their sustainability efforts and product development standards.
Air Wick Company Comparison
In the 1970s brand sales were so strong that Ciba Geigy, a Swiss-based company, decided to purchase Air Wick in 1974. The company's current owner, Reckitt Benckiser, purchased the company ten years later, in 1984.
Since then the company has grown even more. It is now ranked as the second best company making home fragrance products in the global market. Clearly they are still well-loved around the world.
Scent categories are fresh, floral, fruity, and tropical.
Lavender & Chamomile is their most popular fragrance followed by Hawaii Exotic Papaya & Hibiscus.
AirWick also has a scent collection that's inspired by the National Park Foundation. A portion of those sales is donated to the agency.
They've been changing Plug-in Scented Oils formulas to include more natural ingredients that also incorporate essential oils.
Air Wick is also working with World Wildlife to restore wildflower and grassland habitats. This is only a small portion of efforts to help honor and rebuild the environment.
Glade Company Comparison
Glade's fragrances are designed to help you embrace your moods and assign a fragrance to how you feel. Choosing from one of their many fragrances helps you create an environment that causes your home to complement the way that you want to feel. They offer fresh, fruity, floral, and warm fragrance categories.
Six of Glade's most popular fragrances are:
Apple Cinnamon
Aqua Waves
Cashmere Woods
Clean Linen
Hawaiian Breeze
Lavender & Vanilla
Essential oils are also the foundation of Glade fragrances.
Read more: Glade Plugin Air Fresheners Review: Are They Good?
They list ingredients that aren't allowed in their products. Their parent company SC Johnson has a combined list of over 2,600 natural and synthetic ingredients that are not permitted in their products.
Glade considers customers' health and the environmental impact of their products. They constantly make product improvements according to company guidelines and government standards. Using a four-step checklist, they consider risks and/or hazards of product ingredients to avoid danger to humans or the environment.
Febreze Company Comparison
What's different about Febreze is that it doesn't simply mask odors, it actually eliminates them. They use potato or corn-based active ingredient cyclodextrin to trap odor molecules and sodium citrate to neutralize them.
The company uses nature identical fragrances to leave a fresh scent behind. Since synthetic fragrance molecules can look the same as natural ones, they opt to create their fragrances in order to help preserve rare plant species and the environment as a whole.
Procter & Gamble is also doing its part to limit negative effects on the environment. They examine and make improvements on their effect on climate, forestry, and water.
Steps are also taken to use more sustainable packaging materials.
Their primary scent categories are:
Citrus/Fruity
Floral/Sweet
Fresh/Airy
Their most popular citrus/fruity smell is Fresh-Spiced Apple. Honeysuckle and Lilac are the top two floral/sweet fragrances. Sea Spray and Lavender are two of the top selling fresh/airy scents available.
Febreze: Pet-Friendly Feature
Febreze is the only brand that specifically states that its products are safe to use around pets. According to Veterinary Toxicology experts, you can safely use Febreze products around cats, dogs, ferrets, rabbits, and rodents, but not birds. These experts are employed by the Animal Poison Control Center.
Febreze is also endorsed by the American Society for the Prevention of Cruelty to Animals (ASPCA).
It's no wonder Febreze products are specifically marketed to pet owners who are "nose blind" to the pet smells that fill their home. And since they use odor-eliminating formulas, your pet's toys, bedding, and so forth, won't simply smell better. Your Febreze plug releases scented molecules that will actually capture those funky pet odors.
Here's Febreze's list of ingredients it won't add to its products.
Final Thoughts
It can seem hard to choose between these three but when you lay it all out, the choice becomes easier.
You want full scent coverage in your room
You want longer lasting fragrance
You're looking for an economical option
Choose Glade if:
You like the more sustainable ceramic heater
You're looking for an economical option
You want a more aesthetically pleasing warmer
You want more scent options
You don't mind paying more for fewer refills and plugs
You prefer its odor-eliminating power
You want a refill indicator light
You don't mind stronger scents
You're looking for subtle twists to common fragrances
You have pets
I think that if you don't want to simply mask odors, then Febreze would be your clear choice. But if you want an affordable and sustainable option, then Glade might be the way to go.