Automatic air fresheners conveniently release a burst of fragrance in timed intervals. You don't have to pick up a can of spray or deal with electric fresheners that fade over time.
But do all automatic sprayers function the same? From what I've noticed, there are subtle differences. Air Wick Freshmatic is best for those who like to control scent intensity and do more than cover up bad odors. Glade Automatic Spray might be best for those who prefer a more modern looking device and additional scent options.
If you're unsure of which one to choose, continue reading to learn more about how each device functions and what to look out for when choosing one over the other.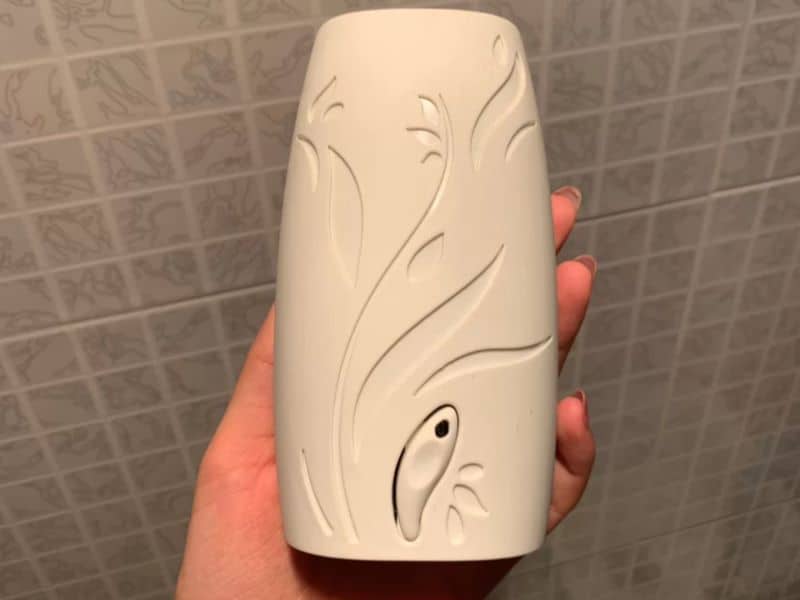 Air Wick vs Glade: Brief Company Histories
Both Air Wick and Glade are one division of larger companies and have existed for decades. And they both offer a wide range of household fragrance solutions to help make your house feel more like home.
Air Wick: Brief Company History
Inventor and lawyer Guy Paschal brought Air Wick to the market in 1943. This was after developing the product in his Bronx, New York basement. In 1953, they expanded to Europe, Australia, and Canada.
Although it's an American brand, Air Wick is currently owned by a British company, Reckitt. Air Wick products can be found in over 80 countries.
Although they're the second best worldwide air care brand, Air Wick is the number one brand worldwide selling automatic sprayers.
In addition to their auto spray device, Air Wick is known for aerosol sprays, essential oil mist diffusers, wall units, Stick Ups, fragrance gels, and scented candles.
Glade: Brief Company History
An S. C. Johnson & Son company, Glade air freshener was first introduced in 1956. Glade products are also available in Canada and across Europe.
Beyond the automatic spray unit, Glade home fragrance products include scented candles, aerosol sprays, carpet fresheners, PlugIns, and solid air fresheners.
Air Wick vs Glade: Automatic Dispenser Comparisons
Automatic air fresheners are a good fit for mostly any room of the house. You can use them in the kitchen, home office, bathroom, living room, den or family room, the bedroom, or in your hallways. You may even want to place them in stuffy closets.
Most of these devices are white or off-white but black ones also exist to better complement some decor styles.
Here are two of my favorite starter kits:
Air Wick Freshmatic Automatic Spray with Refills in Fresh Linen
Fresh Linen is one of Air Wick's most popular fragrances. It smells like fresh laundry just pulled from the clothes dryer. This starter kit includes two refill canisters and only needs one battery to operate.
Package includes:
1 device
2 refills (5.89 oz / 167 g each)
1 AA battery
The spray device can be mounted on a wall, but you also have the option of placing it on a tabletop or dresser. As long as it's at least 7 feet above the floor, fragrance will evenly disperse throughout the room. Freshmatic also has a wide spray angle that distributes fragrance upwards and outwards.
It runs efficiently for months without having to replace the battery. There are three fragrance intensity options (low, medium, and high) and three spray intervals:
9 minutes
18 minutes
40 minutes
A flashing red light indicates the need for refill, but each canister lasts up to 70 days on its lowest setting (40 minute intervals). That means that this package can last close to five months.
By adjusting the intensity on this device, you don't have to be overwhelmed with too much fragrance. Similarly, in some areas of the home, it might be better to activate the highest scent release.
Air Wick's most common Freshmatic scents are:
Fresh Linen
Fresh Waters
Summer Delights 
But there are additional seasonal scent options as well as regional differences, like Florida Keys Coconut Water or Miami Beach Hibiscus – availability varies.
This particular set is said to have around the clock PURE odor protect technology. Even in between spray intervals, the spray is working to neutralize odors within your home. Many pet owners find that this spray removes strong pet odors from their space.
Pros
Common, well-liked fragrance
Refill cans fit all Air Wick auto spray devices
Easily adjust fragrance intensity
Only needs one battery
Consistent freshness with minimal effort
Keeps pet odors at bay
Cons
Limited fragrance options
Refill lasts longest when operating on 40 minute setting
Glade Automatic Spray Unit with Refills in Clean Linen
Linen scents are some of the most neutral and well-liked across demographics. Glade's Clean Linen also has melon and citrus fragrance notes. This automatic spray kit includes:
1 device
3 refill canisters (6.2 oz / 175 g each)
2 AA batteries
One canister lasts up to 60 days on its lowest spray interval, which is 36 minutes. While you aren't able to adjust scent intensity, you can program the fragrance release intervals.
Three spray intervals include:
9 minutes
18 minutes
36 minutes
An additional feature is the "boost button" located on the rear of the device. Using this button, you can release a burst of fragrance anytime you want regardless of its interval setting. In those moments when guests approach your door, you can welcome them into a fresh home by pressing the boost button moments before they step inside.
Alternatively, you can turn off the timer, and solely use the boost button whenever you want to freshen the room.
Glade's Automatic Spray device releases less of a spray and more like a mist. It's like a poofy cloud of fragrance. This makes it a better candidate for small to medium-sized rooms. If you plan to use this device in larger rooms, you will need more than one. Place two or more on opposite sides of the room for best results.
But with that said, scent is very subjective. What smells strong to one person might smell faint to another one. Some fragrances are simply stronger than others as well. So it's best to test out the device and try different fragrances until you get the one you like best.
Not only does this device have a smooth exterior, it widens towards the bottom. This design prevents the device from toppling over, making it a safety feature.
Pros
Boost button in between intervals
A lot of fragrance options
Sleek, modern outer shell
Includes three refills
Long-lasting battery life
Cons
Requires two batteries
More expensive
Aside from the boost, you can't adjust fragrance intensity
Can become loud when dispensing fragrance
Placement is key when using automatic spray devices. You don't want to accidentally get sprayed in the face as you walk by. When placed on the highest shelf or tallest piece of furniture in the room, you can not only avoid spraying people but keep it out of the reach of pets and/or children as well.
If you choose to mount your device on the wall, it should be at least seven feet above the floor.
Glade: Limited Edition Seasonal Fragrance Varieties
It seems that Glade offers their full range of scent options for their automatic spray device. They also carry interesting limited edition fragrances. Here are the three that stood out to me.
Limited Edition Summer Variety Pack
You rarely see variety packs as any type of refill option – automatic or otherwise. Most of the time these packs include multiple units of the same fragrance.
But this set includes three different summer-themed fragrances:
Citrus & Shine
Combines tangerine, grapefruit, and mandarin citrus notes with pineapple, peach, and berry notes. Sandalwood, moss, and soft violet base notes hold all the scents together.
Rose & Bloom
Rose, jasmine and violet blossoms with sandalwood, patchouli, and musk base notes. You may also smell hints of strawberry, grapefruit, and apple.
Sky & Sea Salt
Fresh ocean breeze along with driftwood, peony, and rose. Base notes include peppercorn and moss.
In addition to three refill canisters, you'll also receive an automatic spray unit and two AA batteries to get you started or to be placed in a different room.
My guess is that this selection would work well in the kitchen or living room.
Limited Edition Fall Variety Pack
Get your home fall-ready with this variety pack. Similar to the previous sets, you'll receive a new device and batteries to begin operation. But the highlight is that there are three fall fragrances:
Apple of My Pie
Makes you think of a freshly baked apple pie sprinkled with cinnamon, clove, and nutmeg, and then topped with sweet vanilla cream.
Fall Night Long
More of a masculine or unisex fragrance, if you like camping in the crips fall air, you may enjoy this scent. In addition to burning logs and embers, you'll smell hints of dry cedar and sandalwood. Plum and tonka bean sweeten things up. Sage, thyme, and cinnamon add complexity.
Pumpkin Spice Things Up
Just like your favorite pumpkin pie, you'll smell cinnamon, ginger, allspice, orange, and sugary notes.
Whether you prefer fruity, sweet, or mellow fall fragrances, this set includes something for everyone. If you have additional devices, you might even assign one scent to a different room.
Limited Edition Holiday Variety Pack
Lastly, there's a holiday season variety pack as well. Most house fires are caused by unattended candles that are lit during the winter holiday season. If you prefer to avoid lighting fir tree candles, you might opt for this automatic spray set.
Included fragrances:
Apple of My Pie
Same as above, but also fitting for winter holidays.
Cranberry Oh So Merry!
A fruity and refreshing combination of cranberries, blackberries, and champagne.
Pine Wonderland
This woody fragrance smells like a forest full of crisp pine, fir, and juniper trees. You'll also smell notes of apple and cinnamon bark blended with resinous amber.
This variety pack is ideal for homes filled with small children or pets during the holidays. Any of these variety packs can also introduce you to scents you've been wanting to try. Although they're limited edition, some of these fragrances stick around throughout the year or are offered again year after year.
Choosing an Automatic Sprayer
You've just read a lot of information about automatic spray air fresheners. Now it's time to decide which one best fits your needs.
Choose Air Wick's Freshmatic if:
You'd like to eliminate strong pet odors
You want to be able to adjust fragrance intensity
You're more cost-conscious
You want to neutralize odors, not simply cover them up
You need to fill a large room with fragrance
Choose Glade Automatic Spray if:
You are less price sensitive
You prefer more fragrance options
You want a sleeker device
You want the option of releasing fragrance manually
Timed fragrance release lets you program the device and experience a nice scent throughout the day without having to constantly spray or light anything. When choosing, consider which fragrances you like to smell and how often you'd want to refill the device.
Would you prefer to adjust fragrance intensity? Then Air Wick is the one for you. Want a modern device with lots of scent options? Then you might want to choose Glade.